« In the works; Custom Jonathan Mann Baritone 5-string | Main | Spring Cleaning Special: Get a 2nd Silkweave cloth for only $1.00!!! »

April 7, 2011 | April Mandolin Sessions; Static Changes: V7 chord
The April Mandolin Sessions articles from Mel Bay are online, and our latest installment of Jazz Mandology revisits a topic we recently went into depth in our Tips and Tricks column here on the site when we introduced 3-note blocks for a V7 chord.

Sounds kind of dry, all that esoteric theory stuff, but this is one of those simple, easy to ignore concepts that can truly revolutionize your comping. The V7 chord is so critical in music, arguably the most important (even over the tonic), and if you can develop a systematic approach to playing the chord, you can develop a tremendous fluency in and out of ANY key, let alone play the blues like nobody's business.
In this article, we outline a way of grasping them by drilling the inversions as an exercise. Once they become subconscious, very much like scales and modes, they become a permanent part of your comping vocabulary, and empower you to be exponentially more creative.
Everything else is just-fill in.
The magic in this?
1.) There are only four of them! From there, they just repeat up the hypothetically infinite fretboard
2.) They are instantly transposable up the neck
3.) They are instantly transposable across the strings

Check it out: Static Changes: V7 chords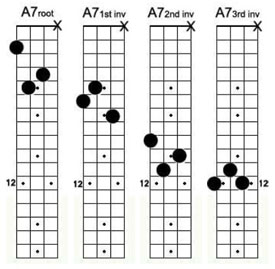 Do us a solid while you're there: Give us a 5-star rating and post a positive comment. Job security is a good thing.
Posted by Ted at April 7, 2011 8:38 AM