« In the loop. Digitech JamMan. | Main | 10 Questions for Will Patton »

April 24, 2011 | Aaron Weinstein; New York Times review!
Congratulations to JazzMando friend, Aaron Weinstein for a rave New York Times review from his recent "Have Strings, Will Swing" show along wih cabaret pianist Tedd Firth and bassist Tom Hubbard, featuring both his legendary swing violin prowess and his mandolin chops.
From the article, "The up-and-coming jazz violinist Aaron Weinstein has two secret weapons. One is a mandolin that he brings out in the middle of a set to change the mood and on which he plays meticulously sculptured arrangements with a sweet plinkety-plink verve. The other is a deadpan sense of humor that he sneaks into his patter."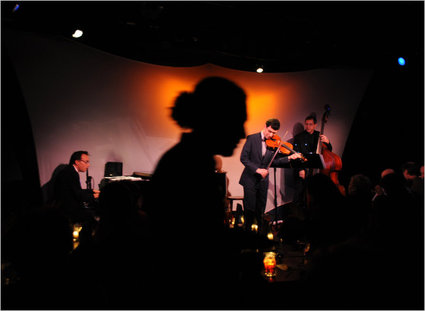 Jennifer S. Altman for The New York Times

Read article: Making Standards Swing, With a Wink for Jack Benny
Our Mandolin Cafe interview: 10 Questions for Aaron Weinstein
Posted by Ted at April 24, 2011 8:17 AM