« New Year. Resolution... | Main | Last chance: Psalm Shirts »

January 3, 2011 | Jason Anick; Sleepless
We mentioned virtuoso jazz violinist Jason Anick last week and a superb YouTube video, but January 1st was the live launch date of his debut solo CD, "Sleepless." We've already had the opportunity to spin this several times, and are stunned by the artist's technical skills and musicality. Though the bulk of the recording is his world class fiddling, good enough to earn him a permanent touring spot with premier guitarist John Jorgenson and his quintet, he does some incredible work on the project with electric and acoustic mandolins.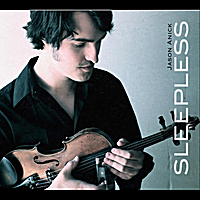 The thirteen song collection includes some familiar Django jazz standards, but also some well-crafted original compositions, as well as a tribute to the Fab Four in a cover of the Beatles' lesser known Abbey Road single, "You Never Give Me Your Money." Beyond the obvious finesse of his violin skills, what is most compelling is how intimately musical his mandolin phrasing is. Despite the inherent percussive confinement of pick, his interpretations flow in long, bow-like lines. He builds with crescendos and decrescendos confidently, as if acoustic mandolin were his primary instrument. His electric technique is equally nuanced and sophisticated harmonic improvisational vocabulary complex but smooth on the ear at the same time.
Joined by the aforementioned John Jorgenson, Anick has also enlisted the services of former JJQ rhythm guitarist, Buos Aires expatriot Gonzalo Bergara and JazzMando fave, Berkelee Professor John McGann. The playing is splendid and the CD is 2011's very first "must-have" for any jazz violin/mandolin fan.
Highly recommended!
Track listing:
1. Swing 42
2. Sleepless
3. Landslide
4. I Can't Give You Anything But Love
5. Tears
6. Le Feu Le Plus Beau
7. Sent Home
8. You Never Give Me Your Money
9. Keeper
10. Nuages
11. Bird's Eye View
12. Sweet Georgia Brown
13. Minor Swing
Purchase CD: Sleepless
Artist website: Jason Anick

Posted by Ted at January 3, 2011 5:18 AM