« Jason Anick; Sleepless | Main | Neil Gladd, Classical Mandolinist/Composer »

January 5, 2011 | Last chance: Psalm Shirts
We mentioned these prototype boutique shirts last September. We've decided not to bring them to market so this is your last chance to pick up the remaining. We've since whittled the supply down to two Large and one Extra-Large; they're available first-come, first-serve.
UPDATE: We now have only one Large left
We're just asking production costs and shipping, $19.95 (add $8.00 for international orders).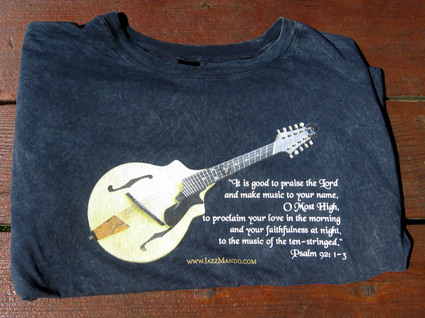 More details about them here: Psalm 92 Shirt
We should point out you will look much better in the shirt than the chubby guy in the link picture (even though he's lost 24 pounds since that was taken last summer). The are a better than average quality, which in addition to the four-color graphic is why they are higher priced. Their $35 retail price tag made them cost-prohibitive to mass produce.
Send us a message on the contact menu at the top of the page if you're interested.
Posted by Ted at January 5, 2011 5:08 AM