« Last chance: Psalm Shirts | Main | James Condino 10-string Fanndola »

January 7, 2011 | Neil Gladd, Classical Mandolinist/Composer
We like to keep track of some of our Facebook friends' fan pages, and the latest entry is Washington DC area classical mandolinist/composer, Neil Gladd. The musician is one of our own national treasures and remains active as a guest performer with chamber ensembles, contemporary music groups, and orchestras.
Neil weighs in "I created this page a few days ago, and have 5 recordings online that you can listen to, so far: 2 studio recordings and 3 from live concerts. Click on "Band Profile" to hear them!"
From his biography, "Neil Gladd received his B.A. in Music from Virginia Tech in 1978, and is currently based in the Washington, DC area. He has appeared as a mandolin soloist at Carnegie Recital Hall, Merkin Hall, the Kennedy Center, the Smithsonian Institution, at mandolin festivals in Germany, Sweden, Belgium and Japan, as well as in recital in Canada, England, France and throughout the U.S. His repertoire ranges from Bach to Vaudeville to contemporary music, and more than a dozen new works have been written for him. In addition to his work as a performer, Mr. Gladd is a composer and an authority on mandolin history and recordings."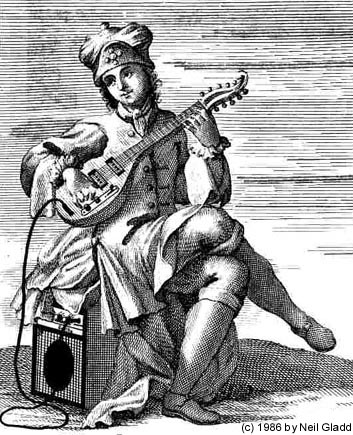 Website: Neil Gladd
Visit Neil Gladd Facebook Fan Page
Posted by Ted at January 7, 2011 6:30 AM