« May 2011 | Main | July 2011 »

June 29, 2011 | The right hand
Interesting find from the Mandozine archives, an intriguing survey on right hand mandolin technique by Mike Strangeland. The best take away from the following observations of prominent mandolinists is the amount of variety. Generally, it's open hand touching something (strings or top), but no one single answer.
We're all different, aren't we? Even the pros.
From the article:
"When you closely observe the right hand technique of some of the best mandolin players a pattern seems to emerge. It seems that most of them play with slightly to very opened hand and they drag the tips of their pinky and ring fingers on the pickguard or the top of the mandolin."



Sam Bush - Open hand, fingers touching the top of the mando, no pickguard (from his early days)


Bill Monroe - loosely closed fist, heal of palm and wrist touch strings behind bridge


Joe Carr - loosely closed fist, heal of palm and wrist touch strings behind bridge


Dawn Watson - open fingers touching the top of the pickguard


Simon Mayor - Open hand, fingers touching the top of the mando, no pickguard


Chris Thile - loosely closed fist, palm and wrist touch strings behind bridge


Hershel Sizemore - Open hand, fingers touching the top of the mando, no pickguard


Norman Blake - Open hand, fingers touching the top of the mando, no pickguard


Nancy Blake - Open hand, fingers touching the top of the mando, no pickguard


Ronnie McCoury - very open hand, fingers always touching top of mando, no pickguard


David Grisman - moderately open hand, curled under fingers touching the pickguard


Butch Baldassari - moderately open hand, fingertips touching pickguard, posts pinky to tremolo


Mike Compton - moderately open hand, fingertips touching pickguard


Ricky Skaggs - Open hand, fingers touching the top of the mando, no pickguard


Tim O'Brien - Open hand, fingers touching the top of the mando, no pickguard


The Nashville Mandolin Ensemble - all but two touch down with finger tips on pickguard or top



Read JazzMando archive on pick grip.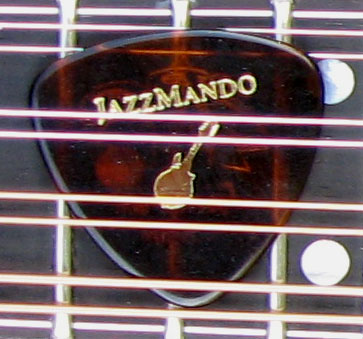 Posted by Ted at 5:52 AM

June 27, 2011 | Terrifying, yet fascinating at the same time.
This would put fear in the heart of any decent, self-respecting mandolinist. Still, it's an intriguing concept, a bass made to resemble a banjo, AKA "Bass Banjo."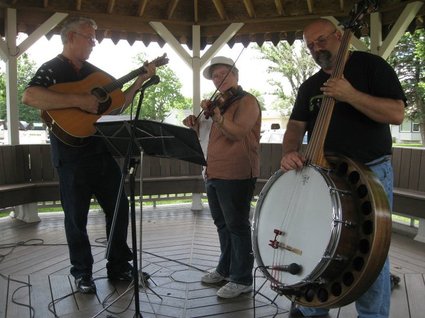 Photos courtesy Marcia Claesson
Its player a local friend of ours, Evert Claesson weighs in, "The guy playing the guitar (Gem Miller) made it. Some years back he was playing with a group of banjo players and there was an upright bass accompanying them. He thought the bass looked "out of place" so he decided to roll his own bass banjo. He usually describes it as an "Obscure Hungarian instrument" whose name is spelled Biggaatz. He's not sure about the pronunciation, but, according to him it's a "Bigass" bass banjo. It's fun to play (much easier to play than an upright) and it sounds fairly decent. I had been thinking of getting an upright but a decent one would set me back about 1200 - 1500. I get to play this one for free and it doesn't kill my hands."
Nice!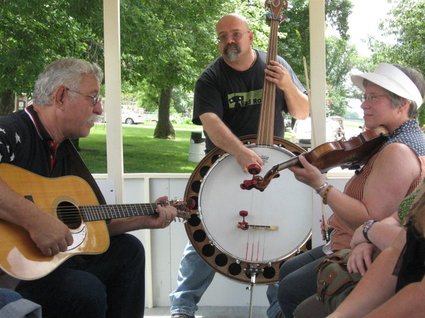 Posted by Ted at 4:57 AM

June 25, 2011 | Out with the old. JM11 clearance special!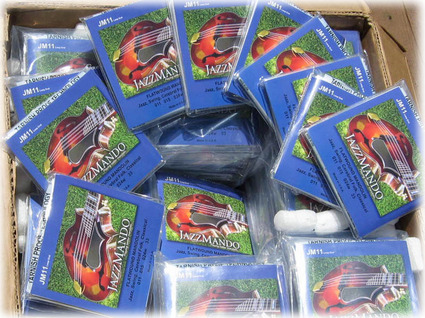 We just received our shipment of the JM11 JazzMando flatwound strings with the new packaging, and are pretty excited about it. The strings themselves have not changed, but we've redesigned the labels. Before we make a big promotional splash about it though, we have a few sets of the old labels we need to clear out, so we're offering a 3 for 2 special on the remaining vintage labeled stock.
Here's your chance to score a deal with 3 sets for $29.95 (or double it to 6 sets for $59.90). The sets are sealed with Labella's proprietary tarnish proof technology, so they store well, although even the old stock is relatively fresh since we have them produced for us in smaller batches.

JM11 (3 for 2 limited special) $29.95 (Three sets old JM11)
SORRY, SALE EXPIRED
Limited stock, available first come first serve.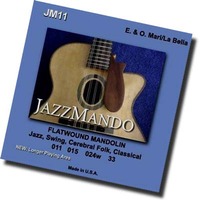 International shipping? Click below for additional shipping charge.
Clicking this will add $7.00 to your shopping cart.



(Qualified) First-Class Mail© International Extra Shipping Charge
USPS First-Class Mail© International information.

Posted by Ted at 5:46 AM




June 23, 2011 | Everything you read on the internet is true...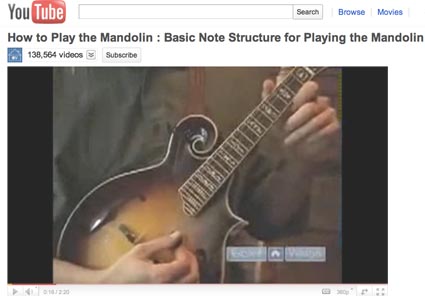 Not really sure where you get the certification to call your instructional footage "Expert," but we're somewhat troubled that a video can languish out there in cyberland with as much misinformation as this one. Of course, we aren't immune to an occasional error, but four years is a long time to go without make corrections on the following video and the "reverse scale" concept. Correct us if we are wrong, but when you go up the fretboard, the notes go higher and not lower. First fret on an E string string is an F, not an Eb, even in mando-bizzaro world.
That said, an E scale starts and stops on an E. Even a stopped clock is right at least twice a day.
View video How to Play the Mandolin : Basic Note Structure for Playing the Mandolin

In regards to our standards, 97.3% of our facts are carefully researched and cross-checked for accuracy. The other 12.7% are just stuff we make up.
We have standard marching orders here for readers to notify us of our blatant errors. We even have a running list available for you to check on with the "Getting Into Jazz Mandolin" book. Feel free to shout out: Contact
Getting Into Jazz Mandolin Errata
Posted by Ted at 6:06 AM

June 21, 2011 | Interesting 10-string Classifieds find
This recent entry caught our eye from Denver amateur builder Ben Cohen. Hand built in 2003, after inspired by reading a feature in American Lutherie on Novax guitars, this seems a reasonable advance not only into five-course acoustic mandolin ownership, but the chance to personally dabble with a fanned fret system. We consider this the a great opportunity for an affordable build. Here's your chance to own one for only $300!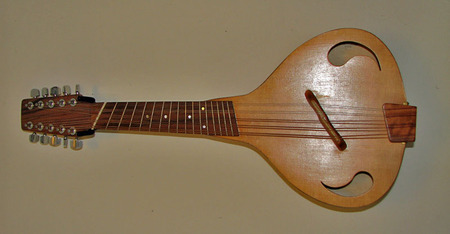 Ben weighs in, "Ralph Novack thought he had a valid patent on the fan fret concept, but the makers of 16th century bandoras beat him to it." He had some intense dialogue with his shop manager about the validity of the patent. Today the discussion is moot as Novack's fan fret patent has expired.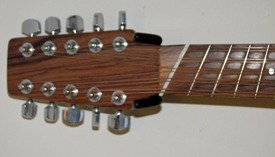 He continues, "If I were building one of these again (which I may attempt, with the Lawrence Smart design as an inspiration), I would narrow the neck a bit and make the fan fret a little less steep. I made a great 5-string electric mando recently by modifying a Saga 4-string kit, and may try a similar approach with Saga's acoustic A model mando kit. Hard to beat the value in one of those kits. Just a matter of removing and replacing the fingerboard, adding a couple tuners to the headstock, etc."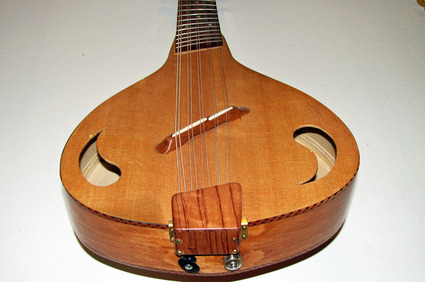 The Guild of American Luthiers website lists Cohen in their biography secion, "Lutenist, amateur luthier, and ten-year GAL member Ben Cohen started building wind and percussion instruments from plumbing supplies while in college, inspired by Bart Hopkin's brilliant quarterly journal Experimental Musical Instruments (www.windworld.com). Ben runs a klezmer band, plays in a Jewgrass band and a Baroque trio, and keeps his day job."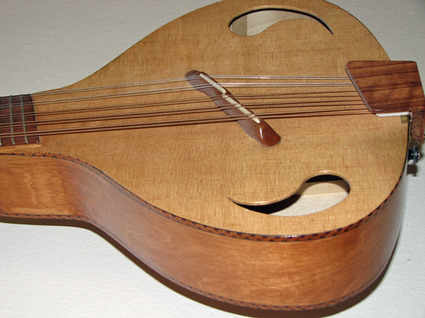 Purchase from the builder: Five-Course Mandolin (With Low C)
Ad excerpt: "Built it myself in 2003, in Denver CO. It uses a fan-fret for 13.75" scale on the high E to a 16" scale for the low C. Solid spruce top, with nice binding on the sides. Has a K&K Big Twin internal pickup. Uses a modified GHS Mandola string set (11, 14, 24w, 34w, 48w)" I will supply a set with the instrument. No case."

Posted by Ted at 5:33 AM

June 19, 2011 | Mandolin Cafe announces a-store
We finally got a chance to tour the store. The cyber store, that is.
Mandolin Cafe, the world's foremost internet authority and information resource for mandolinists now features an amazing selection of books, DVDs, MP3s, and online lessons for your musical growth. Each item of inventory as been carefully selected to benefit the player. You'll even find Getting Into Jazz Mandolin at a, ahem... deep discount.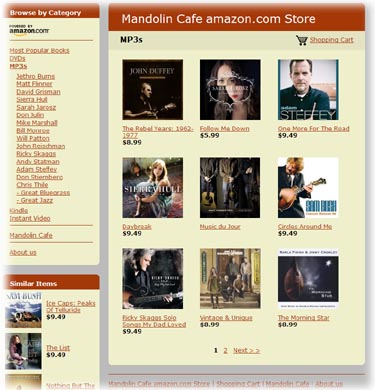 This opportunity is win/win. You can save pretty good money buying the educational wares and audio through this ecommerce, and the Cafe gets commission to help keep things running there, too.
We encourage you to check it out, too! Bring your credit card...
Visit: Mandolin Cafe amazon.com Store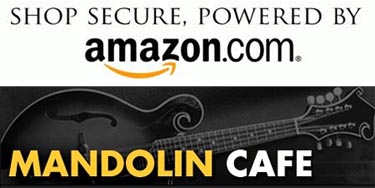 Posted by Ted at 5:45 AM

June 17, 2011 | Mike Marshall. Mandolin nerd?
We always enjoy reading press on one of our favorite talents, multi-instrumentalist Mike Marshall. Mercury News columnist Lou Fancher weighs in on a brief history of the premier mandolin star:
"While he credits his classical training for providing a solid musical base, Marshall says that bluegrass festival in Georgia, despite the regrettable outfits, is the experience that set him on the trajectory to where he is today.
'I think Ricky Skaggs was about 17, and he was playing with The Stanley Brothers. The movie 'Deliverance' was huge. There was a big explosion of interest in American, traditional music. Only in retrospect did I realize I was with some of the masters of this bluegrass, Irish fiddle and gospel style of music,' he remembers.
The next seminal moment came when he discovered the music of Grisman.
'David took the bluegrass concept and made it into a form all his own,' Marshall says, his voice tinged with awe. Grisman, whose blend of bluegrass, Latin and jazz styles earned respect and the nickname 'Dawg' music from Jerry Garcia, hired Marshall to perform with the David Grisman Quintet."
Read article: Mandolin 'nerd' Marshall revels in wide variety of styles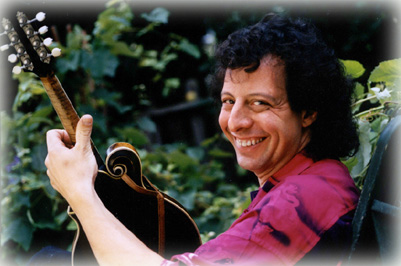 Posted by Ted at 5:28 AM

June 15, 2011 | Just A Little Lovin; The Wayfaring Strangers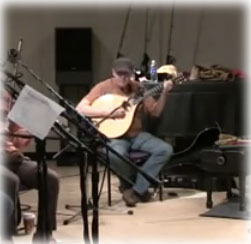 The octave mandolin functions well as a comping instrument in jazz, and superbly in the hands of JazzMando fave John McGann, as a soloing one. Berklee's prestigious frets professor is a member of "The Wayfaring Strangers," a magnificent American roots ensemble of faculty and many of the school's alums. We ran across this dandy high def video recording of a WCPN radio performance in Cleveland, Ohio on May of this year, a unique interpretation of the Ray Charles classic, "Just a Little Lovin'." Nice to see sing singer Tracy Bonham back with the Strangers again, too.
Great stuff!
Video link: Just A Little Lovin; The Wayfaring Strangers
Visit John's website: John McGann
Posted by Ted at 4:56 AM

June 13, 2011 | GiJM Bloopers. Here you go.
The cool thing about internet publishing is you can go back and correct mistakes. Most of the time it's easy to revisit documents and change text in the cyber world, edit wrong notes or fingerings in the exercises. In print publication however, once you commit to ink and paper, you can't go to your reader's houses or music store shelves and retract or redo.
Over the months we've had readers catch errors and report them to us. We encourage that with our contact button, and in the case of our "Getting Into Jazz Mandolin" book, we've opened a new page to publicly document these changes. If you have the book, you might want to grab a pencil and go through it to tag these for your own studies. Again, if you catch some we haven't, let us know.
Funny how you can spend hours sifting through the proof process, we even had over a dozen proofers in the initial draft of the book, and still manage to make mistakes.
Thanks for your understanding.
Visit post production tweaks: "Getting Into Jazz Mandolin Errata."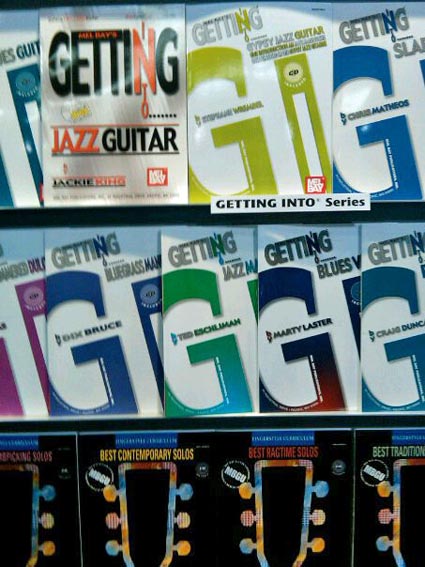 Posted by Ted at 7:30 AM

June 11, 2011 | June Mandolin Sessions: Connecting Chords
In our April edition of Mandolin Sessions, we looked at the "static" changes of a typical 12-bar Blues progression and explored how we could use inversions of the 3-note chord fingerings to inject a little variety into your comping. For our recent June (2011) entry, we take this a step farther and show you how to connect these chords in a systematic, yet intuitive manner.
We can't stress enough how these simple forms can supercharge the way you play rhythm. See what we mean. Read article: Static Changes: Connecting Chords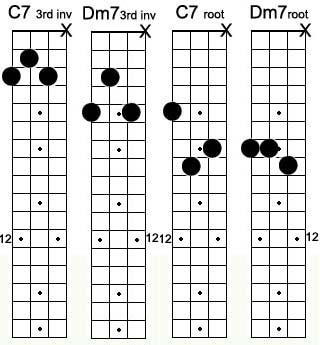 Do us a solid while you're there: Give us a 5-star rating and post a positive comment. Job security is a good thing.

Posted by Ted at 6:12 AM

June 9, 2011 | Matt Flinner on Lawrence Smart 10-string
We've reviewed the incredible craft of Hailey Idaho builder Lawrence Smart recently, including a luscious Two-point and an earlier prototype of his breakthrough 10-string A-body played by the likes of Mike Marshall and John McGann. YouTube treats us to a nice video demonstration (and a cool tune) by the Matt Flinner Trio, January 29 in Salt Lake City, Utah. (This was one of Matt's Music Du Jour contributions for the concert.)
Enjoy the instrument and the song!
View video link: Matt Flinner Trio - Zion Curtain Reel

Read review: Lawrence Smart FF10 10-string mandolin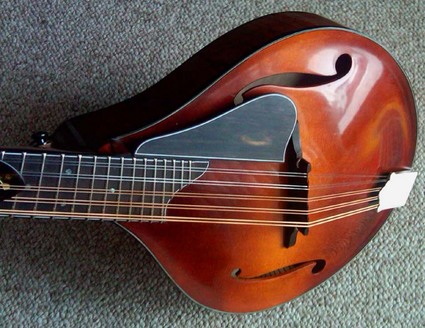 Posted by Ted at 5:45 AM

June 7, 2011 | Django in June $250 savings if you haven't registered!
If you haven't already signed up for next week's Django in June yet, we've got a special JazzMando deal worth $250. Last minute? Here's a treat for two mandolinists to get you off the fence and attend one of New England's finest Gypsy jazz workshops. Only two spots being offered for this exclusive, so don't wait. Here's the scoop from camp director Andrew Lawrence who you'll need to contact immediately:
We are a week out from Django Camp at Django in June. I could use a couple more mandolin players. Aaron Weinstein will be working on chord melody and Jason Anick on more single line approaches to improv. As an extra added bonus you get 60 guitarists eager to back you up while they practice their Django-style rhythm guitar! Tell you what... I'll offer a free private room in the dorm and one day's meals to the first two people who register for Django Camp from JazzMando, ....a $250 savings!"
More about the Django in June and registrations for full-immersion Django Camp. As we mentioned earlier in the year, JazzMando favorites Aaron Weinstein and Jason Anick are on deck to teach you their tricks.
Announcing 2011 Django in June, June 14-19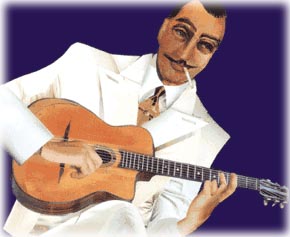 The first music camp in the US dedicated entirely to the Gypsy jazz tradition, Django Camp represents an unparalleled opportunity to both kick back and dig deep with expert teachers and enthusiastic students of the style. Whether you want to build a strong Gypsy jazz foundation or add another floor above the one you've got, guidance, inspiration and camaraderie are offered at a depth you won't find anywhere else this side of the Atlantic.

Dates are next week already, June 14-19. (Tuesday evening through Sunday noon, with an early arrival option on Monday the 13th.) Held on the beautiful Smith College campus in Northampton, Massachusetts, early bird tuition rates are in effect. (Cost goes up monthly after February.)
The program for players of guitar, violin, accordion, mandolin and bass, is offered by the same concert artists you'll enjoy on the mainstage later in the week. Sharing a violin/mandolin chair are two bright, rising stars of the jazz violin scene, Aaron Weinstein (who has worked extensively with both Bucky and John Pizzarelli) and Jason Anick (most recently, of the John Jorgenson Quintet). Previous mandolin teachers included John McGann and Jamie Masefield.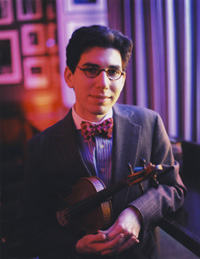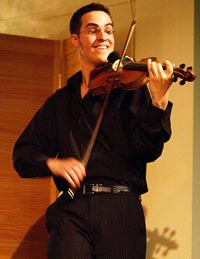 Online jazz mandolin lessons - Jason Anick

Contact Andrew Lawrence immediately!!!
Posted by Ted at 4:40 AM

June 5, 2011 | Floodtone 10-string mandolin
We've been a little slow in getting this review up, but we're especially proud to give you an exclusive on one of the best kept secrets in American mandolin building, the work of Las Vegas art teacher Thomas Flood and his signature Floodtone mandolin line. He's been working rather covertly in his Las Vegas studio the last decade, producing some of the most interesting and economical instruments available.
We commissioned a 10-string build last winter, and for under $500, we think this is a remarkably good instrument. He's got some good ideas and seriously good potential for some ground-breaking instruments.
Keep an eye on this guy!
Read review: Thomas Flood 10-string mandolin
Builder's website: Floodtone Mandolins
Read up on other world class mandolin builders: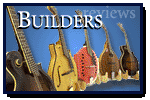 Posted by Ted at 6:06 PM

June 3, 2011 | Brian Lock 2-Point in Cafe Classifieds
We reviewed his work a couple years ago and remain pretty impressed with the craft of Pecos, New Mexico builder Brian Lock. Now is the opportunity for someone's good fortune to pick up this instrument, at a price we consider quite reasonable. Built in 2009, it's had some months to season in, with some occasional tweaks by the builder himself.
From Brian: "This mandolin features Red spruce top, Red maple back, sides,neck. Curly Koa binding and headstock veneer. Ebony fingerboard and bridge. Floating ebony pickguard. Monteleone style tailpiece. Gold Schaller tuners. Bone point protectors. Hand rubbed Spirit Varnish. I completed this instrument in 2009, it was the second mandolin built in my 2-point signature design , and has been keeping me company in my workshop."
Don't let this one get by you!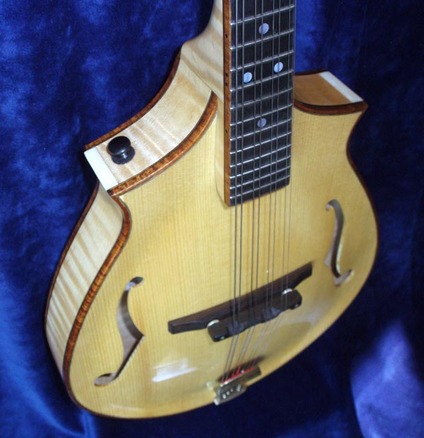 View ad: Brian Lock 2-Point for sale
Read past review: Brian Lock
Posted by Ted at 4:59 AM

June 1, 2011 | Last day for orders! Strings/picks/cloths or book.
We don't want to interrupt your service for JM10B, JM11, or JD13 JazzMando strings, you'll want to be prudent, as we won't be able to ship again until after June 14th. If we get your order by today, you'll be able to avoid a two-week delay while the warehouse is shut down.
We pride ourselves on same day shipping, but any orders that come in after today won't be shipped until the middle of the month.
Thanks for your business!
Support the JazzMando site and its free resources by shopping the JazzMando Merchandise Center today!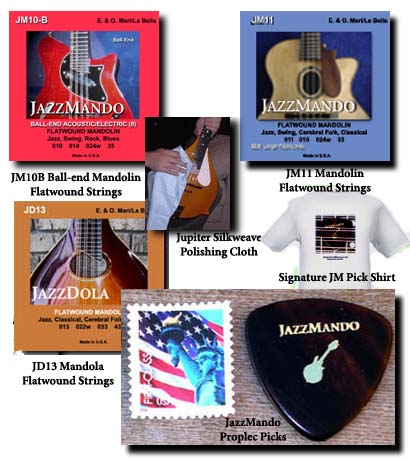 Books still available on sale, too!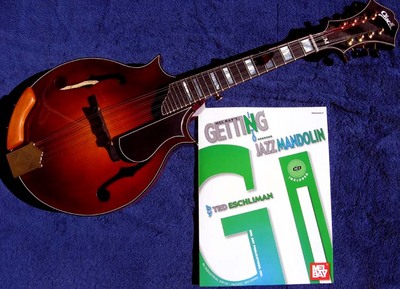 Posted by Ted at 5:31 AM