« Brian Lock 2-Point in Cafe Classifieds | Main | Django in June $250 savings if you haven't registered! »

June 5, 2011 | Floodtone 10-string mandolin
We've been a little slow in getting this review up, but we're especially proud to give you an exclusive on one of the best kept secrets in American mandolin building, the work of Las Vegas art teacher Thomas Flood and his signature Floodtone mandolin line. He's been working rather covertly in his Las Vegas studio the last decade, producing some of the most interesting and economical instruments available.
We commissioned a 10-string build last winter, and for under $500, we think this is a remarkably good instrument. He's got some good ideas and seriously good potential for some ground-breaking instruments.
Keep an eye on this guy!
Read review: Thomas Flood 10-string mandolin
Builder's website: Floodtone Mandolins
Read up on other world class mandolin builders: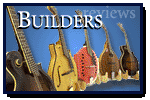 Posted by Ted at June 5, 2011 6:06 PM