Thomas Flood
10-string mandolin
We first stumbled across the peculiarly intriguing mandolins of Las Vegas art teacher Thomas Flood several years ago scanning the Mandolin Cafe online Classified advertisements. It seemed every entry had a haphazardly different wood combination. Honduran mahogany, Redwod, Cedar, Birch, Sapelle, Curly Maple, no end to the hues and textures of wood, yet each maintained an identifiably signature "Floodtone" identity. Not only were the pictures of the instruments gorgeous in their understated southwestern muted hue desert aesthetic, the pricing was consistently mind-blowing. At the time, most were under $400, many even $300. It was time to sample the craft of the American builder ourselves so we commissioned a unique 10-string mandolin.
Flood insists each of his creations have an individual identity and that was every experience for us in the build. Each step involved some dialogue and individual attention, although we gave him a generous license to create what we wanted to build. This instrument was Honduran Mahogany back and side, Englemann Spruce top, three piece neck (Mahogany-Maple,-Mahogany) 12 degree radius fretboard, with a solid ebony and stainless steel tailpiece, McFadddens gloss lacquer. He chose a Bubinga headstock overlay and made the body on the 10-string a bit wider at 10-3/4 inches wide and 3 3/4 inches deep, a finished nut width at 1-5/16".
He deviated with a bigger headstock, suggesting "there exists an argument/ theory that weight on the headstock gives it better sustain," and bound it with Walnut and chose an Indian Rosewood fretboard. Coming from the Nevada desert's absolutely stable low-humidity environment, we were confident we'd get a stable instrument, unlike a difficult past experience we had with a custom build from a Brazilian builder. The neck also has a 1/4 inch steel bar and a 3/6 X 3/4 inch carbon fiber bar under the fretboard.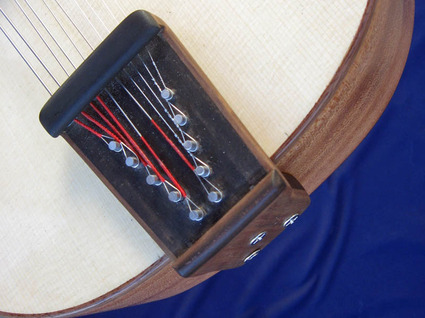 His tailpiece is somewhat unconventional, glued in, screwed down, but quite stable and successfully functional. (He guarantees these for life, and jokes "nuclear attack.") We've done one trouble free string change and can attest to the stability of the string pins. He suggested a 38-40 gauge string, but we went with a flatwound 43 gauge for more solid bass.
Flood is not big on wood fillers, concerns about reducing flexibility and dampening the tone. We don't really have anything to compare it to, but it lends a rustic, raw cosmetic look, even with the light gloss finish (our choice).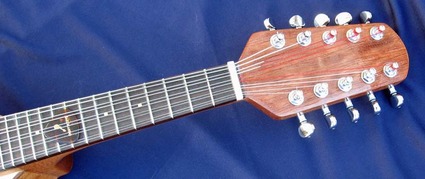 We're impressed with this instrument, and are even hesitant to include the disclaimer "for the price." Yes, this is remarkably inexpensive, especially compared to other available American builds, but the sound and feel is worthy of a first class auxiliary instrument. The fingerboard and fret edges are unexpectedly well finished. Unfortunately, the fixed bridge will take some shimming to address some fret buzzing, but this is more the fault of the local climate change than the fault of the builder.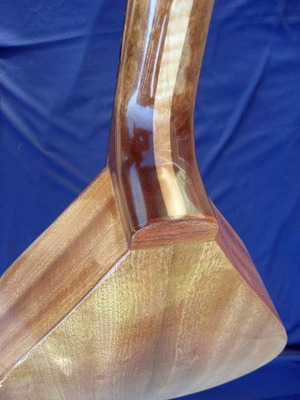 Our one and only concern is the body depth, and only out of personal preference. We were hoping for more of a smaller travel instrument, but admittedly, the deeper body probably is responsible for a bigger sound. If we commissioned another one, we'd opt for a shallower body for portability and player comfort. Because of the disproportionate size, it almost feels like a bowlback instrument.
We'd like to see some marketing prowess behind the builder. He's successfully implemented some very good ideas, and if he could devote more time to building and leave the mechanics of selling to a third party, he would have a more broadly popular line.
We hope to see more of the Floodtone instruments out there in the future.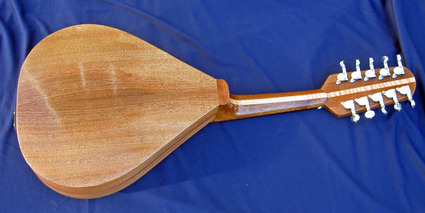 Bio from the Floodtone website:
"I teach the visual arts and hold an undergraduate degree in Graphic Arts, another in Art Education, a Masters Degree In Curriculum and Instruction, and I've done some Doctoral Work. I began building mandolins with the help of Las Vegas's finest luthier and instrument builder, Jim Poisson, the owner of Advanced Guitars. I have worked on hundreds of mandolins and at the present time I've built 70+. The FloodTone is inspired and derivative of the bent top mando's of the early twentieth century (such as those produced by Martin, Larson Brothers, or the Weymann) with a few added improvements. Each instrument is custom made and no two are identical."
Builder's website: Floodtone Mandolins

Read up on other world class mandolin builders: