« Out with the old. JM11 clearance special! | Main | The right hand »

June 27, 2011 | Terrifying, yet fascinating at the same time.
This would put fear in the heart of any decent, self-respecting mandolinist. Still, it's an intriguing concept, a bass made to resemble a banjo, AKA "Bass Banjo."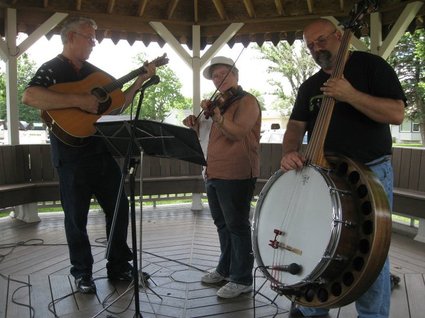 Photos courtesy Marcia Claesson
Its player a local friend of ours, Evert Claesson weighs in, "The guy playing the guitar (Gem Miller) made it. Some years back he was playing with a group of banjo players and there was an upright bass accompanying them. He thought the bass looked "out of place" so he decided to roll his own bass banjo. He usually describes it as an "Obscure Hungarian instrument" whose name is spelled Biggaatz. He's not sure about the pronunciation, but, according to him it's a "Bigass" bass banjo. It's fun to play (much easier to play than an upright) and it sounds fairly decent. I had been thinking of getting an upright but a decent one would set me back about 1200 - 1500. I get to play this one for free and it doesn't kill my hands."
Nice!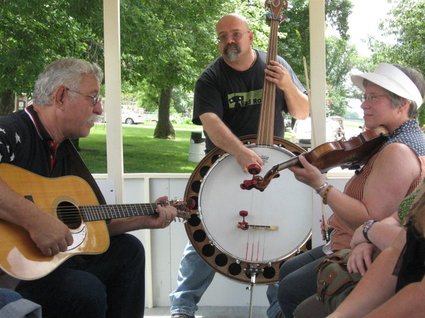 Posted by Ted at June 27, 2011 4:57 AM