« June 2011 | Main | August 2011 »

July 31, 2011 | Now in limited supply, JM11 Cotton Tees
They're here, and we think it's one of the best designs we've ever offered. The new JM11 shirt, in all its white/technicolor splendor is in stock, and ready to wear at your next festival or jam. Comfy Haynes preshrunk cotton, the shirt is as easy on the eyes as it is the body. We've had the chance to roadtest these, and can personally attest to their appropriateness as we enter the "dog days" of summer.
Of course the instrument featured in the graphic is none other than a signature Clark JM 2-point mandolin, the cherry-cola burst icon that bedazzles the opening page of the JazzMando website.
For the time being, we have them in Large and Extra Large, occasionally a 2XL (give a little extra time on the latter). We've made it easy to order through our shopping cart on the link below. $11.95 for the Lg & XL, $14.95 for the 2XL plus shipping. (International and Canadian orders add $10.00.)
Operators are standing up:
JazzMando JM11 String Shirt
By the way, we're in need of another good model for the shirt. Send us a picture after you've purchased yours!
Posted by Ted at 7:18 AM

July 29, 2011 | Mowry 2-point asymmetrical mandolin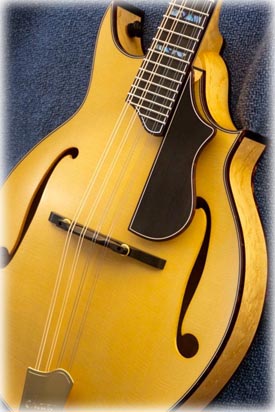 We do our own reviews of mandolin builders here on the site, but once in a while it's great to hear from our readers of their own personal experiences with a custom build, especially when the process (let alone the final product) is positive. Such is the case with the recent commission by Richard Morse of Minnesota. He's graciously elected to tell his story of the handiwork of master builder, Andrew Mowry, and another stunning blonde assymetrical 2-point. His story:
"After attending Steve Kaufman's Acoustic Kamp in June of 2008, I was so impressed with Don Stiernberg's playing and his 2-point mandolin that I decided I really wanted to learn how to play jazz and I wanted a cool 2-point mandolin. I began frequenting the JazzMando and MandolinCafe websites to learn as much as I could. I was taken by the article and photos in JazzMando on a young builder, Andrew Mowry, located in Bend, Oregon. My son quickly pointed out to me that Andrew was a geology major a year ahead of him at Middlebury College in Vermont. (Interesting that from that Geology major one student became a top-notch luthier and theother an oral surgeon!) I thenfound that Andrew had been featured in an old issue of Mandolin Magazine sitting next to my bed.
By June of 2009 I finally contacted him to see if there were any of his instruments located in the Midwest that I might be able to try. The best I could do was listen to the Josh Pinkham recording on the website (Oh, to be able to play like him!). I also was interested in Austin Clark's mandolins at this time. Eventually I decided to go with Andrew's work, mainly because of the slight connection with my son. The tough part was, how was I ever going to come up with the money? I found a buyer for my 1962 Gibson Hummingbird on the internet and that provided about three fourths of what it would cost me to have the mandolin of my dreams. Finally on March 8, 2010 I put down my $200 deposit to get into line to have my mandolin made. I was pleasantly surprised when an email arrived on December 30, 2010 indicating that Andrew could start on my instrument very soon.
Working with Andrew was extremely easy. We exchanged at least 55 emails from beginning to end, along with dozens of photos. I had a basic idea of what I wanted at the start (the example on the JazzMando website), but we both shared and explored ideas along the way to completion. He sent me photos of different pieces of wood to use for the back, photos of tuners, ideas for the headstock, etc. We discussed basically every aspect of the instrument. As construction moved along Andrew sent me batches of photos he'd taken of the process. This made the experience so exciting for me! Finally onFriday, July 22, 2011, the package arrived via Federal Express.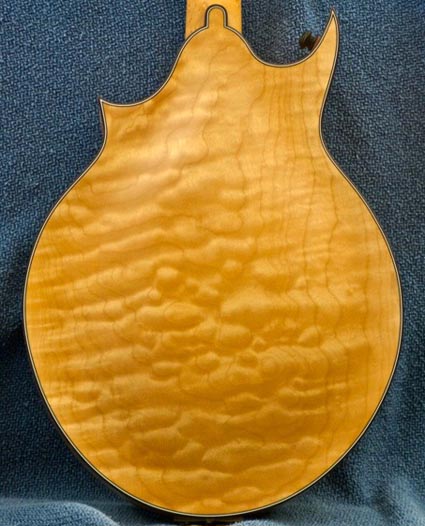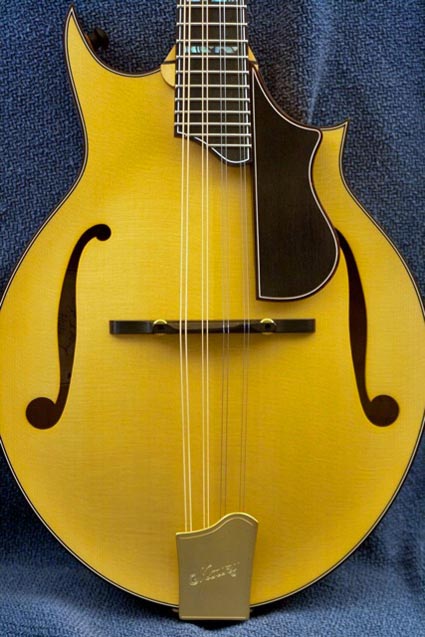 I just cannot believe how a person can craft such a perfect, flawless work of art! The setup is just right and the mandolin has amazing sustain and tone. I cannot think of the words to express what a wonderful experience I've had with the building of this fantastic instrument. Now I really need to improve my playing to become worthy of owning it!"
Thanks for sharing, Dick!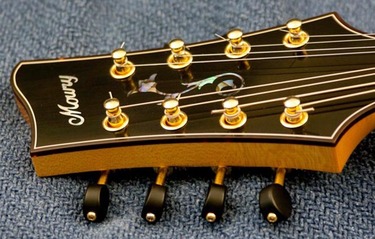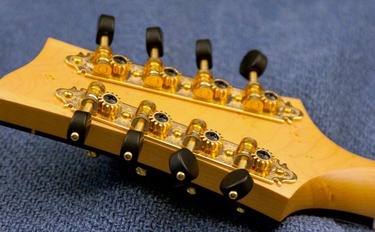 Mowry Asymmetrical 2-point #72 specifications:
Englemann Spruce top
Birdseye Maple sides and neck
Quilted Bigleaf Maple one-piece back
Red Spruce tonebars
Radiused ebony fretboard
Ebony pickguard
Abalone fretboard markers (bars)
Ebony Headstock with Pearl "Mowry" logo and Abalone flowerpot
Gold Gotoh tuners with black knobs
Carbon Fiber neck reinforcement
Custom-made ebony bridge
White plus tortise binding including fretboard and pickguard
Custom James tailpiece shaped to match headstock
Ebony strap buttons
Blonde Varnish finish made satin
Travelite case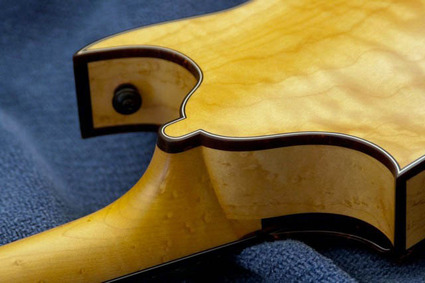 Read pastMowry review: Mowry Assymetrical 2-point
Builder website: Mowry Strings
Read up on other world class mandolin builders: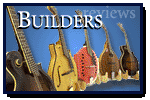 Posted by Ted at 5:17 AM

July 27, 2011 | 10 Questions for John McGann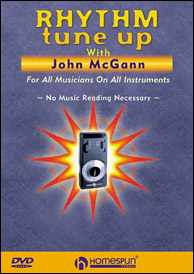 We've considered him a friend for nearly a decade, still it was an incredible privilege, the honor of interviewing one of mandolin pedagogy's greatest active resources, Professor John McGann of the prestigious Berklee School of Music in Boston. Our third contribution to the highly popular Mandolin Cafe "10 Questions" series was able to catch the artist/teacher between semesters (and tours!) and ask some challenging questions. The result: many pages of unadulterated mando enlightenment.
From the article: "Some people bristle at the notion of music being approached like a science, but science is the notion of a "repeatable experiment proving a truth. Theory won't make you a less soulful player. Your soul is impervious to anything as non-cosmic as theory! It won't make you a mechanical player if you aren't already a mechanical player, and it won't help you be less mechanical either. That's not theory's job. Theory is getting under the hood and understanding how the car works, what all those belts do, why there are pistons, what actually makes the wheels go around, why the car doesn't start, etc. Yes, you can drive without knowing all that stuff, but if you want to design a car (or some music...)"
Take the time to dig into the mind of this articulate multi-instrumentalist with this incredible interview!
Read: 10 Questions for John McGann
Artist website: John McGann
John McGann YouTube
Berklee Faculty Profile

Posted by Ted at 5:52 AM

July 25, 2011 | Summer NAMM pictures
As promised, we clicked a few pictures while touring the Summer NAMM show in Nashville this last week. Though the convention was light in attendance and exhibits, there were a few things that caught our eye, including this D Watkins stainless steel mandolin. Hard to really hear through the din of the hall, let alone the blazing guitar map display next to it, but we were told the custom instruments (approximately $1500 selling price) feature a unique chorus "ensemble" acoustic effect with the multiple sound holes, much like several instruments playing at the same time.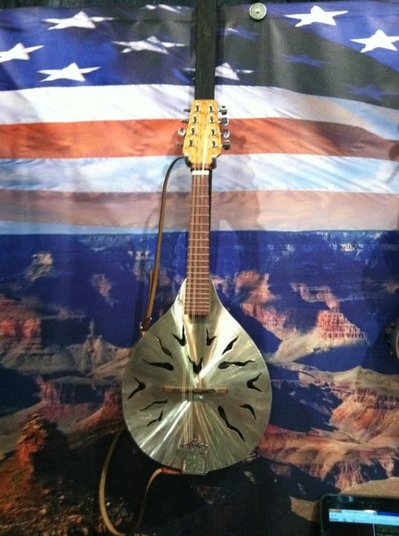 The Gold Tone booth featured its usual stable of unusual acoustic stringed instruments. We enjoyed wailing on the cello-banjo (Marcy Marxer series), and thought this 12-string mandolin guitar was interesting, probably more for the guitarist, though: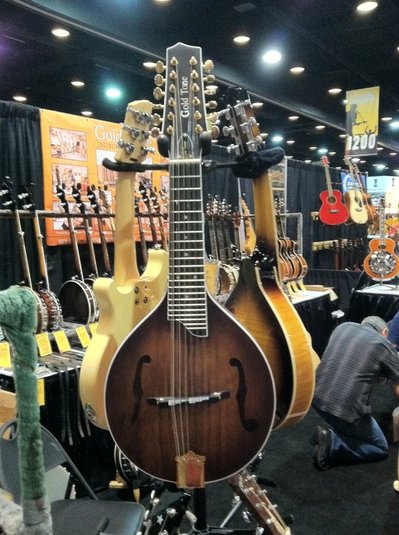 This delicious wine colored Breedlove American OO caught our eye. The picture really doesn't do it justice: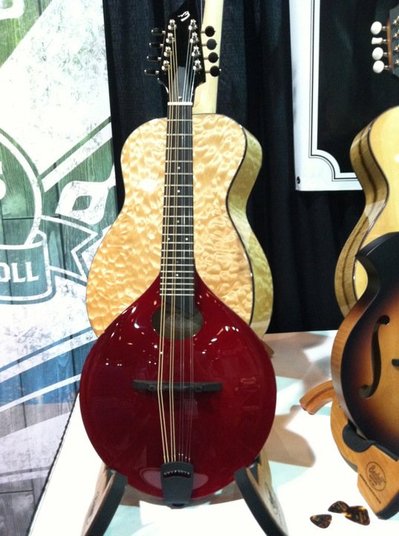 We also had to snap the picture of a guitar that did the best to remind us we were in Tennessee...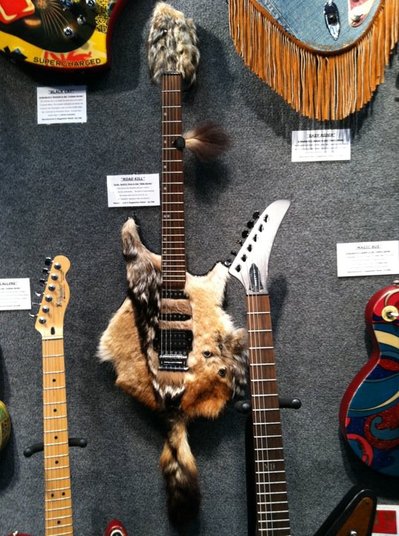 Art Guitars, "Roadkill"

Want more? We've listed additional pictures in the Mandolin Cafe Forum, and on our personal Facebook NAMM scrapbook folder.

Posted by Ted at 5:32 AM

July 23, 2011 | Ukulele and Mandolin; John Baxter
Interesting article over at the Mandozine website on comparisons of the popularity of mandolin and ukulele by site author, John Baxter who has contributed generously to the cyber world of mandolin the last decade, providing "an archive of over 2,900 tunes in TabLEdit format, a Techniques section covering a range of topics, and the archive for interviews conducted by the CoMando discussion list of some of the greatest artists of the last 50 years. Mandozine also broadcasts a 24/7 Internet radio station that plays mandolin-centric music." We appreciate the shout out for the efforts here at JazzMando and Scott Tichenor's Mandolin Cafe resources.
Article Excerpt:
Both the mandolin and ukulele have a special niche in the musical landscape, with dedicated players that have immersed themselves in the music, instruments, culture, and community. The ukulele and mandolin, and the artists and vast number of enthusiasts that resurrected the instruments during the past century, have revolutionized music with the acceptance and appreciation of these instruments.
There are some parallels between the ukulele and mandolin, such as their popularity in the early 1900s, the revival of the instruments in the 50s and 60s, and the popularity we see today. Both instruments have some similar aspects. They are both four stringed instruments. Although the mandolin has eight strings that are tuned in pairs, the mandolin is considered a four stringed instrument from a players perspective. The ukulele and mandolin are both part of a family of instruments. The ukulele family consists of the soprano, concert, tenor and baritone. The mandolin family consists of the mandolin, mandola, mandocello, and the obscure mandobass. Both instruments are used for a variety of styles of music. Although the ukulele is most often used for Hawaiian music and popular tunes, it is a versatile instrument that has been adapted for jazz, folk, reggae, and rock. The mandolin, in the U.S., is dominate in bluegrass, but is used for classical, celtic, folk, swing, choro, and jazz. It has been featured in pop and rock music by such artists as Rod Stewart, Led Zeppelin, REM, and The Band.
Read More: Ukulele and Mandolin
Enjoy: Mandozine Radio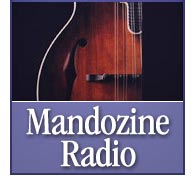 Posted by Ted at 6:26 AM

July 21, 2011 | Classifieds find: Japanese Orpheum M-30
Jazzmando research lab specialist and Jazzmando contributor, Levi Littvay, just posted a mandolin for sale on the Mandolin Cafe Classifieds. Of course, we're on record being attracted to mandolins that are not F or teardrop shaped, and the 2-point mandolin has been a jazz mandolin classic since Jethro Burns picked his 1960's Gibson A. This one features an unusual rosewood back and F-holes.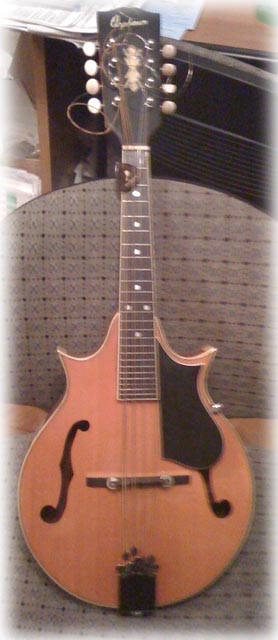 Levi reports, "This mandolin was made somewhere in a Japanese shop around the late 1970's and early 1980's. The Japanese instruments of this era are highly sought after. Around this time, very few people produced quality instruments. Even Gibsons were hit and miss, at best. This allowed these Japanese shops to shine. In fact, many believe that it was these quality Japanese instruments that pushed Gibson to get its act together and produce the F5L, the first post-war Gibson mandolin that was consistently good (not counting the A5s of the 60's that we have a soft spot for). Some of these Japanese instruments like the Ibanez 524 (promoted by Bill Monroe) and the Kentucky KM-1500 or KM-DAWG sell for as much as recent American small shop mandolins. Of course, this is only true about the top of the line for each shop."
Japanese mandolin brands like Kentucky, Ibanez and Aria are better known. These were later made in Korea and China where quality went down quite a bit. Others names like Orpheum, Morris and Penco are less familiar, though we know that many old Japanese shops produced instruments under several brand names. Note, that some turn of the (20th) century instruments also carried the Orpheum brand.
Describing its tonal qualities, he weighs in "This is a strong and aggressive sounding instrument. Strong in mids and highs, it definitely cuts through the mix even if you do not play very loud. In guitars a rosewood back is associated with boomy lows. Apparently, this is not the case in mandolins. While I only ever played two of such instruments (the other being a Capek A style made by a talented Czech Luthier) neither had much low end."

This would also make an excellent travel mandolin that you don't mind taking camping, to the beach and to play by the campfire posted at $399 including shipping.
View Classifieds: Orpheum M-30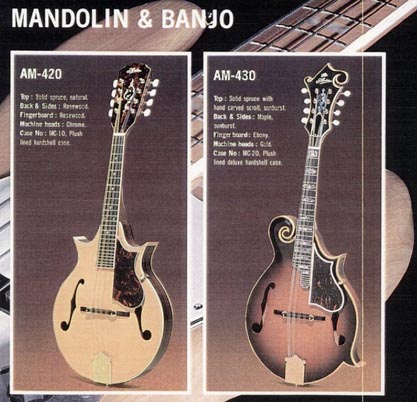 Posted by Ted at 5:15 AM

July 19, 2011 | Free fretboard chord template. New and improved!

Found a cool chord you don't want to forget, or want to share with a friend? Use our free chord template. Print out the PDF file and make more blank copies for yourself when inspiration strikes!
One of our most popular downloads (next to our free FFcP exercises) has been our mandolin chord fretboard template. If you're wanting to map out or transpose a chord progression, you've got a blank chart to document your discoveries. You can print multiple copies or photocopy your original.
A problem we've run into is drawing out chords that reach beyond the 12th fret, so we've created an enhanced version with space all the way up to the 17th fret. We've also included fret markers at fret 5, 7, and 12. This should help you get the full power of the transposable nature of this wonderful instrument.
Explore some of the other helpful downloads, including the aforementioned FFcP studies. It's one of the most visited pages of the site.

Jazzmando Extended Fretboard Chord Template New!

Check out more Free Downloads: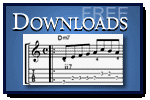 Posted by Ted at 5:58 AM

July 17, 2011 | Introducing: JM11 Shirt
Coming to a mandolinist's chest near you, our exclusive JazzMando JM11 String Shirt.
A tribute to a our favorite string...
Shipping July 28, 2011
Here's a sneak peak of our return into the T-shirt business for a limited time with a new design based on the newly packaged JM11 String packaging. Even if you don't use the popular flatwound string on your instrument, you'll still love being seen in this comfortable, eye catching graphic.
We're struggling with a major heat wave here in the midwest, and a cool short sleeve Tee sounds like an excellent idea. We just did a trial test of the prototype and heartily endorse it's ability to keep you feeling and looking cool.
Extra large graphic, with the cool new technicolor JM11 packaging
Stylish ribbed sleeve cuffs
Comfy Haynes 5.4-oz 100% preshrunk cotton
Neck rib is seamless, and TearAway tag easily be removed
Pre-purchase details: JazzMando JM11 String Shirt
More about the JM11 String family:
JM11 loop end flatwound mandolin
JM10B, ball end flatwound electric mandolin
JD13 mandola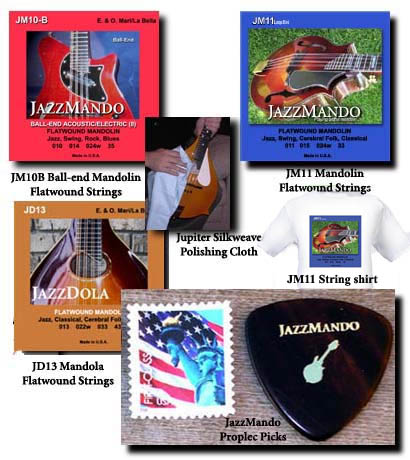 Posted by Ted at 6:14 AM

July 15, 2011 | Review: Weber Gallatin D-hole mandola
We've had it for a few months and it's time we summarize our impressions. Our journey through soundtoearth.com's "Design a Weber" online feature ultimately proved satisfying, and the instrument is a fine addition to the herd.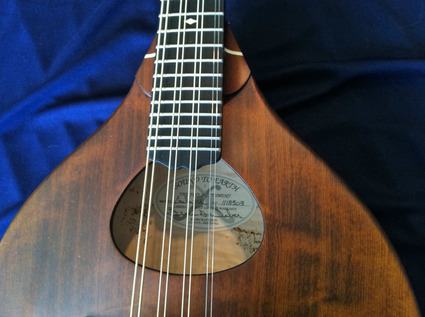 Weber Gallatin D-hole mandola
We were looking for a deep, open sound and the D-hole (vs. oval or F) was a good choice for this critter. Warm and tonally pleasing, what's stunning, and hard to really appreciate without seeing it in person, is the Faded Leather finish. The crew at Weber really has it going on, and we're excited to see the humble Montana based enterprise become the global powerhouse in fretted instrument building in its short 15 years in business.
Read Review: Weber Gallatin D-hole mandola
Posted by Ted at 5:34 AM

July 13, 2011 | Floodtone 8-string Classifieds find
These things have a way of slipping under the radar, and when they're found, they don't last long. Thomas Flood has listed his latest body style innovation in the Mandolin Cafe Classifieds, and if you're looking for a decent American made 8-string mandolin, or even a First Class back-up or travel mandolin, don't miss out on the chance to snag one of his creations. At $400, this is an absolute steal.
We've been impressed with the 10-string we reviewed recently and it's been known to hang around the office (literally on a Hercules wall mount hook) and this very evening, the lap for a little porch practice. The fretwork is good, and the tone robust, and no doubt his recent one sounds good to.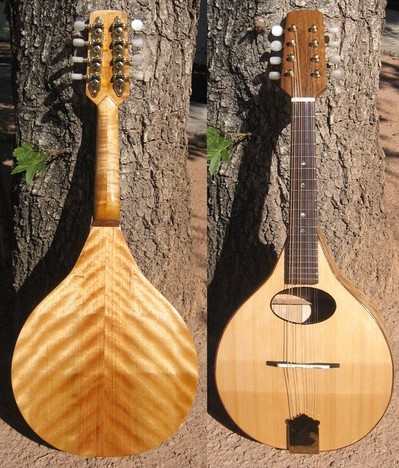 From the ad: "It has book matched flamed birch back and sides, and the top is Sitka Spruce bound. This mandolin features my with walnut. The sound hole is bound with black plastic. The neck is a two piece figured maple and it has not one, but two, bars of carbon fiber under the radiused Indian Rosewood fingerboard. The curfing, neck block, and tail block are made of solid mahogany. The bracing on the top is super tight fur and the bottom three are mahogany. Both the top and bottom seams are lined with a thin strip of spruce. The tuners are gold Grovers and the tailpiece is a gold plated Gibson style. The bridge is ebony and bone, the nut is bone, and the finish is Mcfaddens gloss. One of the newest innovations on this mando is that both the top and back are bent twice for dramatic contour. It is a great sounding, absolutely sturdy mandolin with good buzz free action and it will last for more than a lifetime. It is a one of a kind great mandolin. $400.00 + shipping."
Don't let this one get away, or have Thomas Flood custom build your own! Mandolin Cafe Floodtone 8-string
Read recent review Floodtone 10-string
Posted by Ted at 5:30 AM

July 11, 2011 | Music store seeks help to replace school instruments destroyed in fire
The local school system in Lincoln, Nebraska suffered a devastating fire at their district offices last May. Included in the tragic event was the destruction of about 35% of the school's bank of stringed instruments. Timing could not have been worse. Following a successful spring concert series, most of the district's orchestral instruments had just been returned from the hands of students to be stored over the summer in buildings that have literally burned to the ground.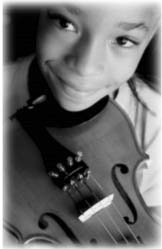 The instrumental music instruction program depends on equipping many children unable to afford their own violins, violas, and cellos, and the fact that these instruments will not be available to students in this fall's program has a debilitating impact on the schools curriculum long term. Replacement instruments may not be available for months (if not years) and a whole cycle of students may completely miss out on the opportunity to experience school orchestra.
Dietze Music is helping LPS out with an all-city call to search local closets and basements for unused string instruments, and we'd like to expand this further and ask our readership to assist. The need is huge for all strings, especially the fractional half- and quarter-sized instruments. You or your child may have string instruments that aren't being used (or know of one) still in working shape, and rather than mess with the inconvenience of a reselling situation like Craig's List or eBay, you'd be just as happy to take a personal deduction on your year-end taxes. Perhaps you've been stirred by your own pleasant experiences in school music and would like to give out of a benevolent spirit midst this community's tragedy.
From July 11 through 30th, we invite you to ship your fractional (or full) sized string instrument to the Dietze Music corporate office in Lincoln, in exchange for documentation for the generous gift.
These can be shipped attention Ted Eschliman:
Out of the Ashes Instrument Donation
Dietze Music
1208 O St
Lincoln, NE 68502
Phone 800.793.2524
Some of the preseason orchestra activities are staring in two weeks, so time is of the essence. Feel free to direct any of your questions about this to Dietze Music.
Video Link: LPS Instrument Donations Sought

More details on Instrument Donation: Out of the Ashes
Store website: Dietze Music
Posted by Ted at 5:48 AM

July 7, 2011 | Summer NAMM Show, open to the public one day!
If you've always wanted to go the NAMM show but never had the connections to get in the door, here's your chance, NAMM's "Wanna Play Music Day" on the final day of the convention (Sat). Doors are open (admission charge) to consumers and hobbyists, and the following are some exciting peripheral events and activities. Check them out...
We'll be there most of the week documenting the latest developments.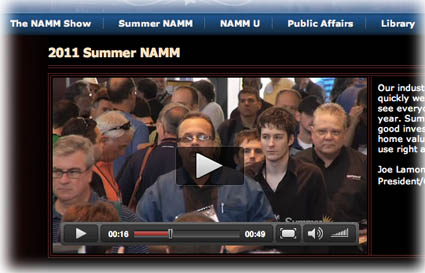 Saturday, July 23, Nashville Convention Center
"Wanna Play Music Day at Summer NAMM 2011"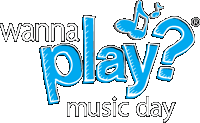 Renaissance Hotel Nashville
611 Commerce St., Nashville TN
Tickets: $15 in advance, $20 at the door (or after pre-reg ends in early July)
Featuring hundreds of exhibits from leading music products companies - the latest guitars, basses amps and accessories that you can play.
Valuable workshops and educational sessions, including:
Learning the Basics of Garage Band
Logic Pro Test Drive-a hands-on look at basics of Logic Pro for beginners
Home Studio Technology for Songwriters-professional songwriters discuss how they use computers and the latest technology in their home studios Live Sound Basics-tips on how to purchase, rent and set up a live sound system that's appropriate for your band or group
Rhythms of the Game, Former NY Yankee Bernie Williams Talks Music!
Moderated by Frank Alkyer, Publisher, Music Inc, N.Y. Yankee great and Latin-GRAMMY-nominated guitarist Bernie Williams will speak and play, Saturday, July 23, 12:30 p.m. to 1:30 p.m., at the NAMM Idea Center, Booth #837. Immediately following this session, Bernie will sign copies of his new book, Rhythms of the Game, in the Hal Leonard Booth #1018, across from the NAMM Idea Center.
'The Wrecking Crew' Film Presented by Denny Tedesco, Director. Denny Tedesco, son of session guitarist Tommy Tedesco, presents a world -class documentary film about the experienced and finest studio musicians from the American pop music and recording scene in the 1960's-70's. ~ A wonderful, touching and hilarious film about the unsung stars of so many records that you carry in your heart. - Elvis Costello ~ The Wrecking Crew is in the league of the best music documentaries ever made. - Vintage Guitar. Saturday, July 23, 1:30 p.m. to 4:00 p.m., NAMM Idea Center, Booth #837
Roland demos the Jupiter 80 synth for the first time ever shown/played in the U.S.! Join in every 30 minutes starting 1/2 hour after Wanna Play Music Day at Summer NAMM opens. Demonstrations to last 20 minutes each. Featured artists: Robert Marcello of Danger Danger on Roland GR-55 Guitar Synthesizer and Scott Tibbs renowned keyboardist/composer and synthesizer programmer on Roland Jupiter 80 Synthesizer.
C.F. Martin & Co. is proud to present "The Evolution of the American Guitar" featuring Martin's Director of Artist and Public Relations, Dick Boak.
Acoustic guitar aficionados are in for a treat during a presentation that will showcase one of America's favorite instruments and feature musical vignettes by featured Martin guitarists. The presentation will be given by Dick Boak, archivist for Martin Guitar. who will offer an interactive history of the 178-year-old guitar company, as well as showcase several important examples in the evolution of Martin acoustic guitars. The presentation will focus on the development of the modern acoustic guitar, Martin's historical contributions to the definitive acoustic guitar design, artist signature model collaborations, and on specific guitar shapes, sizes and tonewoods that lend themselves to particular musical genres.
Boak, long-time Martin Guitar employee and author of Martin Guitar Masterpieces and Martin Guitars: A History, is a woodworker, guitar designer and builder, draftsman, Martin's public relations liaison, graphic artist, author, and guitarist. He is responsible for some of the most unique collaborates with top celebrity guitarists to design and build the finest instruments made at C.F. Martin & Co.
World's Fastest Drummer Competition-a Nashville favorite returns to Summer NAMM to celebrate its 10th anniversary! Come prove you have what it takes to be the world's fastest drummer!
Live music, and many more sessions and artists to be announced
Website: Summer NAMM 2011
Facebook: The NAMM Show

Posted by Ted at 6:39 AM

July 5, 2011 | Holst Blonde Tortoise Bound Body 2-Point Mandolin
Our fondness for 2-point mandolins is consistent and on record including the work of Austin Clark, Andrew Mowry, and recently, Brian Lock. If we had room in the stable a strong candidate would be this one recently posted on the Mandolin Cafe Classifieds from JazzMando friend Terry Lewis, an alluring Stephen Holst blonde tortoise-bound mandolin. No financial interest, but we know the seller personally, and can testify to his character. A real stand up guy, and due to some personal circumstances, he's having to put it up for sale. It's a shame because we know how much he loves the instrument.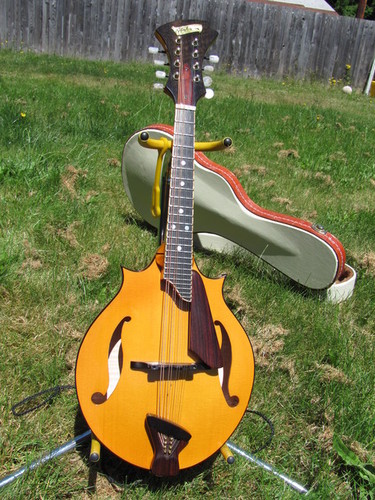 With a year wait on the Stephen Holst list, this is going to make someone very happy. At $1800, it's not likely to be listed very long. Terry tells us, "Body is Tortoise bound, fretboard is natural curly bound. Pickguard is Cocobolo, tailpiece is cocobolo and ebony. Red Spruce tone bar top. Red Maple back. It has some minor dings and scratches but nothing through the finish that I know of."
We'd like to help him find it a deserving home.
Mandolin Cafe Classifieds ad: Holst Blonde Tortoise Bound Body 2 Point Mandolin
More pics: Terry Lewis
Builder's Website: Holst Instruments
Posted by Ted at 5:01 AM

July 3, 2011 | Bobelock "Arrow" Fibreglass Mandolin Case Review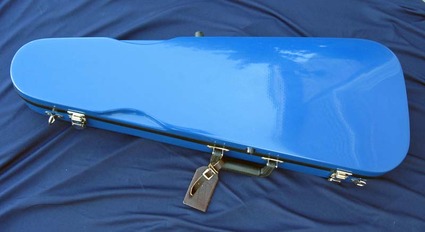 Click images for closeup

Case design is a perpetual exercise in compromise. Balancing aesthetic with affordability, durability with lightness, let alone instrument fit, with mandolins it's F vs A body and other styles, and through it all, the uber niche market still has to produce on an economy of scale that makes financial sense. (There's certainly no shortage of options for guitar and violin cases...) That's why when we spot a really good case design, as is with the Bobelock Arrow Fibreglass case (1029FBV), we should spread the word.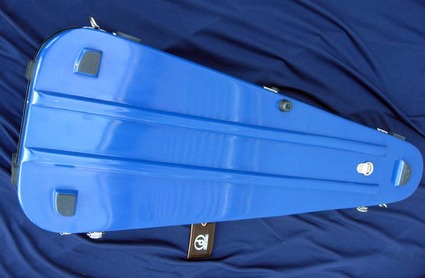 There is very little we don't like about this case. You can go with something lighter like the Protec Propac or Guardian Featherweight, and you'll get general use adequate protection and less weight, but if you want something more robust and airtight, the Bobelock is the answer. Its fiberglass shell is as peace-of-mind comforting to the player as its inner padding is comfortable to the mandolin. We use it exclusively for a two-point, although it works well with both A and F body.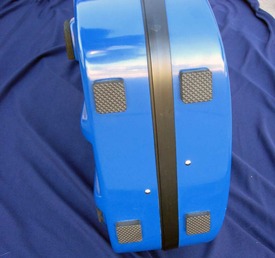 The outside groove and ridge space-age detailing is dynamic and bright colors add to quote from their website, "a little extra personality to your already fabulous ability to play the mandolin," available in red, blue, ivory, and black. The little things we like, case feet on four sides, make it easy to store anywhere, and in a multitude of positions. The wide grip handle is well positioned and comfortable to the grip.

Some of the other fiberglass cases currently on the market have more than two latches to properly seal on several sides, and in our experience inevitably one gets left open. With the Bobelock, you have just the twin latches and they secure the case's exterior valence closure gasket remarkably well. The healthy clip from the shoulder strap (included) is sturdy and is attached and removed with ease.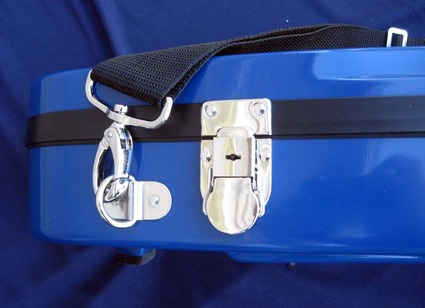 The case comes standard with an exterior blanket fleece-lined black travel cover, but we like the looks of the blue so much, we're saving that for winter use, and one less thing to have to close. There's also a healthy amount of room for strap, tuner and strings.
Street priced in the mid to upper $100s (list price $242), this case is a bargain for the conscientious mandolinist looking for security in an affordable price range. We give it all thumbs up for its "secure and go" ease.
l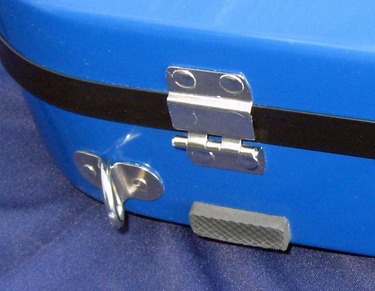 Posted by Ted at 5:59 AM

July 1, 2011 | Save $2.50 on Mandolin Cafe Caps
When you buy at volume pricing, you get to sell at volume pricing. No doubt the popularity of the Mandolin Cafe Cap has afforded its proprietors some financial leverage in offering this cool fashion accessory at an unprecedented sale price. Only $10.50? You've got to be kidding.

At this price, even those who already have one ought to have another color for different events. We prefer the red for travel. Spouse can't let you out of her sight that way.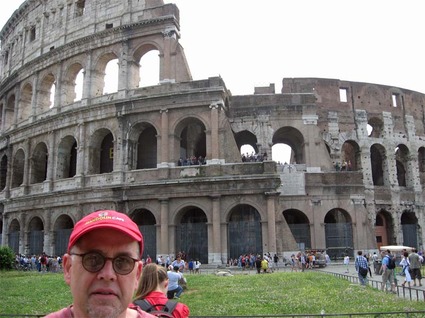 It's the weekend, so beat the long lines an order yours now. Operators are standing up.
Order information: Mandolin Cafe Ball Caps
Posted by Ted at 6:13 AM