« 10 Questions for John McGann | Main | Now in limited supply, JM11 Cotton Tees »

July 29, 2011 | Mowry 2-point asymmetrical mandolin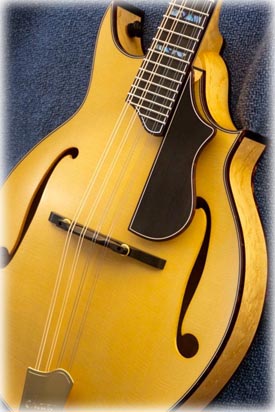 We do our own reviews of mandolin builders here on the site, but once in a while it's great to hear from our readers of their own personal experiences with a custom build, especially when the process (let alone the final product) is positive. Such is the case with the recent commission by Richard Morse of Minnesota. He's graciously elected to tell his story of the handiwork of master builder, Andrew Mowry, and another stunning blonde assymetrical 2-point. His story:
"After attending Steve Kaufman's Acoustic Kamp in June of 2008, I was so impressed with Don Stiernberg's playing and his 2-point mandolin that I decided I really wanted to learn how to play jazz and I wanted a cool 2-point mandolin. I began frequenting the JazzMando and MandolinCafe websites to learn as much as I could. I was taken by the article and photos in JazzMando on a young builder, Andrew Mowry, located in Bend, Oregon. My son quickly pointed out to me that Andrew was a geology major a year ahead of him at Middlebury College in Vermont. (Interesting that from that Geology major one student became a top-notch luthier and theother an oral surgeon!) I thenfound that Andrew had been featured in an old issue of Mandolin Magazine sitting next to my bed.
By June of 2009 I finally contacted him to see if there were any of his instruments located in the Midwest that I might be able to try. The best I could do was listen to the Josh Pinkham recording on the website (Oh, to be able to play like him!). I also was interested in Austin Clark's mandolins at this time. Eventually I decided to go with Andrew's work, mainly because of the slight connection with my son. The tough part was, how was I ever going to come up with the money? I found a buyer for my 1962 Gibson Hummingbird on the internet and that provided about three fourths of what it would cost me to have the mandolin of my dreams. Finally on March 8, 2010 I put down my $200 deposit to get into line to have my mandolin made. I was pleasantly surprised when an email arrived on December 30, 2010 indicating that Andrew could start on my instrument very soon.
Working with Andrew was extremely easy. We exchanged at least 55 emails from beginning to end, along with dozens of photos. I had a basic idea of what I wanted at the start (the example on the JazzMando website), but we both shared and explored ideas along the way to completion. He sent me photos of different pieces of wood to use for the back, photos of tuners, ideas for the headstock, etc. We discussed basically every aspect of the instrument. As construction moved along Andrew sent me batches of photos he'd taken of the process. This made the experience so exciting for me! Finally onFriday, July 22, 2011, the package arrived via Federal Express.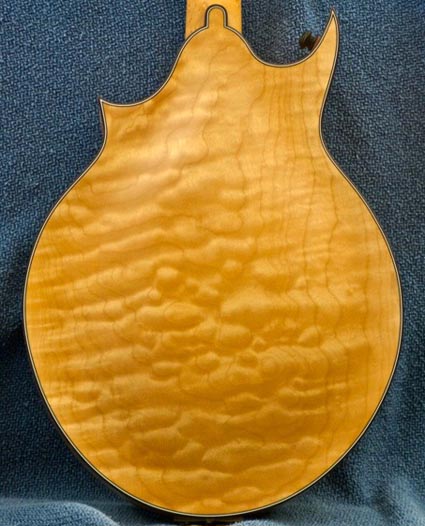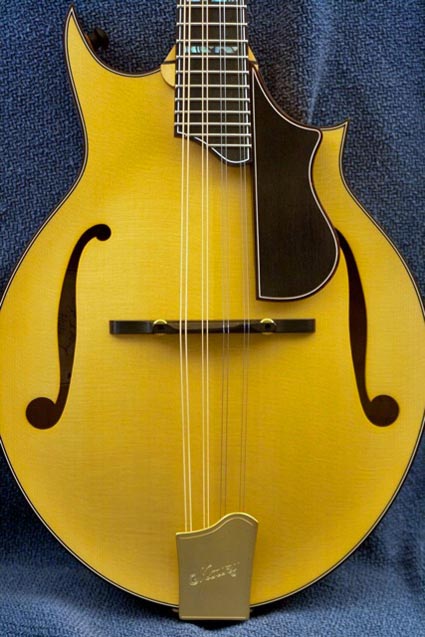 I just cannot believe how a person can craft such a perfect, flawless work of art! The setup is just right and the mandolin has amazing sustain and tone. I cannot think of the words to express what a wonderful experience I've had with the building of this fantastic instrument. Now I really need to improve my playing to become worthy of owning it!"
Thanks for sharing, Dick!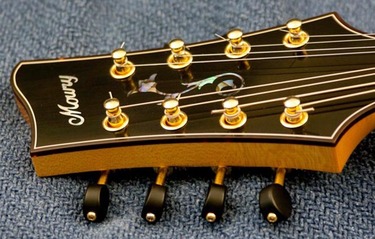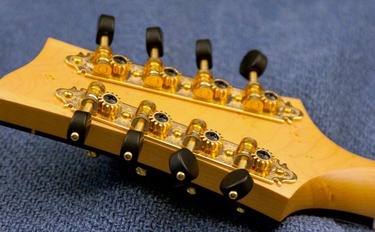 Mowry Asymmetrical 2-point #72 specifications:
Englemann Spruce top
Birdseye Maple sides and neck
Quilted Bigleaf Maple one-piece back
Red Spruce tonebars
Radiused ebony fretboard
Ebony pickguard
Abalone fretboard markers (bars)
Ebony Headstock with Pearl "Mowry" logo and Abalone flowerpot
Gold Gotoh tuners with black knobs
Carbon Fiber neck reinforcement
Custom-made ebony bridge
White plus tortise binding including fretboard and pickguard
Custom James tailpiece shaped to match headstock
Ebony strap buttons
Blonde Varnish finish made satin
Travelite case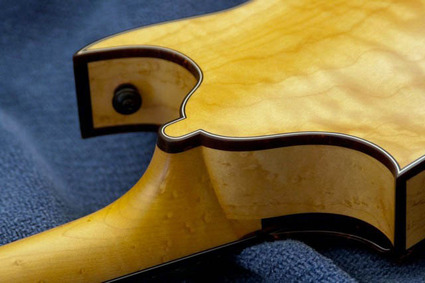 Read pastMowry review: Mowry Assymetrical 2-point
Builder website: Mowry Strings
Read up on other world class mandolin builders: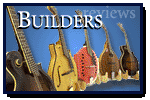 Posted by Ted at July 29, 2011 5:17 AM