« Music store seeks help to replace school instruments destroyed in fire | Main | Review: Weber Gallatin D-hole mandola »

July 13, 2011 | Floodtone 8-string Classifieds find
These things have a way of slipping under the radar, and when they're found, they don't last long. Thomas Flood has listed his latest body style innovation in the Mandolin Cafe Classifieds, and if you're looking for a decent American made 8-string mandolin, or even a First Class back-up or travel mandolin, don't miss out on the chance to snag one of his creations. At $400, this is an absolute steal.
We've been impressed with the 10-string we reviewed recently and it's been known to hang around the office (literally on a Hercules wall mount hook) and this very evening, the lap for a little porch practice. The fretwork is good, and the tone robust, and no doubt his recent one sounds good to.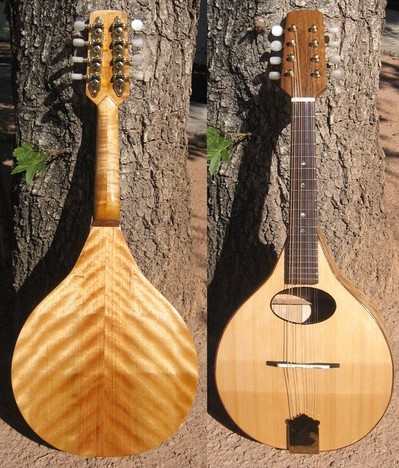 From the ad: "It has book matched flamed birch back and sides, and the top is Sitka Spruce bound. This mandolin features my with walnut. The sound hole is bound with black plastic. The neck is a two piece figured maple and it has not one, but two, bars of carbon fiber under the radiused Indian Rosewood fingerboard. The curfing, neck block, and tail block are made of solid mahogany. The bracing on the top is super tight fur and the bottom three are mahogany. Both the top and bottom seams are lined with a thin strip of spruce. The tuners are gold Grovers and the tailpiece is a gold plated Gibson style. The bridge is ebony and bone, the nut is bone, and the finish is Mcfaddens gloss. One of the newest innovations on this mando is that both the top and back are bent twice for dramatic contour. It is a great sounding, absolutely sturdy mandolin with good buzz free action and it will last for more than a lifetime. It is a one of a kind great mandolin. $400.00 + shipping."
Don't let this one get away, or have Thomas Flood custom build your own! Mandolin Cafe Floodtone 8-string
Read recent review Floodtone 10-string
Posted by Ted at July 13, 2011 5:30 AM