« Holst Blonde Tortoise Bound Body 2-Point Mandolin | Main | Introducing new JM11 labeling. Free polish cloths... »

July 7, 2011 | Summer NAMM Show, open to the public one day!
If you've always wanted to go the NAMM show but never had the connections to get in the door, here's your chance, NAMM's "Wanna Play Music Day" on the final day of the convention (Sat). Doors are open (admission charge) to consumers and hobbyists, and the following are some exciting peripheral events and activities. Check them out...
We'll be there most of the week documenting the latest developments.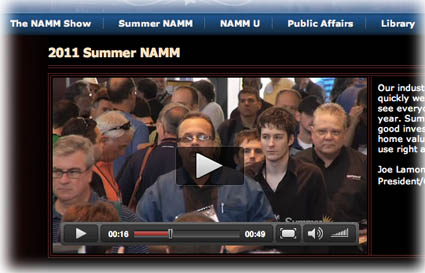 Saturday, July 23, Nashville Convention Center
"Wanna Play Music Day at Summer NAMM 2011"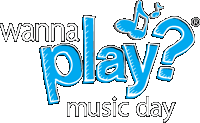 Renaissance Hotel Nashville
611 Commerce St., Nashville TN
Tickets: $15 in advance, $20 at the door (or after pre-reg ends in early July)
Featuring hundreds of exhibits from leading music products companies - the latest guitars, basses amps and accessories that you can play.
Valuable workshops and educational sessions, including:
Learning the Basics of Garage Band
Logic Pro Test Drive-a hands-on look at basics of Logic Pro for beginners
Home Studio Technology for Songwriters-professional songwriters discuss how they use computers and the latest technology in their home studios Live Sound Basics-tips on how to purchase, rent and set up a live sound system that's appropriate for your band or group
Rhythms of the Game, Former NY Yankee Bernie Williams Talks Music!
Moderated by Frank Alkyer, Publisher, Music Inc, N.Y. Yankee great and Latin-GRAMMY-nominated guitarist Bernie Williams will speak and play, Saturday, July 23, 12:30 p.m. to 1:30 p.m., at the NAMM Idea Center, Booth #837. Immediately following this session, Bernie will sign copies of his new book, Rhythms of the Game, in the Hal Leonard Booth #1018, across from the NAMM Idea Center.
'The Wrecking Crew' Film Presented by Denny Tedesco, Director. Denny Tedesco, son of session guitarist Tommy Tedesco, presents a world -class documentary film about the experienced and finest studio musicians from the American pop music and recording scene in the 1960's-70's. ~ A wonderful, touching and hilarious film about the unsung stars of so many records that you carry in your heart. - Elvis Costello ~ The Wrecking Crew is in the league of the best music documentaries ever made. - Vintage Guitar. Saturday, July 23, 1:30 p.m. to 4:00 p.m., NAMM Idea Center, Booth #837
Roland demos the Jupiter 80 synth for the first time ever shown/played in the U.S.! Join in every 30 minutes starting 1/2 hour after Wanna Play Music Day at Summer NAMM opens. Demonstrations to last 20 minutes each. Featured artists: Robert Marcello of Danger Danger on Roland GR-55 Guitar Synthesizer and Scott Tibbs renowned keyboardist/composer and synthesizer programmer on Roland Jupiter 80 Synthesizer.
C.F. Martin & Co. is proud to present "The Evolution of the American Guitar" featuring Martin's Director of Artist and Public Relations, Dick Boak.
Acoustic guitar aficionados are in for a treat during a presentation that will showcase one of America's favorite instruments and feature musical vignettes by featured Martin guitarists. The presentation will be given by Dick Boak, archivist for Martin Guitar. who will offer an interactive history of the 178-year-old guitar company, as well as showcase several important examples in the evolution of Martin acoustic guitars. The presentation will focus on the development of the modern acoustic guitar, Martin's historical contributions to the definitive acoustic guitar design, artist signature model collaborations, and on specific guitar shapes, sizes and tonewoods that lend themselves to particular musical genres.
Boak, long-time Martin Guitar employee and author of Martin Guitar Masterpieces and Martin Guitars: A History, is a woodworker, guitar designer and builder, draftsman, Martin's public relations liaison, graphic artist, author, and guitarist. He is responsible for some of the most unique collaborates with top celebrity guitarists to design and build the finest instruments made at C.F. Martin & Co.
World's Fastest Drummer Competition-a Nashville favorite returns to Summer NAMM to celebrate its 10th anniversary! Come prove you have what it takes to be the world's fastest drummer!
Live music, and many more sessions and artists to be announced
Website: Summer NAMM 2011
Facebook: The NAMM Show

Posted by Ted at July 7, 2011 6:39 AM