« Bobelock "Arrow" Fibreglass Mandolin Case Review | Main | Summer NAMM Show, open to the public one day! »

July 5, 2011 | Holst Blonde Tortoise Bound Body 2-Point Mandolin
Our fondness for 2-point mandolins is consistent and on record including the work of Austin Clark, Andrew Mowry, and recently, Brian Lock. If we had room in the stable a strong candidate would be this one recently posted on the Mandolin Cafe Classifieds from JazzMando friend Terry Lewis, an alluring Stephen Holst blonde tortoise-bound mandolin. No financial interest, but we know the seller personally, and can testify to his character. A real stand up guy, and due to some personal circumstances, he's having to put it up for sale. It's a shame because we know how much he loves the instrument.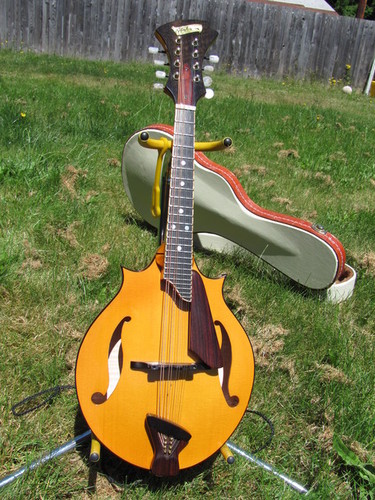 With a year wait on the Stephen Holst list, this is going to make someone very happy. At $1800, it's not likely to be listed very long. Terry tells us, "Body is Tortoise bound, fretboard is natural curly bound. Pickguard is Cocobolo, tailpiece is cocobolo and ebony. Red Spruce tone bar top. Red Maple back. It has some minor dings and scratches but nothing through the finish that I know of."
We'd like to help him find it a deserving home.
Mandolin Cafe Classifieds ad: Holst Blonde Tortoise Bound Body 2 Point Mandolin
More pics: Terry Lewis
Builder's Website: Holst Instruments
Posted by Ted at July 5, 2011 5:01 AM