« Mandolin Cafe announces a-store | Main | Everything you read on the internet is true... »

June 21, 2011 | Interesting 10-string Classifieds find
This recent entry caught our eye from Denver amateur builder Ben Cohen. Hand built in 2003, after inspired by reading a feature in American Lutherie on Novax guitars, this seems a reasonable advance not only into five-course acoustic mandolin ownership, but the chance to personally dabble with a fanned fret system. We consider this the a great opportunity for an affordable build. Here's your chance to own one for only $300!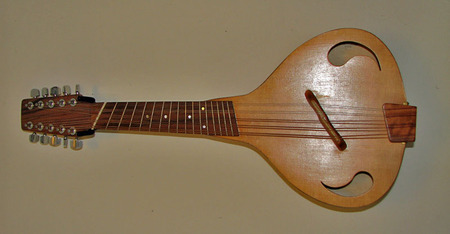 Ben weighs in, "Ralph Novack thought he had a valid patent on the fan fret concept, but the makers of 16th century bandoras beat him to it." He had some intense dialogue with his shop manager about the validity of the patent. Today the discussion is moot as Novack's fan fret patent has expired.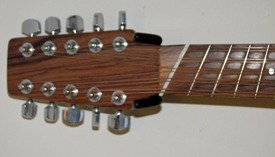 He continues, "If I were building one of these again (which I may attempt, with the Lawrence Smart design as an inspiration), I would narrow the neck a bit and make the fan fret a little less steep. I made a great 5-string electric mando recently by modifying a Saga 4-string kit, and may try a similar approach with Saga's acoustic A model mando kit. Hard to beat the value in one of those kits. Just a matter of removing and replacing the fingerboard, adding a couple tuners to the headstock, etc."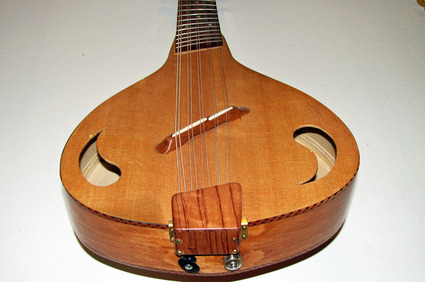 The Guild of American Luthiers website lists Cohen in their biography secion, "Lutenist, amateur luthier, and ten-year GAL member Ben Cohen started building wind and percussion instruments from plumbing supplies while in college, inspired by Bart Hopkin's brilliant quarterly journal Experimental Musical Instruments (www.windworld.com). Ben runs a klezmer band, plays in a Jewgrass band and a Baroque trio, and keeps his day job."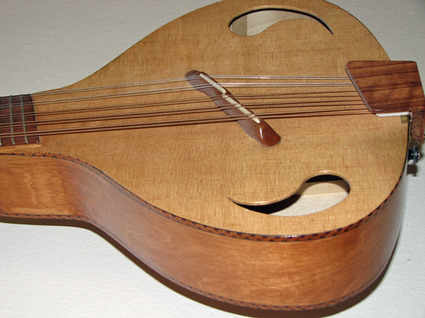 Purchase from the builder: Five-Course Mandolin (With Low C)
Ad excerpt: "Built it myself in 2003, in Denver CO. It uses a fan-fret for 13.75" scale on the high E to a 16" scale for the low C. Solid spruce top, with nice binding on the sides. Has a K&K Big Twin internal pickup. Uses a modified GHS Mandola string set (11, 14, 24w, 34w, 48w)" I will supply a set with the instrument. No case."

Posted by Ted at June 21, 2011 5:33 AM