« Just A Little Lovin; The Wayfaring Strangers | Main | Mandolin Cafe announces a-store »

June 17, 2011 | Mike Marshall. Mandolin nerd?
We always enjoy reading press on one of our favorite talents, multi-instrumentalist Mike Marshall. Mercury News columnist Lou Fancher weighs in on a brief history of the premier mandolin star:
"While he credits his classical training for providing a solid musical base, Marshall says that bluegrass festival in Georgia, despite the regrettable outfits, is the experience that set him on the trajectory to where he is today.
'I think Ricky Skaggs was about 17, and he was playing with The Stanley Brothers. The movie 'Deliverance' was huge. There was a big explosion of interest in American, traditional music. Only in retrospect did I realize I was with some of the masters of this bluegrass, Irish fiddle and gospel style of music,' he remembers.
The next seminal moment came when he discovered the music of Grisman.
'David took the bluegrass concept and made it into a form all his own,' Marshall says, his voice tinged with awe. Grisman, whose blend of bluegrass, Latin and jazz styles earned respect and the nickname 'Dawg' music from Jerry Garcia, hired Marshall to perform with the David Grisman Quintet."
Read article: Mandolin 'nerd' Marshall revels in wide variety of styles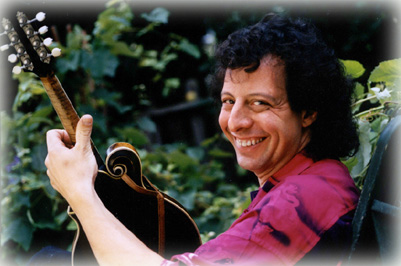 Posted by Ted at June 17, 2011 5:28 AM