« September 2010 | Main | November 2010 »

October 31, 2010 | Blackface Two-point from Brian Lock
We reviewed the handiwork of southwest U.S. builder, Brian Lock not long ago. His intriguing blonde two-point was a big hit around the JazzMando Lab last spring, and he's recently taunted us with pictures of an equally snappy blackface fresh off the bench. Gorgeous vintage celluloid binding, outlining a wooden oval-holed wonder.
He weighs in, "I have been enjoying playing this one lately. Macassar Ebony details, abalone rosette." We'd love to get our hands on this one, too!
Simply delicious!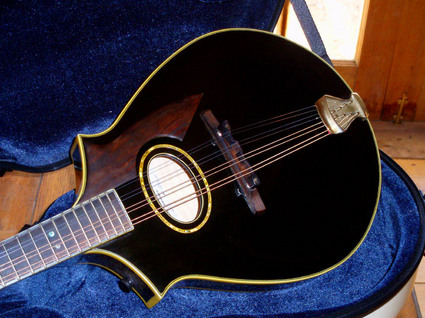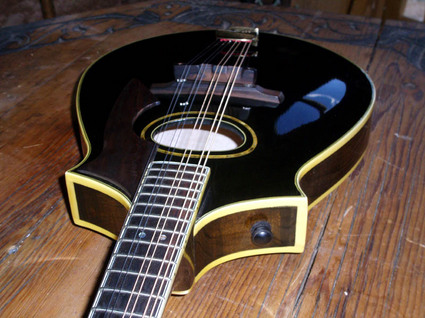 Read builder review: Brian Lock Two-Point
Builder website: Lock Mandos
Contact builder:
Brian Lock
(505)757-3008
brian@lockmandos.com
Posted by Ted at 6:27 AM

October 29, 2010 | Don Julin lessons on Skype and YouTube

We've enjoyed exploring the excellent video lessons from the Traverse City, Michigan mandolin master, Don Julin, free and available through YouTube. One in particular, his "All 12 keys in First Position" actually uses a hybrid combination of the FFcP concept and traditional open strings to navigate the fretboard. Extra credit for identifying the book in the background. (Gotta love product placement in the movies.)
Video link: Mandolin Lesson - All 12 keys in first position
Also download

pdf-support files.
Check out the other sample lessons. Julin also offers private instruction globally through the miracle of modern technology via skype.
Mandolin Lesson - Basic Left and Right Hand
How to Play Mr. Natural
Mandolin Lesson - 324 Chords in under 4
You can also here some of his audio contributions to our website on our JazzMando PROFESSIONAL'S SOUND LAB
Don Julin:

Chick'n Apple Scrapple
Don Julin:

Lydia O'Lydia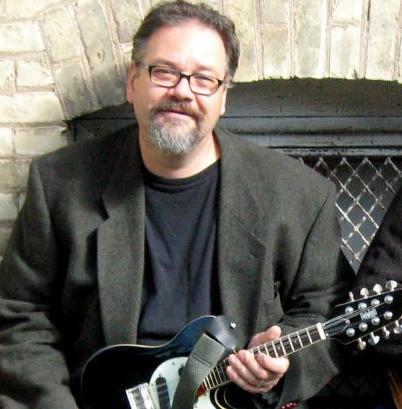 Additional information:
donjulin.com
Don Julin's free lessons on YouTube
Contact Don: donjulin@charter.net
(231) 392-9184 USA

Posted by Ted at 6:38 AM

October 27, 2010 | Maurice Dupont 2006 Mandoline
What's the word for "delicious" in French? Whatever it is, it belongs in the description of this lovely Gypsy style mandolin our friend Michael Horowitz has listed in his online store at Djangobooks.com. There's a perpetual treasury of educational materials, books and supplies, and some instruments to enhance your fretted swing experience, and this drool-worthy instrument is worth a gander.
Specs: Solid Curly Maple back and side, Spruce top, and an Ebony fingerboard. The body is 10" wide and 2.5" deep. The scale length is 14". There is also fancy maple binding around the body. Bright, dry, and crunchy just like it's bigger guitar cousins.
Michael tells us "This is a fantastic instrument for mandolinists looking to venture into the world of Gypsy jazz or swing violinists who occasionally double on mandolin. Condition is excellent...looks like it was hardly ever played."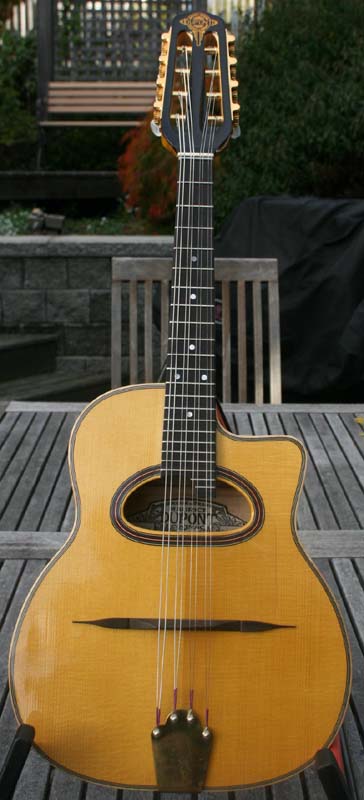 More pictures and purchase details:
Maurice Dupont 2006 Mandoline (Maple Back and Sides) with HSC

Posted by Ted at 6:47 AM

October 25, 2010 | Last chance--flatwound string shootout special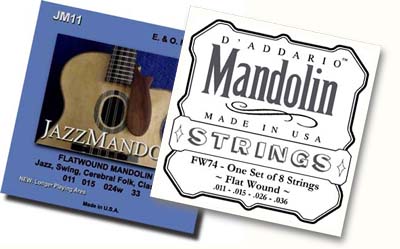 Free shipping, $29.95 for both sets!
You read about these in our Tips and Tricks article earlier this month, and now they're shipping. Though we were single handedly responsible for product development and prototyping, won't be selling the D'Addario FW74 strings on the website, except for the limited "Shoot-out" promotion below.
Read Article: The origin of a new string: D'addario FW74
How do these compare to the JM11?
Your turn. You tell us. We're offering a limited opportunity to buy both sets in one package for $29.95, and that includes domestic and Canadian shipping. That's still cheaper than one set of Thomastik TIs, and you'll know from personal experience whether or not they work for you.
Click button below to order:
JazzMando Flatwound Mandolin Shootout Special (limited to quantities on hand):
$29.95 for JM11 and FW74 flatwound mandolin strings combo pack.
Contact us if you want these shipped outside the US.

Posted by Ted at 5:49 AM

October 23, 2010 | Classifieds find: Old Wave Mandola w/Cedar Creek Case
We're a little dola fixated right now. There's nothing like the range of the mandola to produce rich fundamentals for jazz and accompany voice. It's a very satisfying range to listen to, and have vibrate in your lap.
We did a review on a lovely Old Wave A-body vintage sunburst mandola a few years ago, and this lovely instrument recently showed up on our radar in a seductive blonde incarnation. Seller appears motivated, as the $2100 is an extremely reasonable price.
Actually, it's kind of a steal: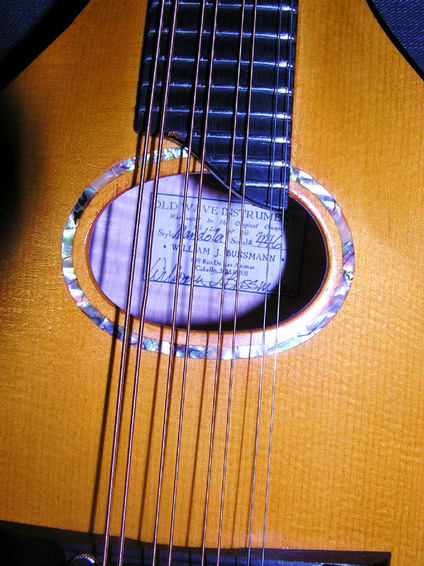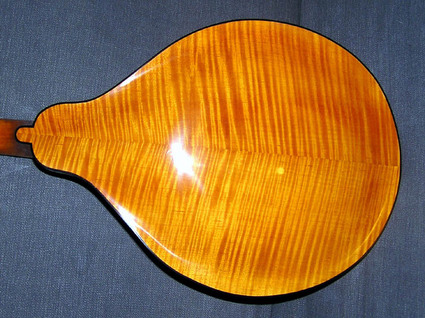 Yum!
Contact seller: Old Wave Mandola 446 w/Cedar Creek Case
Read archive review: Bill Bussman Old Wave Mandola
Trivia: Did you know the mandola featured on the package of JD-13 JazzDola flatwound strings is an Old Wave?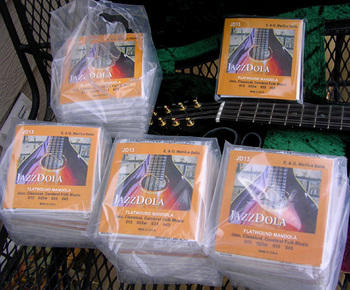 Posted by Ted at 5:51 AM

October 21, 2010 | New to iTunes: Michael Lampert
Now available, two great CDs for you to download from iTunes if you don't already have them in your library, from one of the world's leading jazz electric mandolinists, Michael Lampert. The Los Angeles area musician has always been one of our favorites, and getting his music is now that much easier. Two projects, Jacaranda a collection of originals, and his most recent, Blue Gardenia, a selection of standards in a quartet format.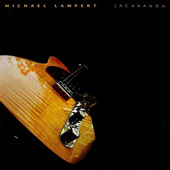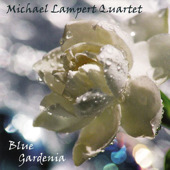 Read review: Blue Gardenia
Posted by Ted at 6:50 AM

October 19, 2010 | Weber Gallatin F Style Mandola
Here's an intriguing find at one of our friend's music store in Tempe, AZ. We've been in Jeff Looker's fretted instrument paradise, Acoustic Music Vibes a couple times in the past year while on business out of the Phoenix airport. It's a fairly convenient drive, less than a half hour if you know where you're going and the traffic's not bad. Some real treasures there, and we always have a hard time leaving without taking something back.
The allure of the no-binding look of the Weber Gallatin mandola really grabs our eye. If it's the same one we tried last spring, its full of warm, vibrant tone, and easy to play. With it's simple, understated looks, the Weber Gallatin line is a great compromise in aesthetics and economy. Anyone wanting quality auxiliary instrument would do well to own this.
click image for close-up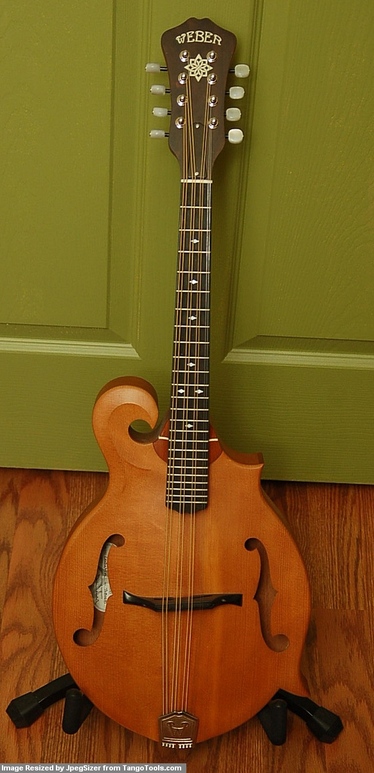 More information: Weber Gallatin F Style Mandola
Retail Price: $2,598.00 (Call for unpublished lower price, 602.295.5946)
Website: Acoustic Music Vibes
Posted by Ted at 5:25 AM

October 17, 2010 | Odeon- Edu Miranda Trio
Always great to go back to the Choro artistry of Brazilian bandolimst, Edu Miranda. His YouTube videos are a true joy to watch. Accompanied by by the Goularts, his trio is a flurry of performance creativity and artistic abandon.
Enjoy Video: ODEON - Edu Miranda Trio DVD

Here's a more recent recording with his current group Portugal based, Roda de Choro de Lisboa, from March of this year, Waldir Azevedo's "Carioquinha."
Roda de Choro de Lisboa, " Carioquinha."


Check out the Edu Miranda Trio YouTube playlist.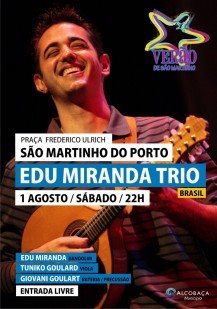 Posted by Ted at 7:14 AM

October 15, 2010 | Introducing JBovier Custom Shop mandolins

We've mentioned the artistry and design prowess of Jeff Cowherd of JBovier Mandolins before. Matter of fact, we've done some reviews, and even did some consulting on his latest venture, JBovier electric mandolins. You can get the standard models from any reputable JBovier dealer, but he's offering unique opportunities in custom models, special premium configurations and some remaining prototypes. Once in a while he will get a vintage instrument in trade, too.
Click images for close-up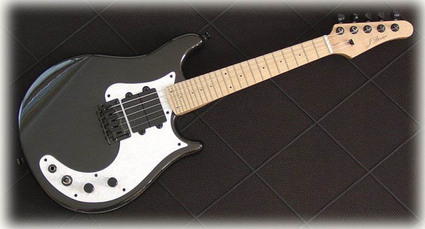 Custom Black Pearl EMC-5 5-string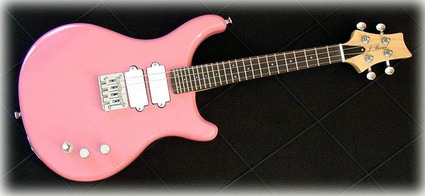 Custom Pink ELS 4-string
Check out the latest inventory list: JBovier Custom Shop
Some fun critters there just waiting for a good home!
Read review: African Zebrawood F5
Read review: EMC, EMC-5 Mandolins
Posted by Ted at 5:25 AM

October 13, 2010 | October Mandolin Sessions: Declaring Dominants
Once in a while, we like to review elementary theory concepts, and our 2010 October/November Mandolin Sessions article does just that. It doesn't get more basic than 'I V7 I', and we examine the implications of the tonic/dominant relationship in enhancing static passages, transitioning to other keys, secondary dominants, and tritone substitutions.
If you are just starting to explore music theory, this one's for you. If you're a little more advanced, you'll still pick up a few things you might have missed as you apply this concept to the mandolin fretboard.
Dig in! What you can do with a V7 chord: Declaring Dominants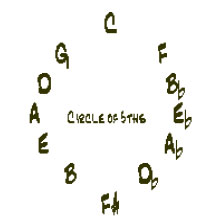 Do us a solid; if you like the article give us some public warm fuzzies in the response form at the bottom of the page.
More Mandolin Sessions articles: Jazz Mandology

Posted by Ted at 8:19 AM

October 11, 2010 | New FW74 flatwound D'Addario strings shipping
You read about these in our Tips and Tricks article last week, and now they're here. Though we were single handedly responsible for product development and prototyping, won't be selling the D'Addario FW74 strings on the website, except for the limited "Shoot-out" promotion below. If you want to try a set, we recommend the link to Dietze Music below, or of course, your local dealer. You can buy a single set or two without having to pay shipping ($13.99 US domestic shipping included), and they are in stock today.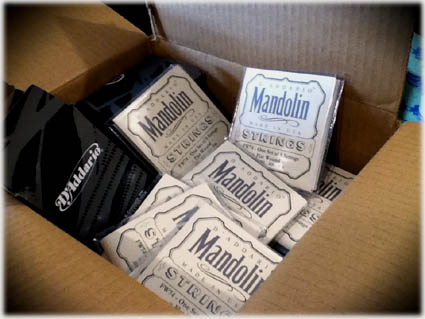 Read Article: The origin of a new string: D'addario FW74
How do these compare to the JM11? Close, but there are subtle differences, and the feedback we are getting is they respond uniquely to individual instruments. If you're really curious, we're offering a limited opportunity to buy both sets in one package for $29.95. That's still cheaper than one set of Thomastik TIs, and you'll know from personal experience whether or not they work for you.
Purchase single sets: Dietze Music

JazzMando Flatwound Mandolin Shootout Special (limited to quantities on hand):
$29.95 for JM11 and FW74 flatwound mandolin strings combo pack.
Contact us if you want these shipped outside the US.
We're hoping we can see this line of strings grow into other sizes. Yes, wound A strings, lighter sets, mandola/octave mandolin, but we have to start somewhere. D'Addario won't grow this if we can't generate some interest on this initial batch.
Posted by Ted at 1:21 PM

October 9, 2010 | Ebay steal: Phoenix Neoclassical mandolin across the pond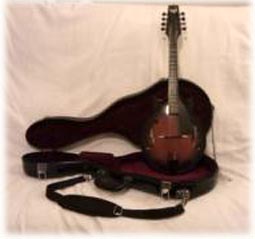 This little gem is quite the find if you're looking for a good deal on a great sounding mandolin, a 2006 vintage Pheonix Neoclassical from the magic workshop of JazzMando fave, Rolfe Gerhardt. We're familiar with the builder's stellar craft having owned an exquisite Phoenix Jazz for several years, and we also know the seller. This is a potential goldmine if you're seeking juicy tone and playability from a world class instrument. With only a couple days left (October 12), take a chance on the auction, but we suggest you forgo the risky bidding and just use the "Buy It Now" feature, barely more than $2K in USD (1299 GBP). The seller, an American private teacher. recently graduated from Trinity College in London, England, is well versed on getting instruments shipped in and out of the UK, and shipping international is far less expensive or complex than you might think.
Ebay auction: 2006 Phoenix Neoclassical Mandolin
Hear it played:
Video link: Variations on a Japanese theme

Our good friend Trevor Moyle from The Acoustic Music Company in Brighton describes the Neoclassical this way: "In spruce and beautifully flamed maple back and sides with Rolfe's unique over 250 year old reclaimed wood bridge base the Neoclassical is voiced by Rolfe for playing with light to medium strings. This is a very light mandolin, but in sound only. Plenty of volume (nearly as much as the neo-bluegrass) but a different tone, it is very responsive with a complex but well defined sound, very dark and rich in the lower registers with sweet mids and clear strong trebles. With Rolfe's immaculate finishing, an understated black headstock and fittings and abalone Phoenix, to coin my favourite cliche, it looks as good as it sounds. With hardshell case."
Posted by Ted at 5:36 AM

October 7, 2010 | iReal Book with playback

We mentioned this in a previous article, strike that, we RAVED about this nifty iPhone app that gives you literally hands-on access to now 900 song chord changes (was 500). In addition to releasing versions for iPad and 'Droid, there's a new feature that makes it an absolute must have. Not only can you transpose to different keys and alter the chords within the song, the program features MIDI playback.
The sounds are decent, and as you can see from the demo below, you can alter the tempos and the different style presets. In other words, if you're playing slow ballad version of Autumn Leaves, you can dial in an uptempo swing and really kick it in.
View Video: iReal Book Player - Jazz Styles Pack Demo

Don't have an iPhone? We won't either until Verizon and Apple get it together, but we've been enjoying it on an iPad, and the new iPod Touch with multi-tasking. We go out on a limb and say this app by itself is enough reason to go out and spend $300 on a 4th generation Touch, or even snag an older gen. This program is that good.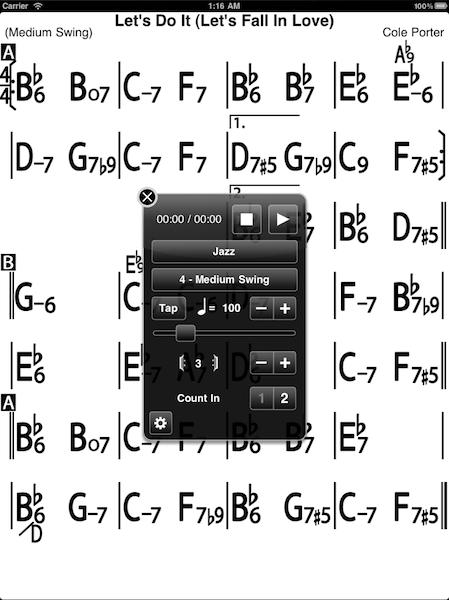 Visit iReal Book Website
Purchase on iTunes.
Posted by Ted at 7:14 PM

October 5, 2010 | Back in stock: JazzMando ball-end flatwound mandolin strings.
Happy to announce we've replenished our supply of ball-end JazzMando JM10B strings. These strings are great for warming up your 8- or 4-string Mandobird or really, any custom builder's electric mandolin. There are eight strings to a pack so if you only need four, you've already got a backup set.
The polished custom flatwound Labella stings have a much closer, tighter wrap which resists corrosion and wear from oxidation and player perspiration (similar to the world renown Thomastiks). The steel alloy lends a crisp, subtle "punch" for a sophisticated bell-like articulation acoustically, but for electrics they offer a balanced, warm fundamental you can build more penetration with your instrument or amp's tone controls. Player comfort from the smooth strings makes these feel as great as they sound!
Despite the ball-end, we don't recommend them for Ovation acoustic electrics simply because the silk wrapping at the ball end aren't effective on the Ovation pinless bridge. (Unfortunately, it crosses into the playing area over the saddle.)
We've been happy with them on our Mann, JBovier, and JL Smith emandos, and lots of customers have raved at how they warm the unusually shrill nature of the electric mandolin.
.010 plain .014 plain .024 wound .035 wound
Price $16.95 each or $29.95 for two, US domestic and Canada shipping included. We'll even throw in a JazzMando pick for you to try!
Purchase information: JM10B flatwound mandolin strings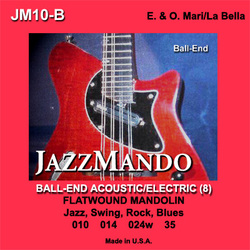 Posted by Ted at 5:17 AM

October 3, 2010 | Paul Glasse's Rigel G110 Mandolin
We don't imagine this will be around much longer at that price. Not only a great instrument, but a piece of celebrity history, a beautiful instrument owned by a premiere jazz mandolinist. Listed in the Mandolin Cafe Classifieds, this is your chance at piece of Jazzmando history for under $2200. Not bad, since new ones are only available on a custom build, and at a mid $5k range price tag.
Here's the text copy of Paul's ad:
"This Rigel G-110 mandolin was made specifically for me in June 1999 by the fine folks at Rigel Mandolins so I could play this, as one of their endorsers. It represents their top of the line at that time -- beautiful stealth black finish with gold-plated tuning buttons and tailpiece, in addition to Adirondack spruce top, Vermont Maple back, sides and neck. It's a striking instrument, in excellent condition, both in terms of cosmetics and playability.
I had my personal setup guru do his magic on the frets and truss rod. It's a fine instrument that truthfully I haven't played enough. It needs to be played by you! The transducer pickup implementation is great -- ready to go for all acoustic or plugging in.
It's all packed up in great looking Rigel faux-gator-skin case. Sell price $2,199, plus shipping."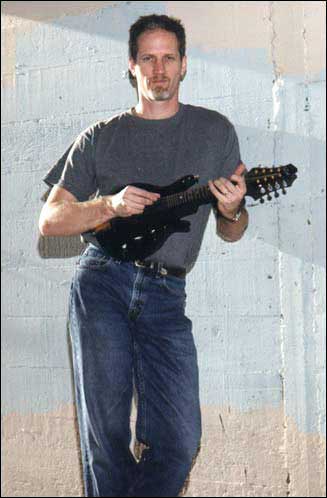 Great instrument, great pic. By the way, this is a vintage picture, and we think Paul was practicing his grimace for his WWF audition.
Cafe Classified: Paul Glasse's Rigel G110 Mandolin
Artist website: PaulGlasse.com
Posted by Ted at 11:03 AM

October 1, 2010 | Mandolin Cafe iPhone App
Congrats to Scott Tichenor and Florida mando geek and computer programmer Steve Smith on the release of their new Mandolin Cafe iPhone App. We've tried it on the new iPod Touch 4th gen and the iPad with great success. Check the latest mandolin news, newly listed Classified ads (MAS on steroids!), chord finder, builder database, and a smattering of some of the best forum topic threads from an RSS feed.
Of course it doesn't have the full functionality of the website itself, but it has many of the most important parts. (You wouldn't be able to fit all that in the palm of your hand, anyway.) Best part: the app is free!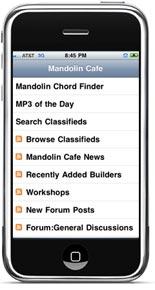 Check it out!
News: Mandolin Cafe iPhone App
Posted by Ted at 5:39 AM