« iReal Book with playback | Main | New FW74 flatwound D'Addario strings shipping »

October 9, 2010 | Ebay steal: Phoenix Neoclassical mandolin across the pond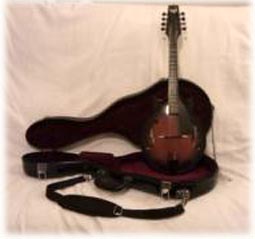 This little gem is quite the find if you're looking for a good deal on a great sounding mandolin, a 2006 vintage Pheonix Neoclassical from the magic workshop of JazzMando fave, Rolfe Gerhardt. We're familiar with the builder's stellar craft having owned an exquisite Phoenix Jazz for several years, and we also know the seller. This is a potential goldmine if you're seeking juicy tone and playability from a world class instrument. With only a couple days left (October 12), take a chance on the auction, but we suggest you forgo the risky bidding and just use the "Buy It Now" feature, barely more than $2K in USD (1299 GBP). The seller, an American private teacher. recently graduated from Trinity College in London, England, is well versed on getting instruments shipped in and out of the UK, and shipping international is far less expensive or complex than you might think.
Ebay auction: 2006 Phoenix Neoclassical Mandolin
Hear it played:
Video link: Variations on a Japanese theme

Our good friend Trevor Moyle from The Acoustic Music Company in Brighton describes the Neoclassical this way: "In spruce and beautifully flamed maple back and sides with Rolfe's unique over 250 year old reclaimed wood bridge base the Neoclassical is voiced by Rolfe for playing with light to medium strings. This is a very light mandolin, but in sound only. Plenty of volume (nearly as much as the neo-bluegrass) but a different tone, it is very responsive with a complex but well defined sound, very dark and rich in the lower registers with sweet mids and clear strong trebles. With Rolfe's immaculate finishing, an understated black headstock and fittings and abalone Phoenix, to coin my favourite cliche, it looks as good as it sounds. With hardshell case."
Posted by Ted at October 9, 2010 5:36 AM