« Back in stock: JazzMando ball-end flatwound mandolin strings. | Main | Ebay steal: Phoenix Neoclassical mandolin across the pond »

October 7, 2010 | iReal Book with playback

We mentioned this in a previous article, strike that, we RAVED about this nifty iPhone app that gives you literally hands-on access to now 900 song chord changes (was 500). In addition to releasing versions for iPad and 'Droid, there's a new feature that makes it an absolute must have. Not only can you transpose to different keys and alter the chords within the song, the program features MIDI playback.
The sounds are decent, and as you can see from the demo below, you can alter the tempos and the different style presets. In other words, if you're playing slow ballad version of Autumn Leaves, you can dial in an uptempo swing and really kick it in.
View Video: iReal Book Player - Jazz Styles Pack Demo

Don't have an iPhone? We won't either until Verizon and Apple get it together, but we've been enjoying it on an iPad, and the new iPod Touch with multi-tasking. We go out on a limb and say this app by itself is enough reason to go out and spend $300 on a 4th generation Touch, or even snag an older gen. This program is that good.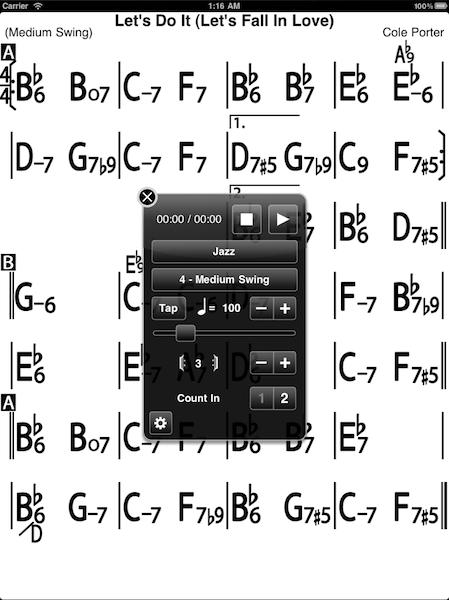 Visit iReal Book Website
Purchase on iTunes.
Posted by Ted at October 7, 2010 7:14 PM