« Paul Glasse's Rigel G110 Mandolin | Main | iReal Book with playback »

October 5, 2010 | Back in stock: JazzMando ball-end flatwound mandolin strings.
Happy to announce we've replenished our supply of ball-end JazzMando JM10B strings. These strings are great for warming up your 8- or 4-string Mandobird or really, any custom builder's electric mandolin. There are eight strings to a pack so if you only need four, you've already got a backup set.
The polished custom flatwound Labella stings have a much closer, tighter wrap which resists corrosion and wear from oxidation and player perspiration (similar to the world renown Thomastiks). The steel alloy lends a crisp, subtle "punch" for a sophisticated bell-like articulation acoustically, but for electrics they offer a balanced, warm fundamental you can build more penetration with your instrument or amp's tone controls. Player comfort from the smooth strings makes these feel as great as they sound!
Despite the ball-end, we don't recommend them for Ovation acoustic electrics simply because the silk wrapping at the ball end aren't effective on the Ovation pinless bridge. (Unfortunately, it crosses into the playing area over the saddle.)
We've been happy with them on our Mann, JBovier, and JL Smith emandos, and lots of customers have raved at how they warm the unusually shrill nature of the electric mandolin.
.010 plain .014 plain .024 wound .035 wound
Price $16.95 each or $29.95 for two, US domestic and Canada shipping included. We'll even throw in a JazzMando pick for you to try!
Purchase information: JM10B flatwound mandolin strings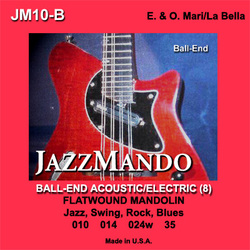 Posted by Ted at October 5, 2010 5:17 AM