« Mandolin Cafe iPhone App | Main | Back in stock: JazzMando ball-end flatwound mandolin strings. »

October 3, 2010 | Paul Glasse's Rigel G110 Mandolin
We don't imagine this will be around much longer at that price. Not only a great instrument, but a piece of celebrity history, a beautiful instrument owned by a premiere jazz mandolinist. Listed in the Mandolin Cafe Classifieds, this is your chance at piece of Jazzmando history for under $2200. Not bad, since new ones are only available on a custom build, and at a mid $5k range price tag.
Here's the text copy of Paul's ad:
"This Rigel G-110 mandolin was made specifically for me in June 1999 by the fine folks at Rigel Mandolins so I could play this, as one of their endorsers. It represents their top of the line at that time -- beautiful stealth black finish with gold-plated tuning buttons and tailpiece, in addition to Adirondack spruce top, Vermont Maple back, sides and neck. It's a striking instrument, in excellent condition, both in terms of cosmetics and playability.
I had my personal setup guru do his magic on the frets and truss rod. It's a fine instrument that truthfully I haven't played enough. It needs to be played by you! The transducer pickup implementation is great -- ready to go for all acoustic or plugging in.
It's all packed up in great looking Rigel faux-gator-skin case. Sell price $2,199, plus shipping."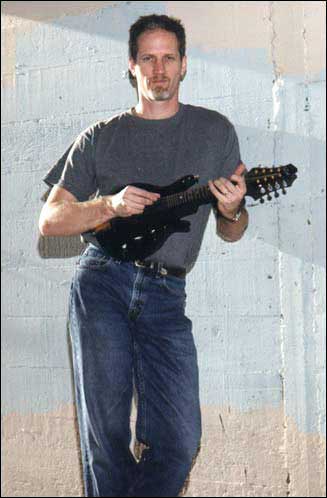 Great instrument, great pic. By the way, this is a vintage picture, and we think Paul was practicing his grimace for his WWF audition.
Cafe Classified: Paul Glasse's Rigel G110 Mandolin
Artist website: PaulGlasse.com
Posted by Ted at October 3, 2010 11:03 AM