Rolfe Gerhardt
Phoenix "Jazz" Mandolin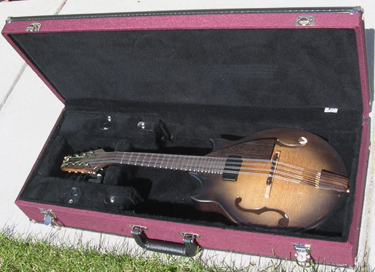 Rolfe Gerhardt approached me several months ago with the privilege of an advanced look at a project he had on the drawing board, a jazz mandolin. We are always thrilled to promote any quality builders in this sort of endeavor, so it was a no-brainer we'd consent.
Rolfe has been in the mandolin crafting business since his days building the world renown "Unicorn" brand of instruments in the 1970s. After selling this business in 1980, he came back at mandolin production with a fresh new perspective and introduced in the late 80's his current "signature" line of two point mandolin design. Interestingly, the mandolin world seems to have taken new look at the two-point body style recently (of course, Gerhardt had already been doing this for several decades) for reasons of economy, and aesthetic appeal. Frankly, its our contention, money invested in an ornate scroll could be much better directed to other aspects of the instrument improving tone, fit, and function.
Based out of Maine, the Phoenix Mandolin company has been tooled and poised to create world class instruments of incredible tone and value. That he would choose to throw a little innovation to our little niche world of jazz mandolin design is nothing we take for granted!

Sustain and fingerboard playability are everything in playing jazz. The natural decay of any plucked string instrument is a battle we find in a wind-driven acoustic world. Anytime we can have an ax that sacrifices a tad, projection and banjo-spanking percussiveness for rich tone, we will take the trade. Throw in a fretboard that allows the closed position playing ease that chromatic literature demands out of the jazzer, and you have an immediate winner. At first strum of this new "Jazz" Phoenix, it's apparent Rolfe has achieved the right combination.

Finest ebony, Macassar on the on the Jazz neck, with a comfortable radius gives all 22 frets comfort and a sense of control. The no-bind look on the fingerboard and body, tricks the player into believing the gorgeous tone coming out of the slightly oversized F-holes are from one solid hunk of wood. The one-piece, Loar-profiled neck also takes advantage of a unique graphite-ebony truss bar technology. (A personal aside, too often the mandolinist has the false expectation that guitarists harbor in the need for an adjustable truss rod. We applaud Phoenix for standing up against this misconception...)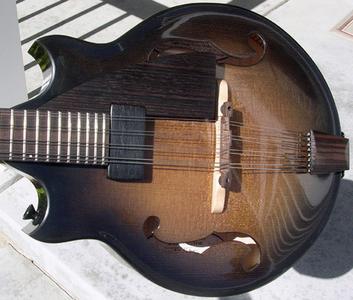 Speaking of innovations, Phoenix has also pioneered the use of graphite-epoxy laminations in the internal tone bars. While one might think it's the full perimeter body graduations in the body, I have to wonder if this additional twist also allows the huge warm sound this lends out of one of the lightest bodies I've played.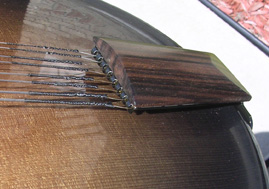 Mentioned on his website, Rolfe has pioneered hybrid varnish. The instrument has a very unique smell; I'm sure that had something to do with it, but nonetheless, the finish is immaculate. A lighter color to offset the Macassar Ebony neck, fingerest, and tailpiece, the aesthetic effect is quite appealing.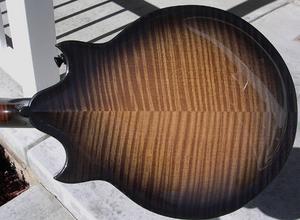 The same with the back, and an incredible amount of energy must have been placed in tap tuning this important part of the instrument. Gorgeous figured flame, it's too bad the audience rarely gets to see this.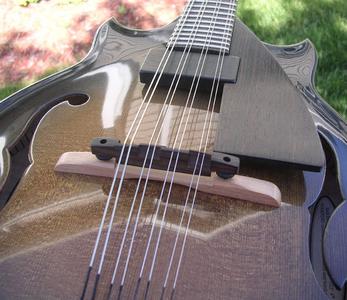 The two most important distinctions of the Jazz model have to do with 1.) action and 2.) pickup. First, the instrument is designed for low action, and lighter gauged strings. Thomastik Heavies come standard, although I venture to say the new Labella JM-11 Flatwounds would also work fabulously. You definitely don't want anything heavier; it's rich in complexity and tone enough you don't need it. Higher wider frets make sustain and clean note-to-note transition seamless, and a low action is critical for the full effect.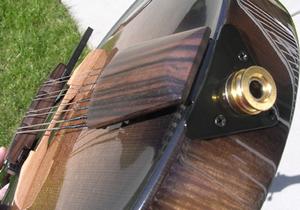 Second the combination of McIntyre piezo and special custom Kent Armstrong pickup gives sensational versatility to the plugged-in mandolinist. While the Armstrong might be a bit more "electric" to the acoustic purist, you have the opportunity to find your own "blend" with a stereo (TRS) 1/4" cable out to two 1/4" inputs into your favorite amp. I would suggest a preamp for the piezo side, but the Armstrong is hot and rich. I had the occasion to "compete" with an electric guitarist and the rest of a rock ensemble, and was amazed at how the Jazz model held it's own.
I am excited. To see a high profile luthier like Gerhardt embrace our genre is quite encouraging. Not one to be trapped by convention and tradition, he has set the pace for unique mandolin design over the past couple decades, and this will be yet another one of his industry impacting contributions.
For more about the new Jazz Model, visit his website.