« Last chance--flatwound string shootout special | Main | Don Julin lessons on Skype and YouTube »

October 27, 2010 | Maurice Dupont 2006 Mandoline
What's the word for "delicious" in French? Whatever it is, it belongs in the description of this lovely Gypsy style mandolin our friend Michael Horowitz has listed in his online store at Djangobooks.com. There's a perpetual treasury of educational materials, books and supplies, and some instruments to enhance your fretted swing experience, and this drool-worthy instrument is worth a gander.
Specs: Solid Curly Maple back and side, Spruce top, and an Ebony fingerboard. The body is 10" wide and 2.5" deep. The scale length is 14". There is also fancy maple binding around the body. Bright, dry, and crunchy just like it's bigger guitar cousins.
Michael tells us "This is a fantastic instrument for mandolinists looking to venture into the world of Gypsy jazz or swing violinists who occasionally double on mandolin. Condition is excellent...looks like it was hardly ever played."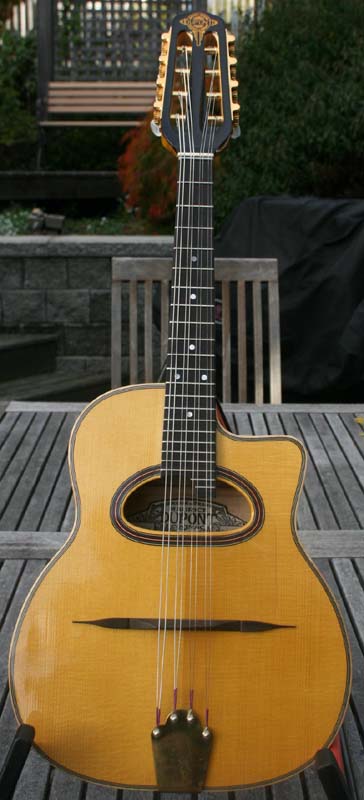 More pictures and purchase details:
Maurice Dupont 2006 Mandoline (Maple Back and Sides) with HSC

Posted by Ted at October 27, 2010 6:47 AM