« Classifieds find: Old Wave Mandola w/Cedar Creek Case | Main | Maurice Dupont 2006 Mandoline »

October 25, 2010 | Last chance--flatwound string shootout special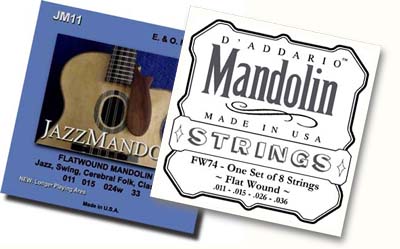 Free shipping, $29.95 for both sets!
You read about these in our Tips and Tricks article earlier this month, and now they're shipping. Though we were single handedly responsible for product development and prototyping, won't be selling the D'Addario FW74 strings on the website, except for the limited "Shoot-out" promotion below.
Read Article: The origin of a new string: D'addario FW74
How do these compare to the JM11?
Your turn. You tell us. We're offering a limited opportunity to buy both sets in one package for $29.95, and that includes domestic and Canadian shipping. That's still cheaper than one set of Thomastik TIs, and you'll know from personal experience whether or not they work for you.
Click button below to order:
JazzMando Flatwound Mandolin Shootout Special (limited to quantities on hand):
$29.95 for JM11 and FW74 flatwound mandolin strings combo pack.
Contact us if you want these shipped outside the US.

Posted by Ted at October 25, 2010 5:49 AM