« Introducing JBovier Custom Shop mandolins | Main | Weber Gallatin F Style Mandola »

October 17, 2010 | Odeon- Edu Miranda Trio
Always great to go back to the Choro artistry of Brazilian bandolimst, Edu Miranda. His YouTube videos are a true joy to watch. Accompanied by by the Goularts, his trio is a flurry of performance creativity and artistic abandon.
Enjoy Video: ODEON - Edu Miranda Trio DVD

Here's a more recent recording with his current group Portugal based, Roda de Choro de Lisboa, from March of this year, Waldir Azevedo's "Carioquinha."
Roda de Choro de Lisboa, " Carioquinha."


Check out the Edu Miranda Trio YouTube playlist.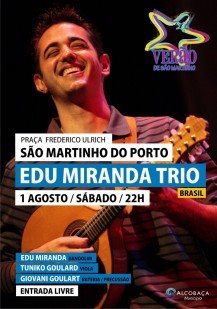 Posted by Ted at October 17, 2010 7:14 AM