« August 2010 | Main | October 2010 »

September 29, 2010 | The Cleverlys: Walk Like an Egyptian
Okay, so maybe Harvey isn't slinging his mandolin in this brilliant bluegrass rendition of the popular Bangles '80s hit "Walk Like an Egyptian," but this is so tastefully done we had to share it. Knock out, drag down good:
View video: The Cleverlys: Walk Like an Egyptian
If you get a chance, visit the Cleverlys website and read through their bio. It will definitely bring a smile to your day:
Artist website: The Cleverlys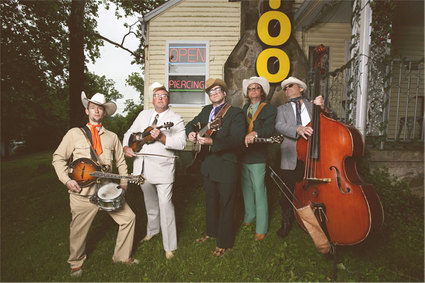 Posted by Ted at 5:31 AM

September 27, 2010 | Dale Ludewig, Emory Lester Signature mandolin
We've had the opportunity to personally review almost three dozen amazing instruments in the JazzMando "New Models of Mandolins" showcase. One of the earliest entries was a delicious blackface A-body mandolin from Illinois builder Dale Ludewig, his Emory Lester Signature mandolin. We couldn't imagine the Canadian mando tone-meister would put his name behind anything but the best, and personal experience affirmed that.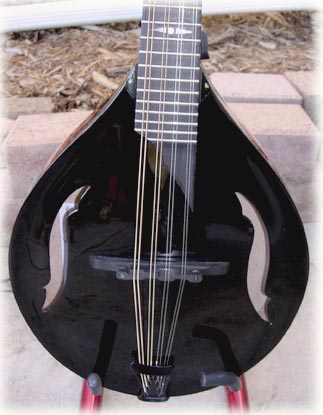 We've kept in touch with Dale over the years. Balancing his high-demand business of custom cabinet building, and an unfortunate catastrophe with a shop flood a couple years ago has made high output a challenge, but we've been contacted by a number of his satisfied customers since the review. He's since made a couple of Emory mandolas, some intriguing custom finishes on some mandolins, and lately he's dabbled in a few guitars. All of course, with an intense attention to tone and aesthetic detail and a seasoned cabinet maker's intrinsic knack for structural integrity.
Check our review in the Builders archives: Dale Ludewig Emory Lester mandolin
Recent pictures: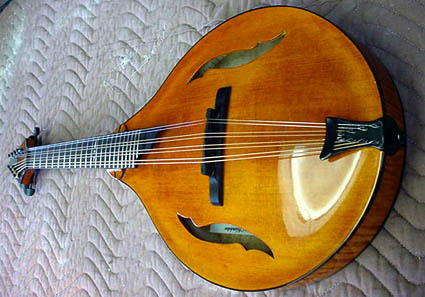 Ludewig butterscotch Emory Lester signature model mandola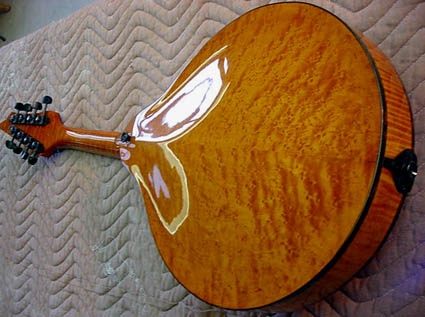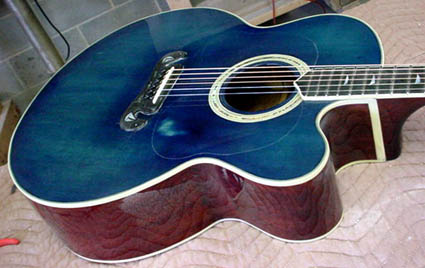 Ludewig Guitar
Read up on other world class mandolin builders.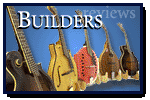 Posted by Ted at 5:50 AM

September 25, 2010 | Two years: Path To Mando Mastery
Released September 2008 after five years in the making, we're celebrating two years of success of the Mel Bay best seller, "Getting into Jazz Mandolin." From the publisher's website:
"The last half-century has produced an explosion of interest in guitar, mandolin, banjo, ukulele, and other string instruments. Once relegated to simple folk music, these instruments are now in their heyday of popularity, enjoying an exponentially expanding immersion into a variety of more complex styles, from blues to jazz, to a wide array of world ethnicities.
Though rooted in nearly three centuries of European tradition, only in the last two decades the mandolin is just recently following closely on the heels of its more popular bigger brother, the guitar. From Cowboy chords, to Elvis, to Guitar Hero, the guitar of today is prominently main-stream, arguably surpassing the piano in status. The mandolin is poised to capture and captivate a similarly expanding market and popularity; all that has been missing is the published pedagogies necessary to equip the player to enjoy a broader array of musical styles. Until now..."
If you are already familiar with the book (even if you aren't), check out the additional web-based audio page here on the site, "Webtracks" with expanded opportunities to hear and interact with even more sound tracks and professional artists' interpretations of the music and concepts.
Purchase book from the author Getting into Jazz Mandolin
Explore supportive audio: Webtracks
Listen:

Craig Schmoller, Lydia O' Lydia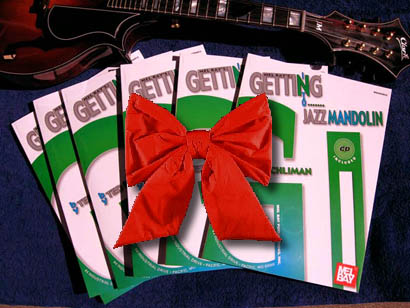 Tab and notation. Exercises are written in both standard notation and mandolin tablature to communicate proper fretboard positions. Fingering markings are included to suggest effective finger placement.
"The notes just seem to come out of nowhere for me, now..."
Posted by Ted at 5:59 AM

September 23, 2010 | Reminiscing : the Rigel Q-95 "Gypsy Q"
In the spring of 2005, we had the pleasure of working with Rigel Instruments in developing a nifty new moderately priced American-made professional mandolin, the Q-95, aka "Gypsy Q." The concept was fairly simple, take the already profoundly popular Rigel A+ Deluxe mandolin and put a lap corner on it.
Builder Pete Langdell's revolutionary process in constructing these instruments made it very easy to voice these beauties like a vintage 'teens Gibson A body instrument. The solid, radiused sides allowed the instrument to be tapped, played, and custom carved to the proper tone before completely glueing top back and sides together. We also captured the vintage aesthetic vibe in two stock colors, the "Espresso con Pana" cream top and the Doppio con Zucchero (double esspreso with sugar). Some of the variations we sold include a Petite Bouche (turned) hole, a pumpkin top, and we even had a delicious blueburst ordered at one time.
From the Rigel Instruments website: "These are premeditatively voiced to replicate the sweet sound of vintage A-style oval-hole mandolins, but with modern tuners and none of the issues that so often accompany vintage instruments. The Q95 has the look, feel and sound of the best classic 'teens instruments, and at a street price that rivals the best of the rare vintage A-style instruments that have structurally withheld the test of time."
Though these are no longer in current production, you could still have one custom-made through the Rigel Instruments website. Contact Pete Langdell if you are interested.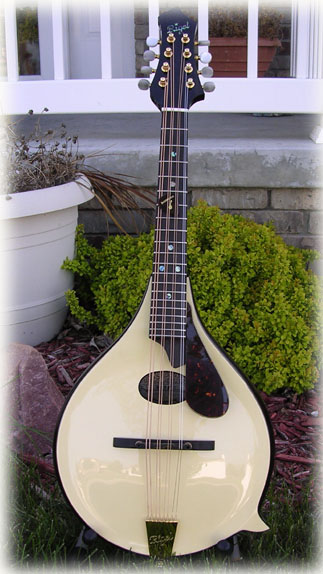 JazzMando history: Rigel Q-95--The "Gypsy Q"
Rigel Website: Q95
We even worked on a mandola version, the Rigel Q-200, but sadly, only two were ever made.
Posted by Ted at 6:29 AM

September 21, 2010 | "Grassman" Dudu Maia
This delightful video was recorded in March earlier this ear by Brazilian sensation Dudu Maia. The high definition video scenery is easy on the eyes, and of course the overdubbed studio audio offers clarity to this tribute to the music of David Grisman in "Grassman."
Dudu Maia struts his 10-string bandolim and is joined by guitarist Alex Souza and Alexande Lora on the pandeiro.
Enjoy video: "Grassman" (Dudu Maia)

MySpace Page: Dudu Maia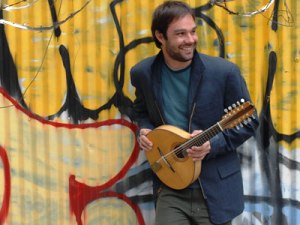 Special thanks to fellow 10-string junkie, Larry Sherman for bringing this to our attention.
Posted by Ted at 5:38 AM

September 19, 2010 | Prescription strength tone
A pick can be one of the least expensive ways to enhance your tone. There are expensive boutique picks available, as well as some mass-produced cheapies, but we're admittedly biased in our resounding preference for the signature JM Proplec pick. Rounded three-corner shaped, modest bevel, durable acetate material, and double-sided hot stamped for confident grip, we'll toot our own horn and claim it's one of the best values on the mandolin accessory market. At industry standard 1.5 mm, it's just the right thickness for string thwacking power but not too heavy to control.
We throw a free pick in with every string order, but if you want a sample, you can send a self-addressed stamped envelope in the mail. Hit our Contact menu above if you want the address.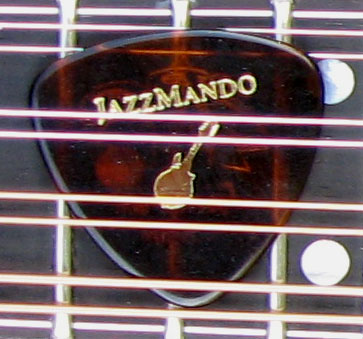 Prescription strength tone at an over-the-counter price...
Order quantities: Signature JM pick
More thoughts on picks: Top Picks
Posted by Ted at 11:47 AM

September 17, 2010 | Introducing new JazzMando sponsor Lock Mandolins
We'd like to thank Brian Lock for joining our list of esteemed sponsors, the ones who underwrite the expenses of keeping all the resources and information here on the JazzMando website free for you to soak in and enjoy. We appreciate this group and their generous support.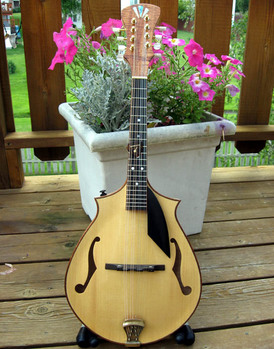 We had the opportunity to review a magnificent Two-point mandolin last July from the New Mexico builder and self-professed wood junkie. If you'll recall, the craftsman spent a considerable amount of time among the "living," a seasonal worker with the Forest Service gave him an intellectual as well as aesthetic insight into the nature of wood. His apprenticeship with the mandolin "triumvirate," John Monteleone, Mike Kimnitzer, and Steve Gilchrist didn't hurt either. Since then, he's had the time and experience to develop his own signature look and style.
We hope you'll spend some time taking in the eye candy on his website, and while you're there, thank him for his support of JazzMando. We're looking forward to bringing you more information about his many projects in the future.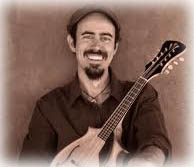 Builder website: Lock Mandolins
Read review: Brian Lock Two-point
Posted by Ted at 5:08 AM

September 15, 2010 | Will Patton and Ninine Garcia in the Studio
We wanted to make sure you've seen this video, in case you haven't already tripped over it on the internet. New England premier jazz mandolinist, Will Patton was in Paris last fall for his pending CD project and was caught on tape prepping for a recording session with long time friend and fellow Django jazz picker, Ninine Garcia. The song is "Caporal Swing." He jokes about some of the language barrier between him and the accomplished French guitarist, "I'm ok at 'plus de fromage, s'il vous plait' but not the 'tag the outro with a minor 7 flat five.'"
We're pretty excited about this project. Every one of Will's CDs gets regular rotation in our player.
Read recent review: Will Patton Ensemble, "6th St. Runaround"
Artist website: Will Patton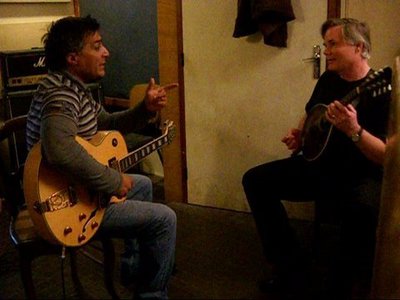 Posted by Ted at 5:20 AM

September 13, 2010 | Prototype JazzMando "Psalm" Shirt
Music is about expressing what's most important to your heart. An artist is compelled to be true to his/her independent aesthetic and spiritual values, and we encourage all mandolin players to do just that. Express what truly matters to you through your music and your art.
We produced a test run of some prototype shirts on some higher grade designer shirts from Alternative Apparel and have come to the realization we can't produce these in mass quantities cost effectively. If we ever get around to selling them, we'll probably go with a standard grade cotton tee (Ultra, likely) but if you are interested in a compelling graphic, and something from the Book of Psalms is consistent with your personal philosophy, we have these in a boutique acid-wash navy blue available in large and extra large for purchase. We're just asking for our production costs and shipping, $19.95. (That includes domestic shipping. International would run another $8.00.)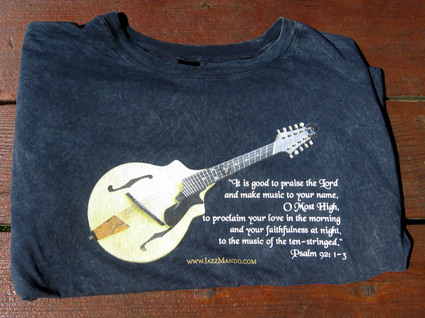 Contact us if you are interested in one of these: JazzMando Psalm Tee
Text: "It is good to praise the Lord and make music to your name, O Most High, to proclaim your love in the morning and your faithfulness at night, to the music of the ten-stringed." Psalm 92: 1-3
Let us know if you'd be in a future less expensive version with the same graphic. If we have enough interest, we will produce more with a target price around $12.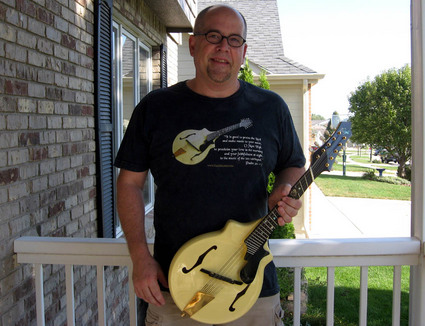 Posted by Ted at 5:17 AM

September 11, 2010 | Going "Glueless."
We were fascinated with the recent discovery of a mandolin built by David Cohen (affectionately known to the mandolin community as "Dr. Dave") in which no glue was used to bind the top to the body. Born out of an attempt to scientifically measure and document the impact of the differences in bracing patterns, the instruments is held together by sixty-plus #2x3/8" wood screws. It's a redwood top plate and eastern black walnut back/sides/neck.
According to our favorite retired chemistry professor, "I did a series of holographic modal analysis experiments, followed by sound and accelerance spectra, on the opus I mandolin with four different bracing patterns. The mandolin started out with "tone bars". After doing the holography and spectra, I added a Virzi thingy made from the GAL drawings (done by Ted Davis) and repeated the experiments. After the Virzi iteration, I carved out the bracing and put in an X-brace a'la Gilchrist, and again repeated the experiments. The last iteration was my 'wacky braces.' The mandolin sounded the same to my ears regardless of the bracing pattern. The differences were small, the experiments and my own audition corroborated each other, supporting my contention that mandolin bracing patterns have at most a small effect on the sonic qualities of the instruments."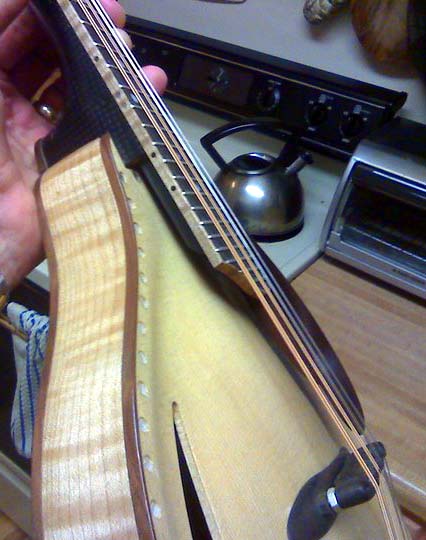 Photo courtesy of Carl Benson
You can read our report of the Virginia builder and detailed review of another one his amazing offspring, a delicious reddish tinged "Black Beauty" C# model mandolin in our Builder's Spotlight.
Read review: Cohen C# Mandolin
More Builders for the 21st Century
Posted by Ted at 5:46 AM

September 9, 2010 | Clark Mandolins at IBMA
If you're heading to the IBMA showcase in Nashville, TN, be sure to stop by the Clark Mandolins booth October 1st through 3rd during the Fan Fest portion of the event. Austin doesn't usually make the trip east, and this will be a treat for those of you planning to attend. Austin reports, "I will have 3 F5's a couple of A's and a Dreadnaught with me. IF I get it done in time, I will have an H5 Dola, too (it actually belongs to someone but will be there to try out). This is my last festival of the season and I will be selling this year's demos off at a good discount both at and after the festival."
Whoa. Did he really say demos available?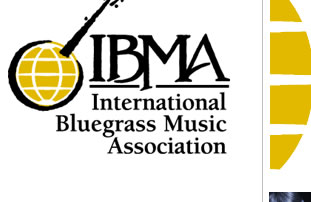 What a terrific opportunity to walk home with a quality product... Worth the trip all by itself; bring your checkbook!
Details: IBMA
Builder's website: Clark Mandolins
Read review: Clark signature JM 2-point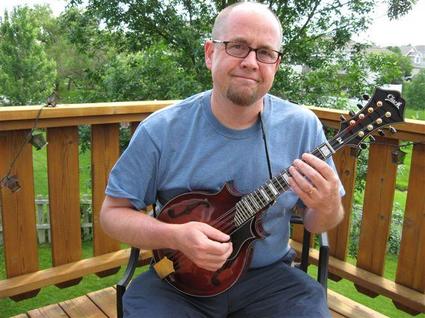 Posted by Ted at 5:16 AM

September 7, 2010 | Blackface A5 Old Wave Mandolin at TAMCO
They say if you don't want to go into the house, don't stand on the front porch. On a frequent basis, we ignore that sage wisdom by dropping into and enjoying the tempting lush photography and beautiful eye candy posted for sale on The Acoustic Music Company website in Brighton, England. Needless to say, this visit did not disappoint, and we were particularly enchanted by this black face beauty, a luscious Old Wave A5 mandolin.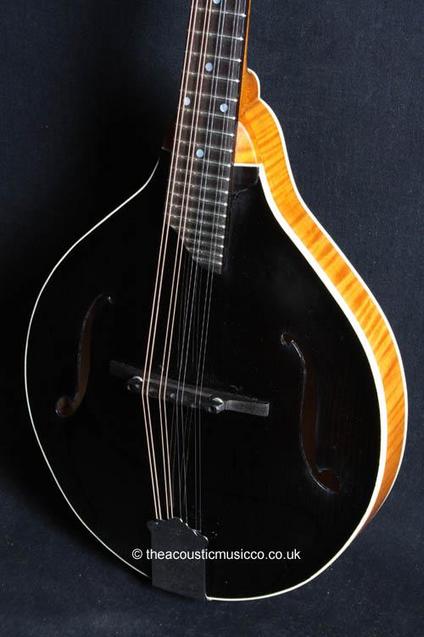 Bill Bussmann made this as a personal instrument for Trevor Moyle, the store proprietor, and now it's looking for a new home. According the site, it's also to the same specs as Simon Mayor's signature Vanden. Adirondack spruce top with red spruce tone bar bracing curly sugar maple 1 piece back, 12" radius ebony fretboard and bridge, ivoroid binding 1 3/16" nut width, medium sunburst lacquer finish, TKL tweed hardshell case.
Even those on this side of the pond should not fear a healthy international transaction, especially from this reputable business. Instruments are lovingly packed and shipped quickly, and you can even discount 15% from the listed price (after conversion from British Pounds) when you live outside the European Union since you aren't liable for the built-in VAT surcharge.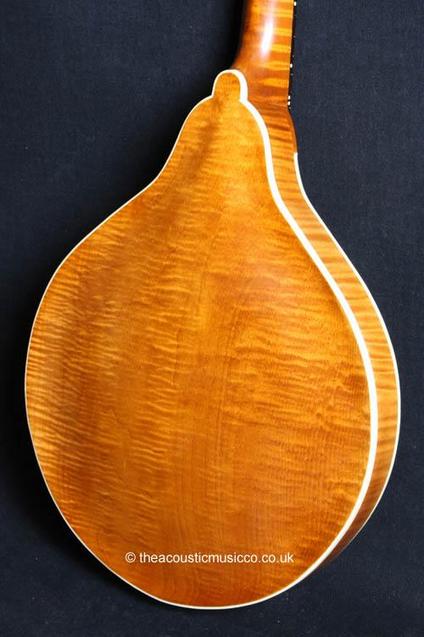 See more pictures: Blackface A5 Old Wave Mandolin
Visit: The Acoustic Music Company
Posted by Ted at 5:38 AM

September 5, 2010 | John Carlini opens personal audio "Vault"
We've had the privilege of connecting with East Coast guitarist and arranger John Carlini. We've already mentioned on the site his collaborations with jazz mandolin superstar Don Stiernberg in several reviews including two of our favorite Blue Night recordings "By George," a collection of Gershwin tunes, a mix of jazz standards, " Angel Eyes," in addition to a terrific acoustic string project of originals, "The Game's Afoot." What some may not know is his infatuation with 8-strings goes back to his days working with mandolin innovator David Grisman back in the 90's, later recording with Andy Statman and Butch Baldassari, all midst multiple year stints as an arranger with the Ice Capades.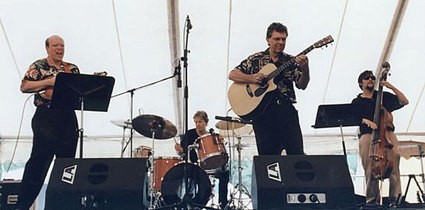 The artist has recently announced a personal online audio treasure, "The Vault," available on his website as an RSS feed which contains music from recordings and concerts, interviews, orchestrations and his lesson material. (He's a regular columnist for Flat Picking Guitar Magazine.) We've listened to the first installment and the 23 minute recording is full of surprises, including the track "Blues al Dente," from his recording with Steirnberg, and an archived telephone interview with the Dawg, Grisman himself.
Take some time this Labor Day weekend to listen to the mp3, and sign up for more with his RSS feed:
Listen:

John Carlini, The Vault
Subscribe to RSS: http://johncarlini.com/RSS
Purchase CDs: Blue Night Records
Posted by Ted at 11:56 AM

September 3, 2010 | Alternate routes
You may not be aware of this, but we currently have over 1300 pages of news, tips, and reviews on the site. It doesn't hurt to go back and take a look at old topics, as was the case with yesterday's Tips and Tricks article, a rehash of the lush potential within the Altered Scale. Thanks to those of you who reaped public praise on the site author's Facebook account. We take your compliments (and of course your criticisms) seriously! We appreciate you spreading the word.
If you haven't already checked it out, we go over our justifications for investing so much time on the Altered Scale and some of its "kin." There's even a cool accompanying exercise you can play around with to increase familiarity and sharpen your skills.

Enjoy! Altered States
Print PDF: Minor in Possession
Check out some of the other Tips & Tricks archives while you are there.
Posted by Ted at 5:30 AM

September 1, 2010 | New Stonewood mandolin case from Protec Music
We're always interested in reporting new and cost-effective ways to protect and mobilize mandolins, especially when a case is versatile to fit many different body styles. The new Stonewood SW-208 hardshell case from Protec Music with a street price under $80 (MSR $99) is worthy of attention for quite a cross section of mandolin body shapes.
The interior open-endedness is its second most appealing feature. (See "first" at the end of the review...) Finding a good fit to multiple body styles, A, F, 2-point is a daunting chore for most builders (and some players) in an adequate, protective shell, and this one-size-fits-most solution cuts down on potential inventory. You'll notice the additional insert to assist in forming a protection for shorter body styles. (We found it necessary on the A bodies we tried, and so will you.)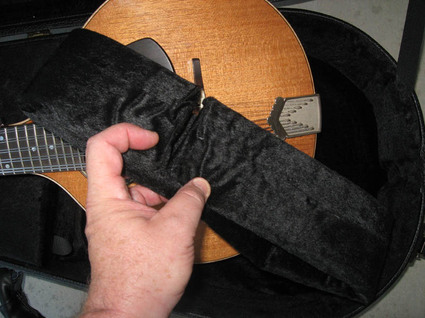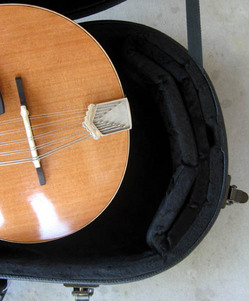 The pleasant surprise for us was the way it fit a Brazilian made bandolim. Our wider bodied JP-Charles ten-string fits like a glove inside. The insert also helps snug the base, and it's generous interior allows the deeper body of the instrument to rest nicely inside when we doubled up this padding.
This depth is a tad more problematic with a standard size 2-point or A body. Some kind of cushion or inch-thick padding under the body would really suit the market better. The other design modification we'd suggest is a slightly shallower neck compartment. Taking its interior accessory compartment lid about an inch lower into the nest would stabilize the neck better for most instruments, especially standard thickness mandolins.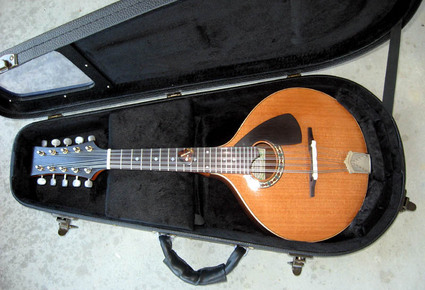 Love the look of the hardware. The antiqued brass is a classy aesthetic you associate with higher end cases, and the case lid is both secure and snug, great for humidity control. In addition, we like the comfort of the thickly padded handle; the weight spreads ergonomically in the grip of your hands for long distance hauls. The black tolex covering also provides good scratch resistant protection from marking and marring when stacked next to hard surfaces or other objects.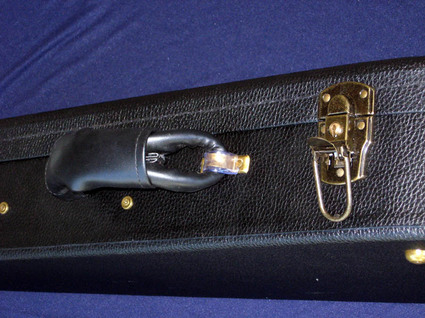 The most appealing feature has to be its unique clear plexi window. If you are a certified victim of MAS (Mandolin Acquisition Syndrome) and have multiple instruments in similar cases, you may have found yourself at a performance or practice with the wrong ax. The ability to see the headstock while the case is closed is not only novel, but quite practical for the chronic mandolin junkie/collector.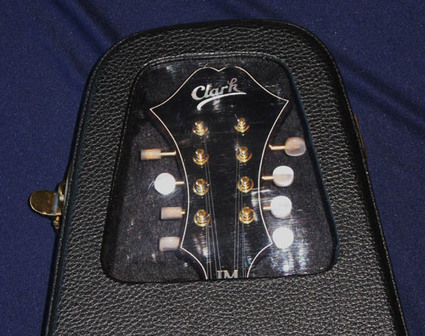 We couldn't help but register an inescapable but surely unintended tribute to "2001 a Space Odyssey." We're reasonably sure your mandolin will fare better than Dr. Kimball and the ill-fated occupants of the spaceship Discovery...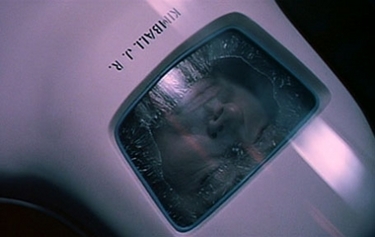 The manufacturer lists the dimensions as 11.50(W) x 28.00(H) x 4.00(D).
We measured the interior at 11 x 27 x 3. Again, our only reservation is the depth of the body compartment, easily remedied by another pad or insert.
Builder website: Protec Music
Website specs: SW-208 Stonewood mandolin case
Posted by Ted at 5:10 AM