« July 2010 | Main | September 2010 »

August 30, 2010 | New Paul Glasse Videos
Video treats from one of the planet's most amazing jazz mandolinists, Austin Texas stalwart, Paul Glasse. The first is a rare opportunity to witness a spontaneous personal demonstration of his new signature model Arrow mandola close up built by world class luthier Paul Lestock. This gem sounds as good as it looks:
View Link: Paul Glasse and his signature Arrow mandola

The next is a well shot performance during his trip to France at the 23 Degrees Festival Country Rendez-Vous in Craponne sur Arzon, July of 2010.
Lone Star Swing; Air Mail Special

Rumors, mind you, only rumors, but we've heard in addition to a new CD project in the works, his previous timeless treasure CD projects are about to become widely available again. We'll keep you posted...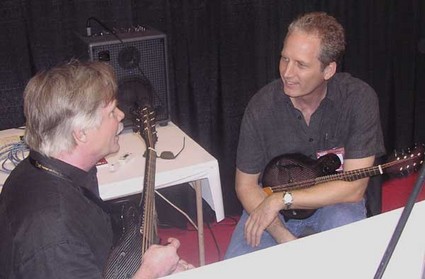 Will Patton and Paul Glasse at the 2007 Summer NAMM show in Austin, Tx
Artist Website: Paul Glasse
Posted by Ted at 5:21 AM

August 28, 2010 | "The notes seem to come from out of nowhere."
We've been shipping these literally all over the world, and the feedback remains good. It's great to hear from the readers many months into studying, because frankly, that's how long it takes to see the great benefits of our systematic approach. We appreciate you insights.

From Jim:
"I order a fair amount of books on the mando, but don't get around to study the techniques that much. Well, after reading your initial comments in which you 'demystify' jazz (mando), it opened me up to not being anxious about learning it, so I have decided to go through your book in a systematic manner to begin learning the concepts, and committing them to 'motor memory.' I have been playing the scales in your book (which I learned studying the violin for three years as a kid), but am now understanding the standard FFcP concepts. I know your book will help me to not have a fear of getting into jazz mando and not to be 'phobic' about playing down the neck, and the like. Jazz has always been intimidating to me to try to get a handle on, even though I have always wanted to have a good grasp on it, because jazz mando is so cool"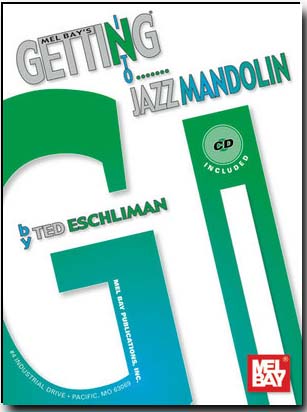 From the publisher:
Ted Eschliman GETTING INTO JAZZ MANDOLIN
Any mandolinist aspiring to a broader comprehension of music, including swing, blues, pop, choro, broadway, and even classical can expand his/her playing through a working knowledge of jazz fundamentals. This breakthrough approach in mandolin pedagogy takes four uncomplicated fretboard patterns (FFcP) and drills a physical familiarity into the player's fingers, softening the fear of upper frets and prepares for the harmonic alterations necessary for effective and intuitive playing of complex contemporary music. After a brief introduction into modes, you are eased into jamming with audio accompaniment (CD), and eventually an initiation into the most fundamental jazz chord progression of all, the 'ii V7 I' pattern. From the horizontal (melody) to the vertical (chords) and back, the results are a both instinctive and physical grasp of tonal centers and the improvisational fodder of effective performing. With an emphasis on pinky strength, finger control and sustain, the book's exercises also develop the player's concepts of tone and melody. Further supportive resources, including MP3 audio tracks, are available on the internet.
Get yours: Getting into Jazz Mandolin
For those of you who already have it, don't forget about the free additional online backup tracks: Webtracks
Posted by Ted at 6:04 AM

August 26, 2010 | Evaluating strings
For some, the quest for the perfect string is a never-ending Quixotic pursuit, and the best set is perpetually the one that's on the other player's mandolin. For others, it's that ONE tried and true string brand, preference never to stray, never to experiment with. In perspective, other than the pick, it's probably the least expensive way to change the sound of your instrument.
We're probably in the latter, the camp of complacency. Once you find a string that ultimately matches your tone and feel preferences, you lose compulsion to change, until that day you run into defective product. We've known a few players that have given up on an entire line of strings, just because of one or two bad sets, and that's a shame. ALL manufacturers eventually run into some production problems; you should never completely abandon a brand because of a single incident of inappropriate string breakage or faulty core.
That said, it helps to know what can go wrong, and we explored that in last week's Tips and Tricks column. We went through loops, cores, age, and tensioning to unravel (pun intended) what could go wrong.
Take some time to read through this. You might find it useful.
Read article: Evaluating strings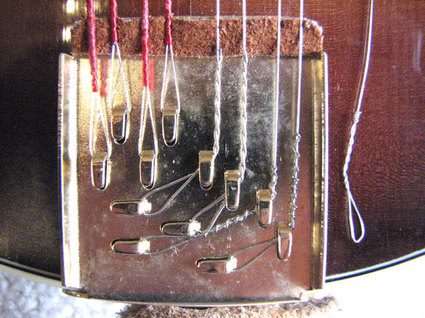 Posted by Ted at 5:39 AM

August 24, 2010 | Rigel R-100 blackface mandolin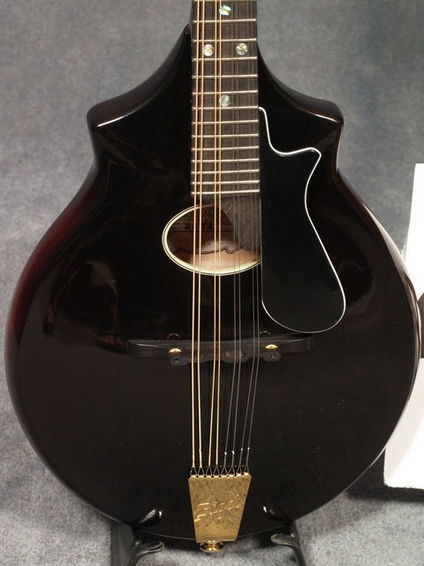 This little gem is driving us crazy. Taunting us from a showroom hanger and Elderly's online catalog of used mandolin treasures, this dream-come-true two-point double cutaway body, black spruce top with oval soundhole, sunburst finish carved maple back and sides, sunburst maple neck, is just begging for a home. We hope for the sake of domestic tranquility, someone else grabs it before weakness gives into temptation.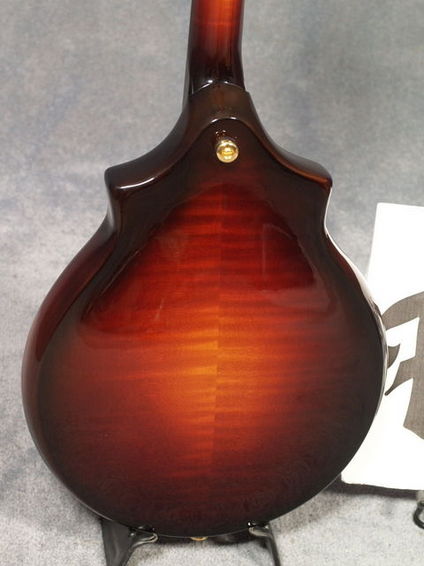 During our stint as a Rigel dealer, we sold over three dozen of these amazing instruments, everyone as attractive to the eye as they were comfortable to hands and fingers. Always edgy in cosmetics, they remained remarkably traditional in sound and feel.
The used Rigel R-100 mandolin would be a perfect littler sister to our Vintage Cream R-200 mandola recently converted into a 10-string fanned fret. We've already got the soprano register nicely covered with the 10-string, but this would be a great investment at the asking price of $1650.
M.A.S. Is such a terrible thing.


Other specs:
22-fret radiused ebony fretboard with abalone dot inlays, 1-3/16" nut width, ~13-7/8" scale length, adjustable ebony bridge, black plastic pickguard, gold quick change tailpiece, gold tuners with pearloid buttons, factory internal piezo pickup with 1/4" endpin jack, ebony peghead overlay with abalone "Rigel" inlay, on consignment, with tweed rectangular HSC (red lining) (SN:2484)
Delicious...
Website: Rigel R-100 blackface mandolin.
From the JazzMando archives: Take the Rigel Shop Tour
Posted by Ted at 5:19 AM

August 22, 2010 | More Aaron Weinstein
From the jazz mandolin enthusiast's perspectve, this guy has gone YouTube viral (proportionally speaking). New York based, Second City derivative jazz violinist master Aaron Weinstein has posted yet another breath-taking classic chord melody arrangement on his YouTube account, up to 76 subscribers and growing. The video is a great study in the challenging approach, except for the last 24 seconds (spoiler alert) where he's Rick-rolled us. Or "kitten rolled" us, as it were.
Still, Aaron's a cool cat, and when you see the first part of the video, you'll agree.
Video link: Aaron Weinstein plays "One Morning in May" and other things

Subscribe to the Aaron Weinstein Youtube account.
Posted by Ted at 7:27 AM

August 20, 2010 | New tuneage resource: MyRealbook.com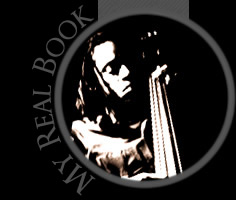 We're pretty impressed with the current features of a website based out of France of jazz standard tunes aptly called "myrealbook.com." Still somewhat in beta-version, the free online library promises to be a terrific resource as it develops more of its features. Offering an astronomical assortment of over a thousand classics in three different standard transpositions, C, Eb or Bb, the site gives you the chords (you already know the melodies) plus allows you to print or email pages. (Did we mention "free?") Understand that this is not a fakebook with melody notated, to offer this feature would make the project cost prohibitive, with all the due legal responsibilities and royalty administration.
We've enjoyed using our Realbook iPad app, but this is terrific for those that don't have Apple's latest gadget or desire the immediate print option. We checked in with the site author Pierre-Yves Sauront about the intriguing possibilities of printing a book or collection of songs selected from the site, particularly generating a PDF file set list for an eReader. He responds, "The plan is to offer the possibility to create books. Not one huge book with all charts, but many small books, for specific use. For example, one will be able to create a book containing all charts corresponding to a specific gig, or for a workshop or rehearsal session. It will be possible to add transposition to some tunes, then to publish three versions of each book, in C, Bb and Eb and send them to other musicians."
He further speculates, "This corresponds with my purposes; I wish to use a eReader too. This means that other charts (not included in the book) will still be available (if needed for jamming) provided the eReader is connected to the Internet." Other features on the drawing board: transposition to any key, which would be great for accompanying singers, group charts that would also include corresponding information like performance dates and locations, rehearsal notes, and of course the ability to pass the books on to fellow musicians through email.
Very exciting stuff, but check in now to see how much repertoire treasure they are already providing.
View site: MyRealbook.com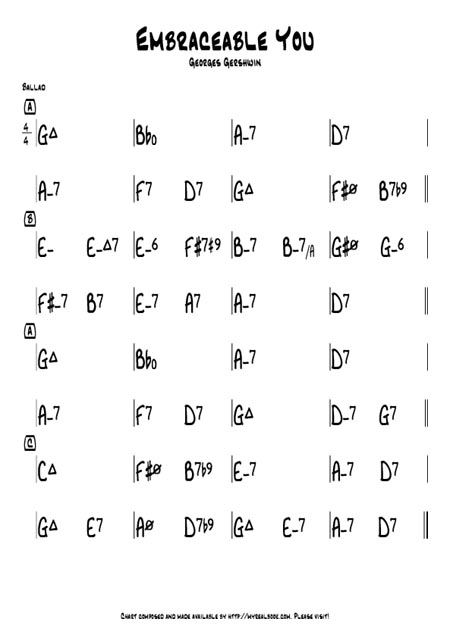 Special thanks to Seattle based multi-instrumentalist and educator/publisher Pete Martin for pointing us this direction.
Posted by Ted at 5:28 AM

August 18, 2010 | For sale: mandosynth set-up complete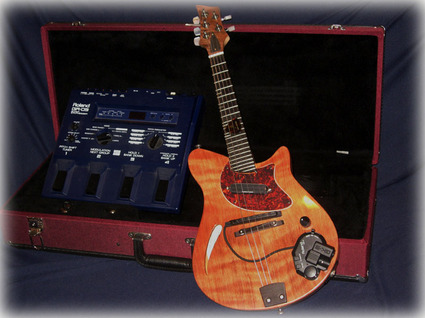 UPDATE: The instrument had been purchased and is no longer for sale.
We had some fun experimenting with this set-up and wrote about the results in our March 2008 entry, "Roland GK-3 MIDI pickup. For mandolin!" We hooked the Roland guitar synth interface with very good success. The six-pole pickup fit nicely under the 5-string Jonathan Mann EM5. We did have to remove the tone control pot to make it work, but we were pleased there was enough real estate on the top to accommodate the GK-2 without impacting the playing area.
The fun is in doubling melody with an etheral pad sound or the Rhodes tine. Some of the bass patches were also pretty practical, but now that we're done with it, it's up for sale. The instrument itself sells for around a thousand dollars new, and the Synth module and pickup street price around a couple hundred new. We're making the whole package availabe, instrument, module, pickup installed and deluxe hard case for only $795.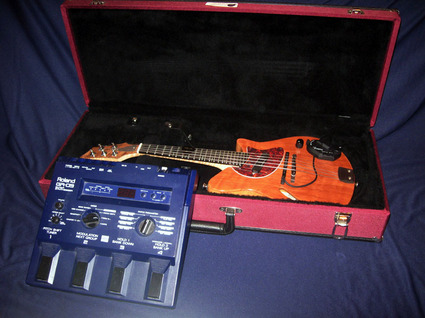 Interested in stepping into the world of MIDI with the mandolin? This is a pretty painless way to do it.
Contact us if you are interested in purchasing this package.
More about Jonathon Mann instruments: Mandolins.com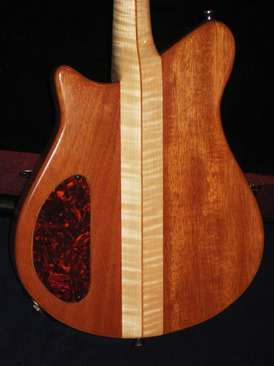 Posted by Ted at 5:34 AM

August 16, 2010 | Rory Sutherland-Shreddies
We do pretty well with products out of our JazzMando Merchandise Center, but maybe we could ramp up our appeal even more with a little marketing advice from British advertising guru, Rory Sutherland.
"All it takes is photons, neurons, and a really great idea."
View Video: Rory Sutherland-Shreddies

Rotating the Jupiter Silkweave Polish Cloths 45 degrees and calling them "diamonds" would be a bit transparent. Perhaps instead, we could call them Jupiter Silkweave "Prayer" Cloths.
"For when your practicing needs to be inspirational."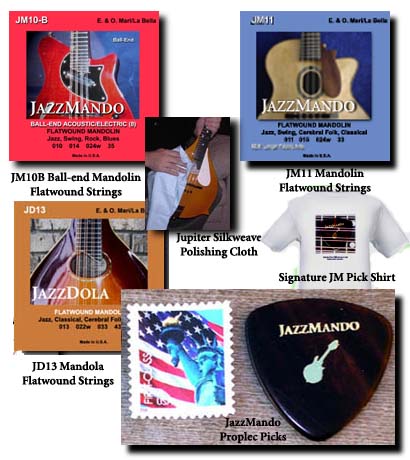 Posted by Ted at 5:51 AM

August 14, 2010 | Mandolin Cafe jumbo-size 21-chord mug
Are you kidding? Hardly a morning goes by that we don't already use our 3-3/4" Mandolin Cafe Mug. For those mornings that call for a bucket of coffee, this seems to be the perfect answer, the new Mandolin Cafe 4-1/2" tall super-size beverage mug. Great for hot beverages, Coffee, tea, hot chocolate, and our secret JazzMando tip, put it in the freezer for 30 minutes prior and you can keep your beer cooler a few minutes longer after you pour.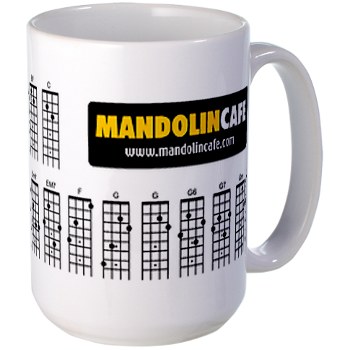 15 oz. of ceramic ensconced gravitas, easy grip handle, no-spill stability, dishwasher and microwave safe, and as far as we know, never tested on animals. Oh yea, then there's that fashionable chord thing down the side. Everyone can ask you why you need to know so many ukulele chords.
:)
Purchase: Large 21-Chord Mug
Operators are standing up!
Posted by Ted at 6:13 AM

August 12, 2010 | Last Call; "Lizard Ear Chords" on Mandolinsessions.com
We couldn't let it go. Not only is it such an interesting way to experience the mandolin, we were just so chock full of great chords from our industry friends that we had to break it up into three different articles. The third and final installment of our "Lizard Ear" MandolinSessions article on the Mel Bay website is up in the August edition. We bring in some cool chord combinations from friends, Eva Scow, Michael Lampert, Jamie Masefield, John McGann, and Evan Marshall.
With a line up like that, how could we go wrong?!
Grab your mandolin and enjoy:
Chord Combinations for the Lizard Ear, Last Call: From the Pros Part 2!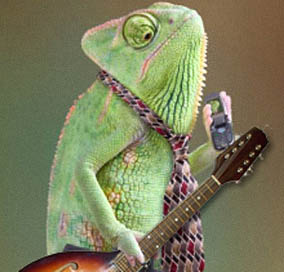 Again, do us a solid and weigh in with your feedback at the bottom with comments on the article, or just slip in a five-star rating. Let them know you appreciate these articles!
Make sure you caught the first two articles, too!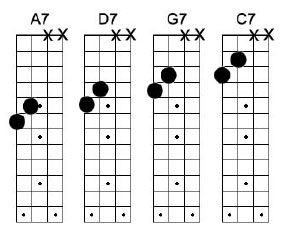 Posted by Ted at 7:57 AM

August 10, 2010 | Lakota Leathers: boutique mandolin straps
We first met up with Lakota Leathers founder Kenny Bohling at Summer NAMM 2010 in Nashville, TN. We had heard the trade buzz about his startup guitar strap company and confess a little premature skepticism before we arrived at his booth. It's not like the industry needs another strap manufacturer, so we were prepared to write off the small company as yet another industry also-ran, but were we pleasantly surprised!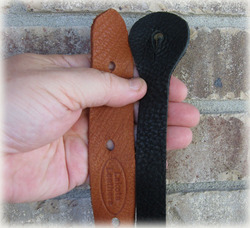 Bohling's strap assortment was smart and contained. Not a lot of ground-breaking forms, but what floored us was the quality and comfort of the leather on his "basics." Further look revealed some incredible Native American designs. With a unique supply of some of the world's softest, highest quality bison and elk hide, the entrepreneur was able to hook up with a centuries-long leather tooling craftsmanship of the Lakota Souix tribe in the center of the US in South Dakota.
You say you want to buy American?
This is about as original "American" as you can get!
You don't hear much about the impoverished conditions these proud people live in on the reservation, and the "mission" of Lakota Leathers isn't just about quality straps for mandolin, guitar, banjo, and dobro, it's about providing a livelihood for a small representative of the 30,000 to 40,000 who endure a bare indigenous existence, often as high as 85% unemployment. An opportunity to bring some dignity and capture some of the historic beadmaking traditions of the tribe allow Lakota Leathers a unique, quality product.
The straps are available through a growing dealer network and on the company website. Bohling designed these with a panache of luxury but a smart economy of affordable price point. (Mandolin straps $30-50, with high-end custom options available at a higher, boutique price) Corners are cut only to economize waste in materials and unnecessary labor, but not quality.
We requested a sample of both the flat strap and the braided. Pictures don't do the material justice, they need to be felt in the hands to appreciate how soft they are, especially the elk hide mandolin line. On a lighter instrument, the braid rests gently on the shoulders conforming comfortably to the contour of the neck and body of the player. We were more partial to the flat strap and the way it rested around the neck particularly when wearing a collarless shirt, playing on a heavier ten-string.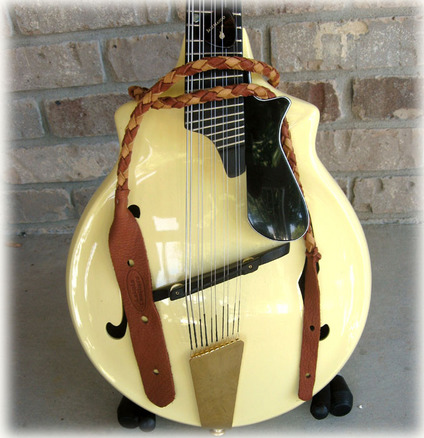 We've suggested a line of mandolin straps that would have a wider web, particularly for weightier instruments like mandola or octave mandolin, and this is actually in the works. We're hoping to have a hand in developing this, but the existing models are a tidy choice for all mandolin body styles, A, F, and 2-point. The braids come with a loop end standard, but they can be requested without if you have a strap button on both ends. Colors include black, gold, tan, and a delicious reddish tobacco.
Website and purchase information: Lakota Leathers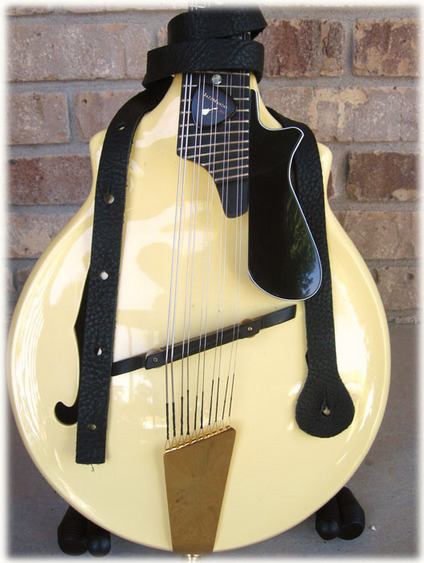 Instrument pictured is a customized fanned-fret Rigel 10-string R200 mandola
Posted by Ted at 5:42 AM

August 8, 2010 | Artsy from Clark Mandolins
Always great to check in with our builder friends, and of course Boise, Idaho wood genius, Austin Clark is one of those at the top of our short list of favorites. Austin's latest satisfied customer is one of our favorite violinists, progressive string educator Darol Anger with the latest Clark creation, a terrific guitar-bodied octave mandolin.
Austin is the victim of his own success, perpetually trying to keep up with demand from his international acclaim these last years. He writes us, "Things are busy here, trying to crank out a big batch after taking lots of vacation time. In this batch, I have 2 archtop guitars, an octave, an H5 dola an A5 and 2 F5s. Oh, and at the same time, I am trying to make 2 Dreadnaughts to take with me to IBMA."
We enjoyed some of his latest Facebook postings, some rather artsy shop photos.


Click images for closeup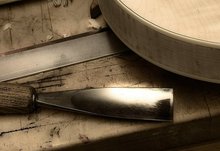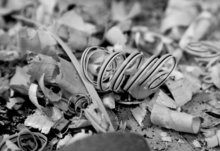 Photography by Eric Onasik
Join Clark Mandolins Facebook Page
Read review: Signature Clark JM mandolin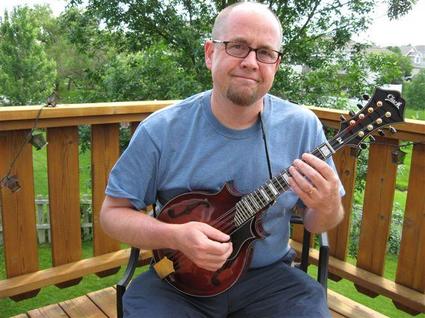 Photography by Erica Nicole Eschliman
Posted by Ted at 7:31 AM

August 6, 2010 | I got rhythm. Who could ask for anything more?
If you've been to a jazz jam, you've probably hear the term "Rhythm Changes." The experienced player knows this refers to the chord progression derived from the 1930 George Gershwin classic "I Got Rhythm." What you may not know is how exhaustive the list is of well-know tunes based on these chords. According to the Classic David Baker book, "How to Learn tunes" (Volume 76), listed below is his extensive tally.
Purchase book: "How to Learn Tunes"
Review suggested chord changes for mandolin at the MandolinCafe.

---
Allen's Alley (AKA Wee), Denzil Best
Almost, David Baker
Anthropology (AKA Thrivin' From a Riff), Parker/Gillespie
Apple Honey, Woody Herman
Bop Kick, Nat Cole
Boppin' a Riff, Sonny Stitt
Brown Gold, Art Pepper
Bud's Bubble, Bud Powell
Call the Police, Nat Cole
Calling Dr. Jazz, Eddie "Lockjaw" Davis
Celerity, Charlie Parker
Chant of the Groove, Coleman Hawkins
Chasin' the Bird, Cheers, & Constellation, Charlie Parker
Coolie Rini, Howard McGhee
Coppin' the Bop, J.J. Johnson
Cottontail, Duke Ellington
Delerium, Tadd Dameron
Dexter's Deck, Dexter Gordon
Dexterity , Charlie Parker
Don't Be That Way, Edgar Sampson
Dorothy, Howard McGhee
The Duel, Dexter Gordon
Eb Pob, Fats Navarro/Leo Parker
Fat Girl, Fats Navarro
Father Steps In, Dixon/Randall/Hines/Fox
Fifty Second Street Theme, Thelonius Monk
The Flintstones, Hoyt Curtain
Fox Hunt, J.J. Johnson
Goin' To Minton's , Fats Navarro
Good Queen Besd, Duke Ellington
The Goof and I, Al Cohn
Hamp's Paws, Hampton Hawes
Harlem Swing, Nat Cole
Hollerin' and Screamin', Eddie Davis
I'm an Errand Boy for Rhythm, Nat Cole
In Walked Horac, Jay Jay, & Jaybird, J.J. Johnson
The Jeep is Jumpin', Duke Ellington
Jug Handle, Juggernaut, Gene Ammons
Juggin' Around, Frank Foster
Jumpin' at the Woodside, Count Basie
Lemon Drop, George Wallington
Lester Leaps In, Lester Young
Lila Mae, Nat Cole
The Little Man on the White Keys
Miss Thing, Count Basie
Moody Speaks (original version), James Moody/Dave Burns
Moody's Got Rhythm, James Moody
Moose the Mooche, Charlie Parker
Mop, Mop, Gaillard/Stewert/Tatum
Newk's Fadeway, No Moe, Sonny Rollins
Northwest Passage, Herman/Jackson/Burns
O Go Mo, Oleo, Sonny Rollins
On the Scene, Gillespie/Fuller/Roberts
One Bass Hit, Opp-Bop-Sha-Bam, An Oscar for Treadwell, Dizzy Gillespie
Ow, Charlie Greenlea
Passport, Charlie Parker
Pogo Stick Bounce, Eden Ahbez
Raid the Joint, Erskine Hawkins
Red Cross, Charlie Parker
Rhythm in a Riff, Billy Eckstine
Rhythm Sam, Nat Cole
Rhythm-a-ning, Thelonius Monk
Salt Peanuts, Dizzy Gillespie
Seven Come Eleven, Charlie Christian
Shag, Sidney Bechet
Shaw Nuff, Dizzy Gillespie
Shoo Shoo Baby, Phil Moore
Solid Potato Salad, DePaul/Prince/Raye
Sonnyside,Sonny Stitt
Squatty Roo, Johnny Hodges
Stay On It, Tadd Dameron
Steeplechase, Charlie Parker
Straighten Up and Fly Right, Nat Cole
The Street Beat, C. Thompson/ Robert Mellin
Strictly Confidential., Bud Powell
Swedish Schnapps, Charlie Shavers
Swing Spring, J.J. Johnson
Swingin' With Diane, Art Pepper
Syntax, J.J. Johnson
Ta-de-ah, Nat Cole
The Theme, Miles Davis
Tiptoe, Thad Jones
Turnpike, J.J. Johnson
Wail, Webb City, Bud Powell
Wee (AKA Allen's Alley) , Dizzy Gillespie
Who's Who, Art Farmer
Wire Brush Stomp, Gene Krupa
XYZ, Budd Johnson
Yeah Man. J. Russel Robinson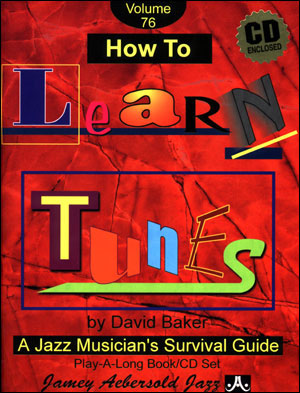 Posted by Ted at 5:34 AM

August 4, 2010 | Contrasting mandolinists: Camp faculty Don Stiernberg and Dave Harvey
Terrific impromptu duo performance captured on video with familiar JazzMando favorite Don Stiernberg and Gibson master luthier and longtime bluegrass specialist David Harvey playing "Swing 42" at Mandolin Camp North in Ocean Park, Maine, earlier this spring. The tune was written as Django Rheinhardt's personal tribute to the joyous swing of one of his biggest influences, Louis Armstrong, originally recorded by the Gypsy Jazz legend back in 1941.
Don and Dave perform magnificently, converging two entirely different worlds into a solid, unified musical collaboration. Devoid of a stagnant pentatonic betrayal, the bluegrass master swings aptly into the jazz realm, and of course, Don teases the audience with many familiar jazz riffs in his improvisation.

Good stuff!
View video: Don Stiernberg and Dave Harvey, Swing 42


Posted by Ted at 5:40 AM

August 2, 2010 | Jonathon Mann (Insider Sale) $100 off custom US electric mandos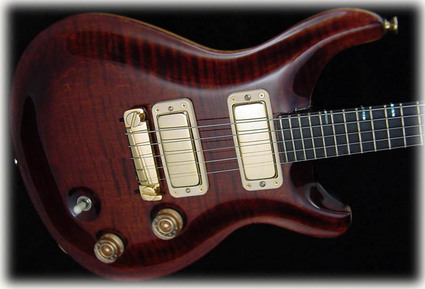 We've been huge fans of the work of Tennessee instrument innovator Jonathon Mann ever since we acquired one of his EM-5 electric mandolins. One of the first to implement a neck-through construction on his unique models, his instruments play magnificently, and are stunning eye candy. What can we say, when you strut an electric mandolin, it's got to look good.
Jon has three ready-for-your-hands instruments currently available (better check now because when the word gets out they won't be much longer) and he's offering a limited special $100 off sale. He's listed pictures and prices on his website, but the first is a used one (2005) made of Honduran Mahogany body and 3-piece neck, with a carved curly maple top. In person it looks more burgundy than black pictured above. We love that he uses larger (banjo-like) frets on all his mandos, and the 14-1/2" scale makes for a larger sound and great sustain.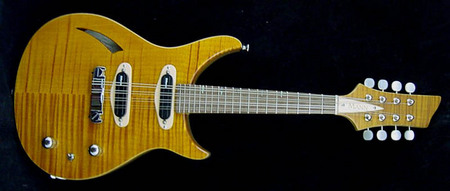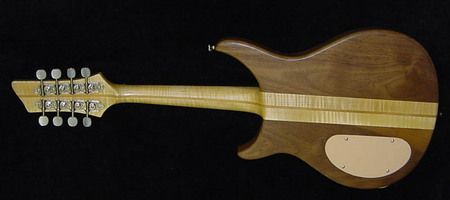 A new model he recently introduced is a double cutaway semi-hollow body EMDC-8 with extreme curly maple top and black walnut sides. He's got 2 DiMarzio Pro Trac pickups with push/pull to split the coils, and an aluminum "wrap-around" tailpiece.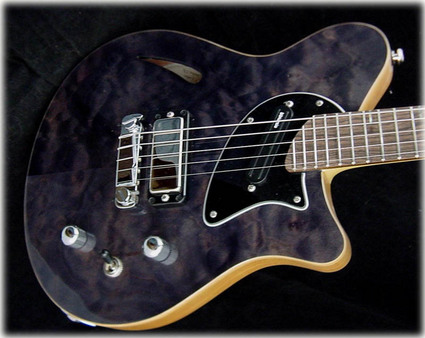 Last but not least is his ground-breaking design EM-5 Octave/Bari with 18" scale. Also DiMarzio pickups, but a Pro Trac in the neck position, and Hot Mini in the bridge. The Gloss Charcoal finish is spell-binding in person, and of course you can do some amazing chord-melody in that tenor register. Yum.
For more details: Manndolins in-stock
Be sure to mention you saw it on JazzMando to get the extra $100 off!
Enjoy video demo: Mann EMDC-5 Five String Electric Mandolin

Posted by Ted at 5:31 AM