« Last Call; "Lizard Ear Chords" on Mandolinsessions.com | Main | Rory Sutherland-Shreddies »

August 14, 2010 | Mandolin Cafe jumbo-size 21-chord mug
Are you kidding? Hardly a morning goes by that we don't already use our 3-3/4" Mandolin Cafe Mug. For those mornings that call for a bucket of coffee, this seems to be the perfect answer, the new Mandolin Cafe 4-1/2" tall super-size beverage mug. Great for hot beverages, Coffee, tea, hot chocolate, and our secret JazzMando tip, put it in the freezer for 30 minutes prior and you can keep your beer cooler a few minutes longer after you pour.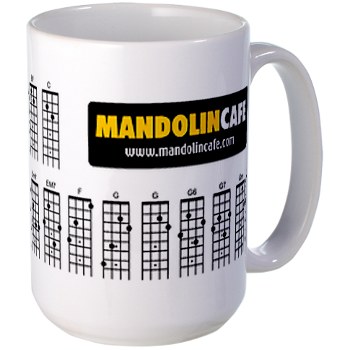 15 oz. of ceramic ensconced gravitas, easy grip handle, no-spill stability, dishwasher and microwave safe, and as far as we know, never tested on animals. Oh yea, then there's that fashionable chord thing down the side. Everyone can ask you why you need to know so many ukulele chords.
:)
Purchase: Large 21-Chord Mug
Operators are standing up!
Posted by Ted at August 14, 2010 6:13 AM