How to Make a Rigel Mandolin
Select wood is the start of a good mandolin. Even the most innovative designs in the world depend on a quality supply. Flying over the gentle mountains of Vermont, let alone getting lost trying to drive anywhere in the thickly forested highways, you begin to understand there are very few places on the planet you'll find a more abundant supply of quality instrument wood.
Vermont Rock Maple, and plenty of it to chose from, add a good source of Adirondack Spruce, and you've got the first of the three crucial ingredients of a world class mandolin. The second, of course the engineering and design, the third a solid crew of craftsmen who build, repair and finish the instrument of dreams.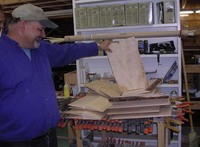 Here, founder Pete Langdell meticulously approves tops destined for greatness. It's Pete's early out-of-the-box concepts that became the template for a whole new approach to building. With the calculations of a mechanical genius, and an uncompromising standard of acoustic quality, he achieved a process of taking a solid, rock-stable carved side (unlike the stretched and bent-into-submission approach of tradition) and attaching tops and backs that could actually be heard and tapped PRIOR to final gluing.
The strategy opens a whole new world of control in not only completely eliminating bad results, but premeditatively creating a range of desired sound and tonal character. Imagine this: the luthier not having to wait until top, back and sides are permanently glued together, before having any clue of what the final sound outcome will be; instead, clamping a carefully cut top, stringing the instrument up, and actually listening to it PRIOR to glue and finish.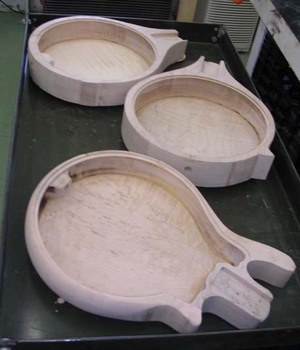 This is the wonderful world of Rigel mandolins, a whole new cunning, introducing calculated, pre-ordained consequences!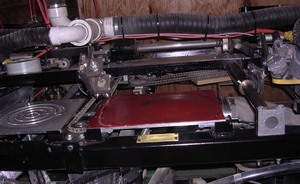 Now standardize this with equipment capable of repeating the same success instrument after instrument, but avoid costly investment in an excessively complicated computerized (CAD) machinery, and you get a mandolin that is not only consistent, but cost effective. You get a world-class instrument that a working musician can afford, without the long wait of another premium boutique builder.
Like something out of a Frankenstein movie, the clever Langdell cottage "automation" carves out the basic components of a great instrument, preparing it for the later stages of artistic human intervention. By eliminating the hours on the front end of the process, more time is allowed on the essential "craftsman" stages of tuning, sound altering, and expert finishing.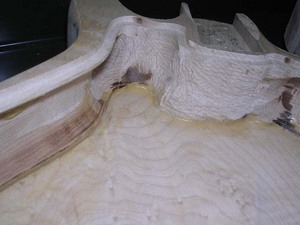 In this early stage picture, note the intricacies of carving the inner chamber and "horn" of a CT-110. With this picture, you get an up-close glimpse of acoustic destiny, a forecast of an eventual sonic work of art. These efforts are where the intense labor pays off big-time in the character and soul of the CT's sound.
Added later will be the renown pleasure and playability of a Rigel neck and fingerboard. Consistently reproduced, yet never compromised, these are cast in the stage role of ultimate control and hand comfort.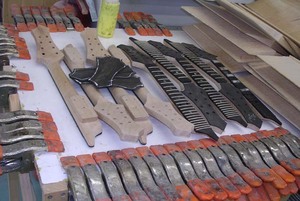 "The finish is all hand work and we use lacquer, catalyzed lacquer, or varnish. I think the woodworking part is 45% of the process and 55% is getting a good finish. We hand stain the wood so the color penetrates deeply, then we finish over that. Many people think our finish is very thick because it looks very deep. It's about 4 mils, that's very thin."
Pete Langdell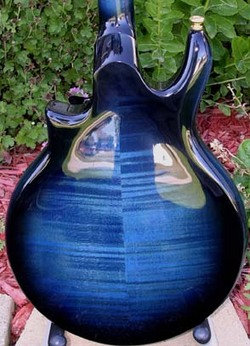 Lest we forget the final stage of superior artistic achievement, the Rigel finish, with some of the highest quality materials available, and the signature radiused sides, cleverly masking invisible seams with a transparent-to-opaque burst.

It's the magnificent balance of aesthetic and frugality, the economic prudence of inventively apt design that yields Rigel a tremendous advantage over other competitive manufacturers and boutique builders. Imagine a custom order in less than six weeks. Now, imagine owning it, and having the financial resources left over to acquire additional weapons in your M.A.S afflicted arsenal.
You too, can become a member of the elite club of Multiple Rigel Owners.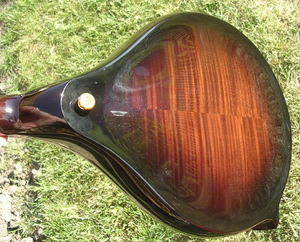 Rigel does a dynamite industry-standard Tobacco-burst magnificently, but check out some of the incredible innovative finish options in our Rigel Custom Gallery.
This is this Rigel 21st Century Advantage!