« Jupiter Silkweave Cloth | Main | Contrasting mandolinists: Camp faculty Don Stiernberg and Dave Harvey »

August 2, 2010 | Jonathon Mann (Insider Sale) $100 off custom US electric mandos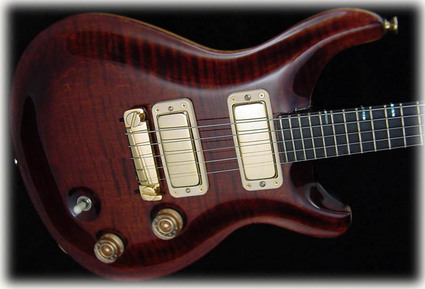 We've been huge fans of the work of Tennessee instrument innovator Jonathon Mann ever since we acquired one of his EM-5 electric mandolins. One of the first to implement a neck-through construction on his unique models, his instruments play magnificently, and are stunning eye candy. What can we say, when you strut an electric mandolin, it's got to look good.
Jon has three ready-for-your-hands instruments currently available (better check now because when the word gets out they won't be much longer) and he's offering a limited special $100 off sale. He's listed pictures and prices on his website, but the first is a used one (2005) made of Honduran Mahogany body and 3-piece neck, with a carved curly maple top. In person it looks more burgundy than black pictured above. We love that he uses larger (banjo-like) frets on all his mandos, and the 14-1/2" scale makes for a larger sound and great sustain.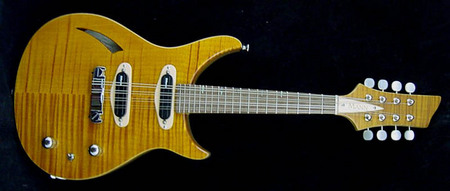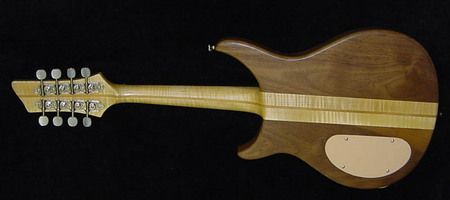 A new model he recently introduced is a double cutaway semi-hollow body EMDC-8 with extreme curly maple top and black walnut sides. He's got 2 DiMarzio Pro Trac pickups with push/pull to split the coils, and an aluminum "wrap-around" tailpiece.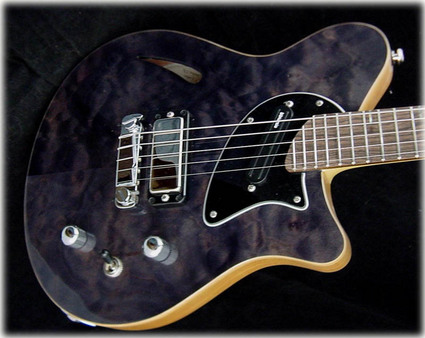 Last but not least is his ground-breaking design EM-5 Octave/Bari with 18" scale. Also DiMarzio pickups, but a Pro Trac in the neck position, and Hot Mini in the bridge. The Gloss Charcoal finish is spell-binding in person, and of course you can do some amazing chord-melody in that tenor register. Yum.
For more details: Manndolins in-stock
Be sure to mention you saw it on JazzMando to get the extra $100 off!
Enjoy video demo: Mann EMDC-5 Five String Electric Mandolin

Posted by Ted at August 2, 2010 5:31 AM