David Cohen
C# Mandolin
Muti-Grammy winning producer, Quincy Jones referred to the "balance of science and soul." It's an intriguing notion that extends to the craft of mandolin building, one we contemplated frequently when examining this, our latest review.
Ponder this often blurred line between art and science. Anyone who is a "student" of timeless architecture understands that great buildings and bridges require exacting amounts of math and physics or their occupants and users operate at great risk. If the numbers are wrong, buildings collapse, bridges fail and people die.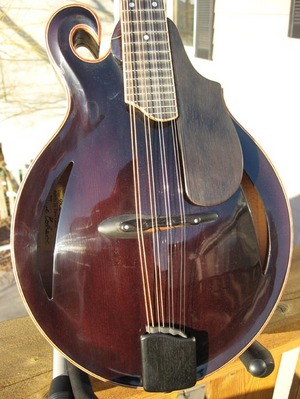 This point may be melodramatic within the context of the art and engineering in designing and producing a great mandolin; faulty construction does not routinely cause a player's death, even if his/her playing is chronically bad. However, the blur between intent and result, calculation and intuition, often irrelevant to the owner of an instrument, is elemental for a builder's product to be consistently duplicated (let alone improved), an instrument built sound and solid. The cerebral science of construction is as much an advantage as the art to the skilled craftsman. Like it or not, numbers do mean something.
There is probably not a builder on the planet who is visibly more associated with the physics of mandolin construction, and a great number of today's builders have gleaned tremendous insights from the published documents of Dr. David Cohen, retired chemistry professor and Virginia-based mandolin luthier. It's been our pleasure the past week to get a closer, hands-on look at one of his own demo model C# instruments, his personal "Sleek Black Beauty," named after a hilarious vignette by the Brothers Magliozi on NPR's Car Talk.
The first aesthetic we celebrate in Cohen's creation is the unique and functional scroll. Devoid of the needless Florentine flourish of a traditional F-body scrolled instrument, it struts its own straightforward beauty. Pictures really don't do justice to the three-dimensional splendor in and around the modified scroll. The combination maple/bloodwood/maple binding is a treat to the eye, as it extends throughout the perimeter of the rest of the body.
Interestingly, Dave almost apologizes for the wood in this instrument; in his notes, "This mandolin is a Cohen C#, made to be a demo, from blemished woods, which is why I made it black. It has been my player as well as demo, if you can call what I do "playing." The redwood top plate has two dark streaks along the grain, otherwise acoustically good. The Euro maple back plate is three-piece, with a filled worm track and a partly hidden stain from a visitor from when the tree was alive. The ribs have a repaired and reinforced crack near the scroll, present from the beginning. Binding is all wood, curly maple, plain maple, rosewood, and bloodwood. What we find fascinating is "Black Beauty" becomes a delicious Royal Purple in very strong lighting as you can tell from out pictures. The thin line of bloodwood binding is an enticing visual complement.
Continuing, Dave comments, "The tailpiece is conventional; the ebony cover slides off for changing strings. When replacing it, slide it onto the tailpiece and gently snug it at the end of its travel to make sure it does not loosen during playing. There is no truss rod. The two-piece neck has a deeply buried upside-down T-beam of CF/epoxy composite."
Back to the numbers thing, Cohen's lifelong interest in science, woodworking, and stringed instruments, his documentations of the mathematically based principles of mandolin are some of the first ever. Retiring from teaching college chemistry in 2003, he has since devoted his full time energies to building to keep up with the growing customer demands of the craft that until then had been a part-time hobby. (Technically, Cohen is a physical chemist, hence the affinity for physics and mathematics.) Prior to this, he'd published in-depth technical articles, "Normal Modes of Vibration in Two Mandolins in 2000 followed by "Acoustics of Mandolins" in Acoustic Sci. Tech. in 2003," and has also lectured at the Classical Mandolin Society of America during a talk entitled, "The Physics of Mandolins" in the 2001 Boseman, Montana convention (another in Montreal recently in 2008). Incidentally, he will be on a mandolin construction panel this summer along with high-profile builders, Rolfe Gerhardt and John Monteleone at the ASIA (Association of Stringed Instrument Artisans) convention in E. Stroudsburg, PA in June, 2009.
Though math is often thought of as "cold," Cohen is adept in crunching those cold equations into an intuitive aural beauty, expertly tapping into that balance of science and soul. This particular instrument, while it lacks the stark obligatory punch of most Bluegrass mandolins, can still project. Though it's not as gushingly warm as an Oval Hole, the combination of woods and C hole lend it a broad tonal capability, certainly warm at pianissimo dynamics, but edgy when you dig the pick into it.
Think of it as a delicious ice cream sundae (speaking of cold). For the dessert's foundation you'd want a neutral vanilla, in this case a more exotic French Vanilla, allowing you to top it with other flavors, chocolate, nuts, strawberries. The base sound of this instrument allows the player to work a wide range of character and tonal flavor.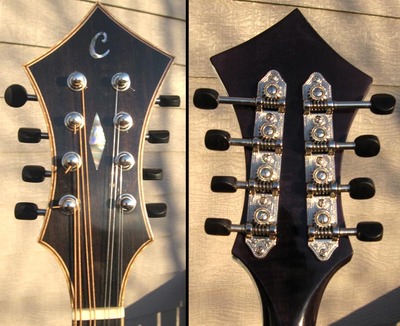 Of course, the player never needs to know the trivia and detail in Cohen's craft like he does; all that matters is it is comfortable in the hands, expertly utilitarian in function, and very much a beauty to the eyes. Balance across as well as up and down the fretboard is great, very even when jumping from one range of the instrument to another.
It's hard to find something we didn't like, especially outside the realm of personal preference and taste. A lap corner would be nice for sit down playing, but then you're tinkering with the artist signature; the C# is its own look. (In discussing this with the good Doctor, we found this is an available option for a $200 upcharge.)
In addition to this C# Model ($3800), Dr. Cohen also offers an A ($2600), F ($4600), as well as 2-point ($3000) and has experience with mandolas, octave mandolins, mandocellos, and the occasional guitar. (All mando family instruments available with oval soundhole, different scale lengths, different neck widths, etc., according to player preference.)
We'd recommend any time you have the opportunity to read about the good Doctor's "math" of mandolin, embrace it. This man knows his stuff. The technical jargon of the physics of sound may be more than you want to deal with in depth personally, but there's reassurance in knowing a certified math geek has gone to great effort to explore some of the mystery of wood and string sound creation.
And walked the talk, crafting an instrument capable of stirring the soul.
Builder's Website: Cohen Mandolins
Builder's Bio: Dr. David Cohen
Page with abstracts to the Cohen & Rossing papers
Read up on other world class mandolin builders: