« October 2010 | Main | December 2010 »

November 30, 2010 | Don Stiernberg on Blue Night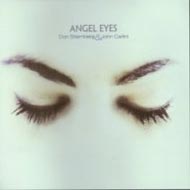 Now that all the fanfare and frenzy for Cyber Monday is over, we'd like to make a suggestion you calmly return to your computer, and make some intelligent, premeditative music purchases. Check your personal library of Don Stiernberg CDs to see if it is complete; maybe you don't have his latest, Swing 220, or some of his early classics, About Time or Unseasonably Cool. Either way, the holiday season is a great time to treat yourself and friends to some of the best recorded jazz mandolin recordings ever made.
Peruse the whole historic collection on Blue Night Records. Buy a CD, or for instant self-gratification, download now!
Visit site: Blue Night Records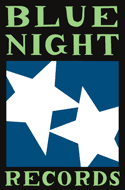 Posted by Ted at 5:45 AM

November 28, 2010 | Classifieds Find: TKL Camouflage Mandolin Case
We spotted one of these at an occasional NAMM show in the TKL booth but never really saw them for availability to dealers, let alone in the hands of a player. Stacked in a corner with other camo instruments cases, they were assumed to be more of a novelty or conversation starter, but one has now popped up for sale in a Cassifieds Ad on the Mandolin Cafe website.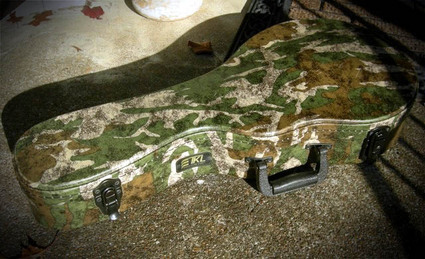 I suppose you'd not want to take this on a hunting or fishing trip. You'd never be able to find it again, once you set down.
View Cafe Classifieds Ad: TKL Camouflage Mandolin Case
Are you a gear addict? A victim of chronic M.A.S? (Mandolin Acquisition Syndrome) If you haven't already, set your RSS reader for the Cafe Classifieds for constant updates, or iPhone users can get this included in the free Cafe App available at iTunes.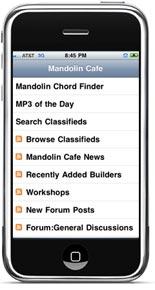 Cafe App screen shot
Posted by Ted at 6:37 AM

November 26, 2010 | DR NEON strings. For mandolin?

You wouldn't think the introduction of DR Strings new NEON series for electric guitar and bass wouldn't mean much to a mandolinist. You'd be right if you were only thinking acoustic, but electric mandolinsts can open a whole new frontier of stage presence, as we have personally discovered installing a set of the NPE-10 on a JBovier 5-string electric mandolin. Gauges 10, 13, 17 (throw away), 26, 36, 46 work perfectly well on the set-up and the cutting edge K3 coated material technology actually makes for an appealing sound and feel.
Visually striking, the three guitar gauges and one bass set come in retina challenging pink, green, blue, or orange. All the string are coated, including the plain E. On the conversion from a 6-string set to 5, the guitar G was the superfluous one, which allowed us for the first time to utter the sentence in the English language, "Anyone need an extra pink G-string?"
From the DR website, "Although a patent has been applied for in regards to the NEON strings, we have been advised not to discuss the key elements of the patent until it has been issued."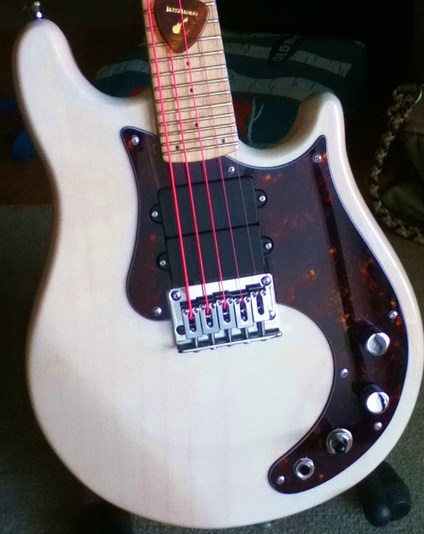 Website: DR NEON series strings.

Posted by Ted at 5:17 AM

November 24, 2010 | Matt Manos: Mandolin and Unicycle
Not really sure how we missed this last May. A new twist on the phrase "goes together like fish and bicycles," follow the twisted diary of CLA design student Matt Manos in his misadventures learning to play the mandolin and learning to unicycle.
Simultaneously.
He reports, "Over the course of the next 10 weeks, I will be embarking on a mission. Upon thinking about what I REALLY would like to do right now, two things came to mind. Learn how to play the mandolin, and learn how to ride a unicycle. I decided that both of these are actually quite feasible seeing as I have a lot of experience balancing on objects with wheels (I have been skateboarding for 17 years), and I know how to play the acoustic guitar (they both have strings right???). Seeing as they are both quite feasible, I decided to make it a bit harder for me, so now the following is my goal in life for the next 10 weeks: I want to learn how to ride the unicycle while playing the mandolin."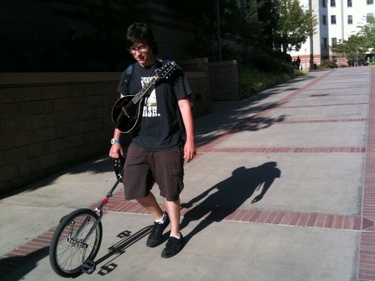 In case you felt you had too much time on your hands, follow the development on his seven page WordPress blog.
Don't spoil the ending. Start at beginning and move forward: Mandolin and Unicycle

Posted by Ted at 5:11 AM

November 22, 2010 | Jeremy Kittel Band with Josh Pinkham: Forky Deer
Fiddle, mandolin, cello, hammered dulcimer. How can you go wrong with a combination like that? The talented quartet of the Jeremy Kittel Band including bright star and JazzMando fave, Josh Pinkham perform a thrilling rendition of the bluegrass classic "Forked Deer" in this terrific video.
These are young guys we'll want to keep an eye on in the future!
View video: Jeremy Kittel Band; Forky Deer

More on Josh Pinkham.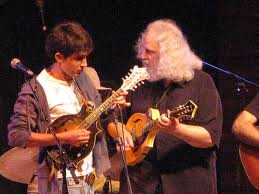 Josh Pinkham with David Grisman

Posted by Ted at 5:16 AM

November 20, 2010 | Cohen C# mandola: sneak peak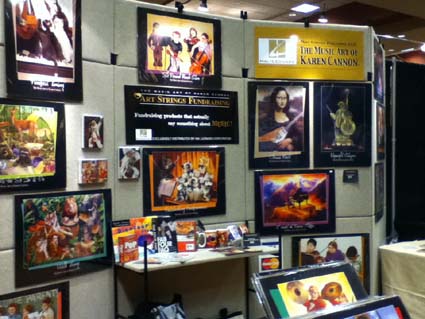 We had the chance to catch up with good friend Brent Hawley, the business side of the husband/wife team that is the engine for Artstrings Publishing. Tucked discreetly behind an amazing display of their musical art products at the annual Nebraska Music Educators Conference was his latest toy, part of an unprecedented trio of matching instruments crafted by builder/mad scientist David Cohen. This lovely mandola and its majestic lower alto register is part of his set, completing the Cohen mandolin and mandocello. Of course, we were compelled to take it for a ride.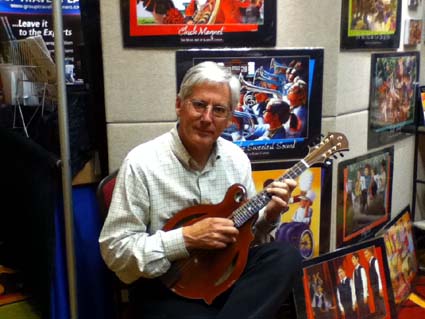 Brent Hawley
We met Brent and his talented wife, Karen Cannon about five years ago picking in the courtyard of the Marriott hotel in Lawrence, Kansas (Mandofest) during an impromptude evening jam session. It was the first (and only) time we've ever had a small group of mandolinists busted up by hotel security for making too much noise. (Not even a single banjo among us.)
Brent has promised us professional pictures of the completed trio. We can't wait!
Read review: David Cohen C# mandolin
Visit and shop Art Strings Publications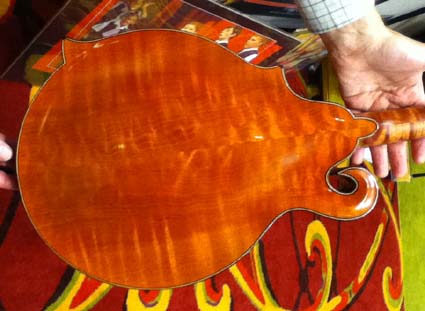 Posted by Ted at 5:43 AM

November 18, 2010 | Scott Tichenor and his Mandolin Cafe
Our friend, editor Reidar Falch over at MandolinMoments.com, the European webzine devoted to news on the eight-string has just posted an intriguing article about cyberspace Mandolin Mogul, Scott Tichenor. The Kansas native has invested the last fifteen years of his life to bringing lessons, interviews, builder database, discussion forum, classified ads, and a healthy array of the latest and greatest in mandotrivia and news to the globe through this unprecedented online resource for mando-kin.
We've enjoyed our relationship with Scott over the years, and also credit the Cafe for its nurture and support of JazzMando. We couldn't have done it without his help and counsel.
Congratulations, Scott!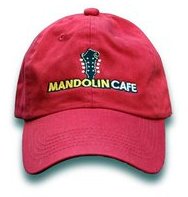 Read article: Scott Tichenor and his Mandolin Cafe
Note, the cap in the image above is no longer available for 2010, but you can still get some terrific merchandise for your Christmas shopping at the Cafe Press store.
Posted by Ted at 6:00 AM

November 16, 2010 | Join us on Facebook!
Big announcement from Facebook yesterday about their new pending email service. Pundits say they will knock Gmail off their pedestal and rule the cyberworld. We don't know about all that, but we do know we've got a special FFcP corner on the world's largest social media network, and we'd love to have you join us there. If you have a Facebook account be sure to sign up; we're hoping to get even more participants to join our over 500 strong and post their personal experiences about the benefits of this creative approach to exploring the fretboard, especially as it relates to the FFcP System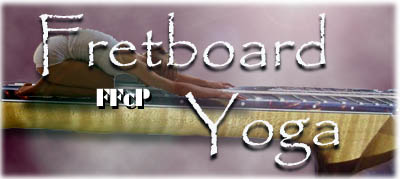 One common theme we've observed, the physical intensity of the exercises are something you need to start off slowly. With a modicum of discipline and commitment to 8-15 minutes a day, long range results are overwhelmingly impressive. Furthermore, we have yet to hear from anyone who spends more than six weeks on it complain about FFcP being a waste of time.
We love the feedback, especially like the one we received from Jake last month: "Just wanted to say, I try to spend at least 30 mins a day using free downloads from Jazzmando.com. Great stuff. Best mandolin practice tool I've found."
Check out the FFcP "Fretboard Yoga" group: FFcP Facebook Support Group

Posted by Ted at 5:16 AM

November 14, 2010 | Introducing The Barry Mando Project
We've mentioned the intriguing electric jazz stylings of Kentucky thoroughbred 5-string baritone mandolinist, Danny Williams before. His YouTube channel is a treat, another one of our favorite musicians that likes to think the mandolin out of the box.
This video production gives a brief, but very artistic introduction to the instrument and the band, the Barry Mando Project, Danny's versatile trio.
View video: Introducing The Barry Mando Project.

Artist website: BariMando.com.
Be sure to friend him on Facebook, too!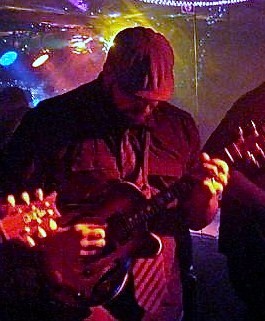 Posted by Ted at 6:29 AM

November 12, 2010 | Happiness is a warm mandola--JD13 JazzDola strings
Our JD13 JazzDola flatwound mandola strings continue to be a steady seller. Registering rave reviews from a small but engaged crowd, like their sister JM11 JazzMando mandolin strings, these are popular for their smooth feel and control, and warm fundamental tone. We're proud to have pioneered them and continue to make them available to discriminating dolaists in our Merchandise Center.
Fresh batch just arrived yesterday afternoon. Order yourself a set or two today!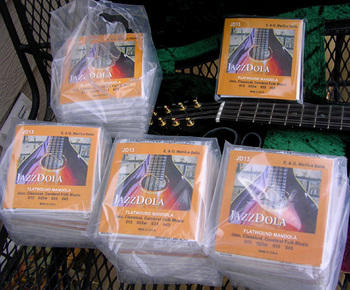 Purchase Information: JazzDola JD13 flatwound mandola strings
JD13 (med-light) $32.50
.013 plain .022 wound .033 wound .043 wound
Labella Custom Gauge Flatwound Mandola Strings
Buy in TWOs and save! $59.50 for two

Posted by Ted at 5:51 AM

November 10, 2010 | JazzMando welcomes new sponsor Weber Mandolins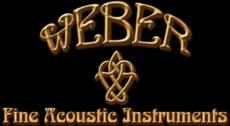 Some amazing commerce happening in the former railroad town nestled in the western United States mountain range. The quiet town of Bozeman, Montana is a quiet international hotbed of mandolin hand craftsmanship and innovation. The Sound to Earth company, sprung out of a decades-old tradition of craftsmanship has defied the immutable trend of domestic mass market consumer tastes toward cheap imports, and actually exports into countries known for mass production, China, Vietnam, and Indonesia. There are still customers with taste in high quality, and founders Bruce and Mary Weber have certainly done there share to fill that niche.
We mentioned a few weeks ago a thrilling online cyber shopping experience in our "Design a Weber" article, and since then have put in an order for a lovely personal Gallatin A body, D hole mandola. (ETA build 2/11) It was only fitting the premier company would be a part of the JazzMando sponsorship. Thank them for there support of what we do here on the site.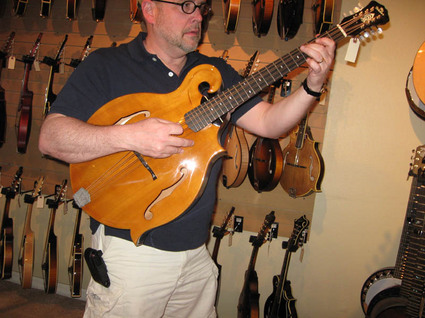 Weber mandocello, Acoustic Vibes Music
Read archive articles:
Sound to Earth--Weber Factory Tour
Design a Weber
Posted by Ted at 5:25 AM

November 8, 2010 | 10 Questions for Don Julin
Newly hired JazzMando staff contributor, Don Julin graces the cyber headlines again, this time on the Mandolin Cafe's Interviews, "10 questions" series. Don shares some information about his current projects and intriguing stories regarding his recent success with an instrumental background bed for a nationally distributed pharmaceutical product.
Always good reading when an artist breaks convention with an instrument, and in this case, his writing. Sit back and enjoy the text, along with pictures and some terrific audio.
Read article: 10 Questions for Don Julin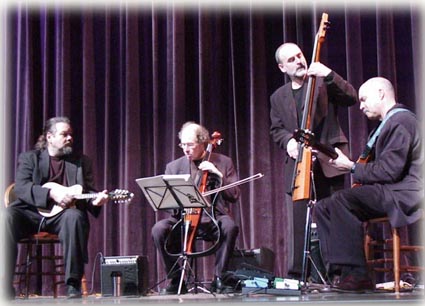 Neptune Quartet
Posted by Ted at 5:03 AM

November 6, 2010 | Evan J. Marshall, Solo Mandolin: my Caprice # 1
Favorite quote about mandolin super athlete, Evan Marshall comes from our good friend, Professor Ed Christian: "Evan Marshall is two of the finest mandolin players in the world. At once."
Hear why:
Hi Def YouTube link: Evan J. Marshall, Solo Mandolin: my Caprice # 1

"Speed is a by-product of control. Control is never a by-product of speed."
Evan J. Marshall

After you've picked your jaw off the ground, visit the Evan Marshall website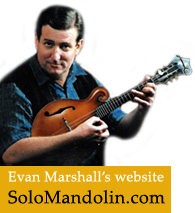 .

Posted by Ted at 6:20 AM

November 4, 2010 | Mandolin Geometry Triology
In case you missed it, our team just finished up a three part series on a geometric approach to patterns on the mandolin fretboard in our Tips and Tricks series. We looked at the recurring patterns and shapes and pondered how intellect, touch, space, and sound play out their kinetic drama over the strings. In Part I, it's how 5ths, 4ths, and 3rds are recognized and repeated spatially. Part II goes into the arpeggiated 7th chord (with a terrific free PDF exercise), and Part III introduces a cerebral, but intuitively simple concept of "perceptual economy," a unique benefit of the 5ths tuned instruments.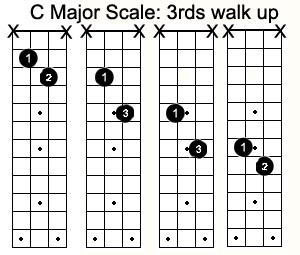 Check out how the secrets of visual symmetry of the mandolin can make your playing more effective and comprehensive:
Tips and Tricks Fretboard Geometry
Tips and Tricks More fretboard geometry--Maj7 arpeggios
Tips and Tricks Fifths, Symmetry and You: Perceptual Economy

---

Notice at the bottom of our articles, we give "extra credit" references for related articles. You can spend a virtually infinite amount of time reading and correlating other topics on the site by clicking those links under the heading "Further."

Posted by Ted at 8:17 AM




November 2, 2010 | Design a Weber
If you've ever had the itch to design your own dream mandolin, there's no better place to take a test drive of the process than at the Sound to Earth website. Born out of the original world renown Flatiron mandolin company in Montana in the 80's, the Weber Custom Shop is now over a decade old in delivering some of the best personalized instruments on the planet.
On the site's main page is a delicious menu option, "Design a Weber" that gives you a step by step exercise in exploring options for creating your own instrument to your specifications. It's a terrific opportunity to not only get pricing, but dream a little. Want to make changes? No problem, you can back in and out of features as you select the components of your own "build."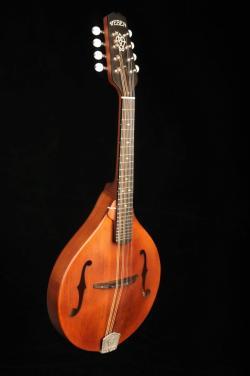 Start with an instrument in mind, mandolin, octave mando, guitar, etc. We decided to price a mandola and chose a Gallatin A from several popular models including A/F/flat body Bighorn, Bitterroot, Fern, etc. Pictures are right there in front of you, and you can always browse the site for more sonic details on these choices.
Next, although we decided on the standard peghead, you can look at pictures and prices of script, standard, inlay substitutions, or veneers. From there, determine fingerboard options such as fret, scale, or neck shape. Each of your selections are tallied up with a running price total, so you are kept abreast of how much your M.A.S. is going to impact your pocketbook.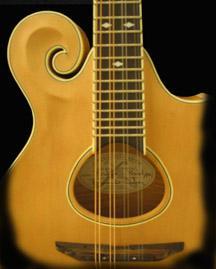 Uncover wood options: spruce, cedar, other, and alternate body features: heel, lefty, etc. You can follow up with variations in binding/purfling on the neck and body, and of course soundhole construction, Oval/F/D, bound/unbound. We've heard good feedback on the D hole Webers for jazz, so that's the direction we went on our Bridger Dola.
Of course, you can opt for their traditional colors, but there are also some attractive variations, and again examples for you to see on the screen. We were drooling over the turquoise green F5 on the front page, but chickened out with a color with better resale value. Finish options include satin, varnished, and you can also upgrade (or downgrade?) to a distressed look, or go middle ground with an attractive antiqued binding.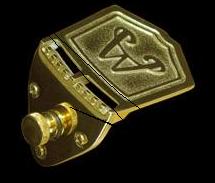 Over a dozen more miscellaneous customizations are at your fingertips: tailpiece, strap button, pickups, tussrod covers, bridges, harmonic supressors, pickguards, and armrests. Nothing like having pictures of everything in front of you and letting your imagination run wild.
At the end of the road, you have a form to fill out and submit with your contact information, email or phone. We were called by Cameron the next day, and since we'd already talked with Dennis Vance at The Mandolin Store in Wickenburg, AZ, he confirmed a current build time of a little under 4 months. Cameron told us if we didn't have a local dealer we were comfortable with, they could process our order directly out of Montana. (They ship regularly around the world.) Of course, Weber has a pretty good network of support with their dealers, including some of our favorite JazzMando sponsors, including Acoustic Vibes Music and Fiddler's Green.
The cyber journey was great for absorbing all the options. We heartily recommend going through the mental exercise, even if you aren't ready to buy today, or if you're already considering a smaller builder. This is a terrific service they have, and it's not only 24/7, it's free.
Build yours right now!
Visit website: Design a Weber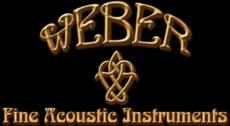 Posted by Ted at 5:08 AM