« Scott Tichenor and his Mandolin Cafe | Main | Jeremy Kittel Band with Josh Pinkham: Forky Deer »

November 20, 2010 | Cohen C# mandola: sneak peak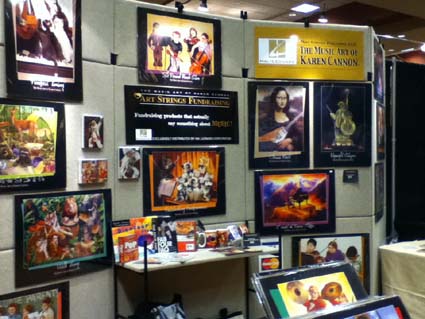 We had the chance to catch up with good friend Brent Hawley, the business side of the husband/wife team that is the engine for Artstrings Publishing. Tucked discreetly behind an amazing display of their musical art products at the annual Nebraska Music Educators Conference was his latest toy, part of an unprecedented trio of matching instruments crafted by builder/mad scientist David Cohen. This lovely mandola and its majestic lower alto register is part of his set, completing the Cohen mandolin and mandocello. Of course, we were compelled to take it for a ride.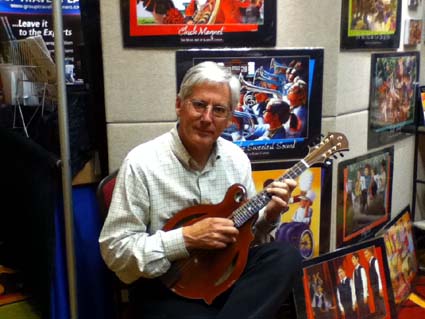 Brent Hawley
We met Brent and his talented wife, Karen Cannon about five years ago picking in the courtyard of the Marriott hotel in Lawrence, Kansas (Mandofest) during an impromptude evening jam session. It was the first (and only) time we've ever had a small group of mandolinists busted up by hotel security for making too much noise. (Not even a single banjo among us.)
Brent has promised us professional pictures of the completed trio. We can't wait!
Read review: David Cohen C# mandolin
Visit and shop Art Strings Publications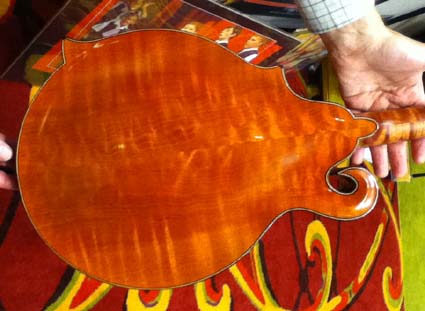 Posted by Ted at November 20, 2010 5:43 AM