« Cohen C# mandola: sneak peak | Main | Matt Manos: Mandolin and Unicycle »

November 22, 2010 | Jeremy Kittel Band with Josh Pinkham: Forky Deer
Fiddle, mandolin, cello, hammered dulcimer. How can you go wrong with a combination like that? The talented quartet of the Jeremy Kittel Band including bright star and JazzMando fave, Josh Pinkham perform a thrilling rendition of the bluegrass classic "Forked Deer" in this terrific video.
These are young guys we'll want to keep an eye on in the future!
View video: Jeremy Kittel Band; Forky Deer

More on Josh Pinkham.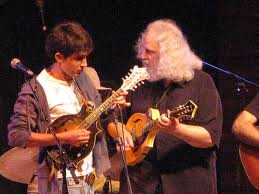 Josh Pinkham with David Grisman

Posted by Ted at November 22, 2010 5:16 AM