« Jeremy Kittel Band with Josh Pinkham: Forky Deer | Main | DR NEON strings. For mandolin? »

November 24, 2010 | Matt Manos: Mandolin and Unicycle
Not really sure how we missed this last May. A new twist on the phrase "goes together like fish and bicycles," follow the twisted diary of CLA design student Matt Manos in his misadventures learning to play the mandolin and learning to unicycle.
Simultaneously.
He reports, "Over the course of the next 10 weeks, I will be embarking on a mission. Upon thinking about what I REALLY would like to do right now, two things came to mind. Learn how to play the mandolin, and learn how to ride a unicycle. I decided that both of these are actually quite feasible seeing as I have a lot of experience balancing on objects with wheels (I have been skateboarding for 17 years), and I know how to play the acoustic guitar (they both have strings right???). Seeing as they are both quite feasible, I decided to make it a bit harder for me, so now the following is my goal in life for the next 10 weeks: I want to learn how to ride the unicycle while playing the mandolin."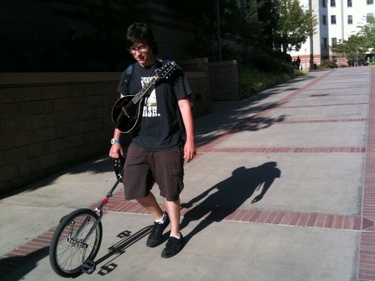 In case you felt you had too much time on your hands, follow the development on his seven page WordPress blog.
Don't spoil the ending. Start at beginning and move forward: Mandolin and Unicycle

Posted by Ted at November 24, 2010 5:11 AM