« Matt Manos: Mandolin and Unicycle | Main | Classifieds Find: TKL Camouflage Mandolin Case »

November 26, 2010 | DR NEON strings. For mandolin?

You wouldn't think the introduction of DR Strings new NEON series for electric guitar and bass wouldn't mean much to a mandolinist. You'd be right if you were only thinking acoustic, but electric mandolinsts can open a whole new frontier of stage presence, as we have personally discovered installing a set of the NPE-10 on a JBovier 5-string electric mandolin. Gauges 10, 13, 17 (throw away), 26, 36, 46 work perfectly well on the set-up and the cutting edge K3 coated material technology actually makes for an appealing sound and feel.
Visually striking, the three guitar gauges and one bass set come in retina challenging pink, green, blue, or orange. All the string are coated, including the plain E. On the conversion from a 6-string set to 5, the guitar G was the superfluous one, which allowed us for the first time to utter the sentence in the English language, "Anyone need an extra pink G-string?"
From the DR website, "Although a patent has been applied for in regards to the NEON strings, we have been advised not to discuss the key elements of the patent until it has been issued."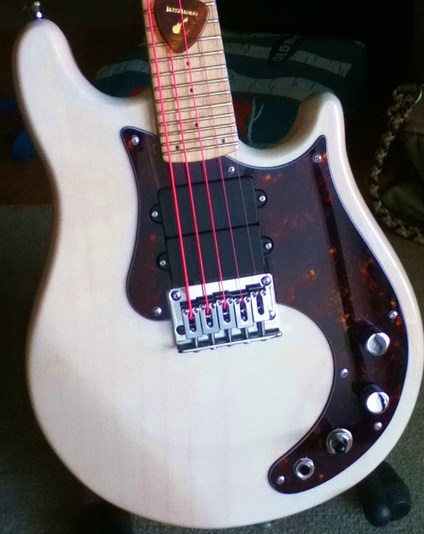 Website: DR NEON series strings.

Posted by Ted at November 26, 2010 5:17 AM