« Join us on Facebook! | Main | Cohen C# mandola: sneak peak »

November 18, 2010 | Scott Tichenor and his Mandolin Cafe
Our friend, editor Reidar Falch over at MandolinMoments.com, the European webzine devoted to news on the eight-string has just posted an intriguing article about cyberspace Mandolin Mogul, Scott Tichenor. The Kansas native has invested the last fifteen years of his life to bringing lessons, interviews, builder database, discussion forum, classified ads, and a healthy array of the latest and greatest in mandotrivia and news to the globe through this unprecedented online resource for mando-kin.
We've enjoyed our relationship with Scott over the years, and also credit the Cafe for its nurture and support of JazzMando. We couldn't have done it without his help and counsel.
Congratulations, Scott!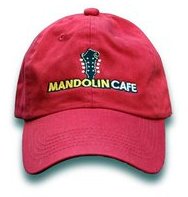 Read article: Scott Tichenor and his Mandolin Cafe
Note, the cap in the image above is no longer available for 2010, but you can still get some terrific merchandise for your Christmas shopping at the Cafe Press store.
Posted by Ted at November 18, 2010 6:00 AM