« Mandolin Geometry Triology | Main | 10 Questions for Don Julin »

November 6, 2010 | Evan J. Marshall, Solo Mandolin: my Caprice # 1
Favorite quote about mandolin super athlete, Evan Marshall comes from our good friend, Professor Ed Christian: "Evan Marshall is two of the finest mandolin players in the world. At once."
Hear why:
Hi Def YouTube link: Evan J. Marshall, Solo Mandolin: my Caprice # 1

"Speed is a by-product of control. Control is never a by-product of speed."
Evan J. Marshall

After you've picked your jaw off the ground, visit the Evan Marshall website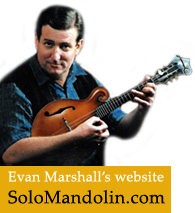 .

Posted by Ted at November 6, 2010 6:20 AM