Bill Bussmann
Old Wave Mandolins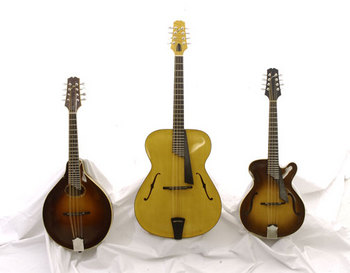 Starting the journey for a specialized instrument, we sought a builder who was not only known for making world-class instruments, but had a flair for innovation and creativity. We needed someone just a bit wacky, but deft and capable of an instrument unique and adaptive to our very specific, but quirky needs. That brought us to Old Wave Mandolin builder, Bill Bussmann of Caballo, New Mexico in the great Southwestern United States.
Hands-on experience with a couple of Old Wave guitar-shaped Octave Mandolins (thanks Ken Sager, Will Patton) had us intrigued. Challenging him with a similar, but shorter scale, single course instrument is a journey we look forward to with eager anticipation.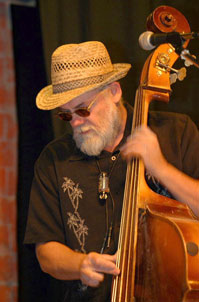 Bill was contracted by JazzMando to create a four-string alto instrument, the Solocomp JM, a short-scale Tenor Guitar (more aptly "Alto Guitar") or Jazz Mandola.
Choosing to pass the waiting time with an instrument in hand, and at the same time get a better grip on the netherworld range of an instrument tuned C, G, D, A (like the lowest three strings of a mandolin, plus a C a 5th below), we've taken one of the Old Wave traditional A body mandolas in residence to determine optimal scale length. It became the perfect opportunity to weigh in on the website on this mandolin masterbuilder's work...

---
Old Wave Mandola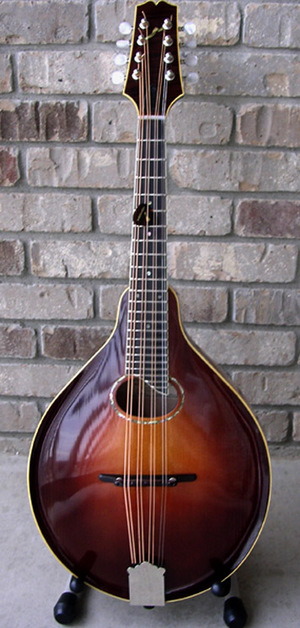 Not all builders agree on scale length of the mandola, so this can be a tad inconsistent but the Old Waves are generally 16" or 17" scale with a 16" radius and X bracing. The beautiful instrument being reviewed here is remarkably easy to play (very adaptable for an adventurous mandolinist ready to "stoop to new lows").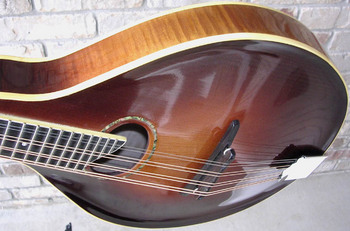 There is nothing more satisfying than picking up a world-class professional instrument that is so good, it actually inspires the player to create and discover new sounds, and this is the experience with this OW mandola. Remarkably well set-up and lush with tone, this critter was a joy from the first tuning right out of the case. Resonant, rich, and packed with sustain.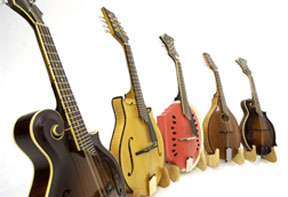 Bussmann's reputation goes far beyond the borders of the United States; his over 40 years of experience has landed fine instruments throughout Europe, Japan, in addition to almost every state in the US. Known for some of the more quirky of his instruments, including a watermelon shaped mandolin (and a fish-shaped bass), what many don't realize is it's his conventional work that has placed him in echelons of repute of some of the best cottage mandolin builders alive today.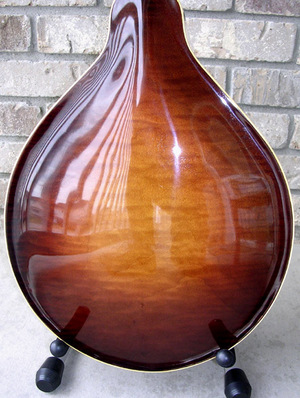 His choice (and control!) over premium woods, in this case, a delicious curly maple back and sides, and resonant Colorado Engelmann Spruce top are the framework of optimal sound. Carefully book-matched, artfully graduated, and arched for maximum tone, his experience building over 400 mandolin-family instruments struts its stuff well in this instrument. The sound is big, bold but not harsh or brassy; bounteous and convincing, yet even played at low volumes there is a sumptuous sophistication.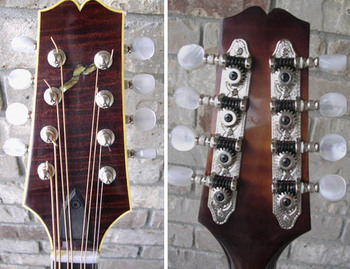 Cosmetics are Spartan but classy. The abalone headstock logo and and oval hole ring are not over-the-top yet neither are they austere. The top and back binding are simple but expert. Bussmann blends well the demanding world of the professional with the economic sensibilities of the working musician or serious hobbyist.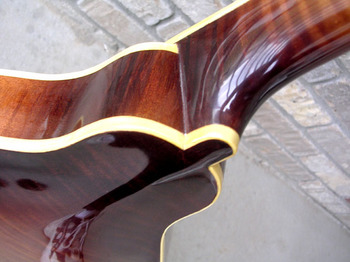 Based on our experience with this instrument we expect many great things from an Old Wave product and relish the opportunity to work with one of the world's best.
Meantime, we're going to grab this instrument and enjoy some Bach...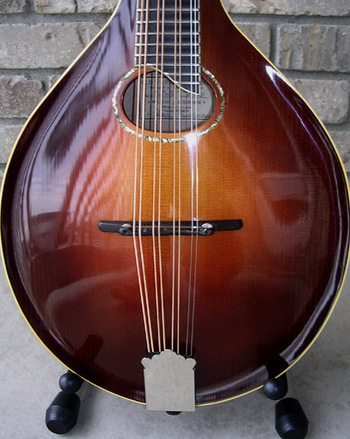 Old Wave Mandolin Website
Read MandolinSessions.com interview with Bill Bussmann.
Check out the latest review: Old Wave Solocomp JM Alto Guitar/Jazz Mandola.