« November 2013 | Main | January 2014 »

December 30, 2013 | 2014 JazzMando pictorial calendar!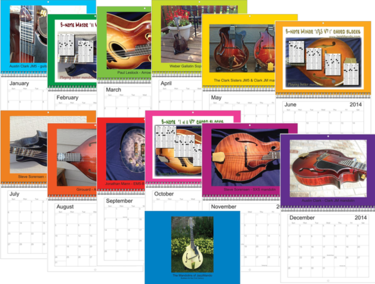 Still a few of these left, the official JazzMando pictorial calendar. We are shipping remaining stock on a first-come first-serve basis. Order today so you don't go through 2014 for long without a cool calendar.
Spiral bound and twelve individual pictures of instruments from our review write-ups and chord cards $19.95 shipped US 2-day Priority, $27.95 Canada and International First Class. Order by clicking the website link below, PayPal or CC. (Sorry, no checks.)
Celebrate the new year, and with a classic new picture each new month! But don't wait--our supply won't last long...
Purchase: JazzMando 2014 Calendar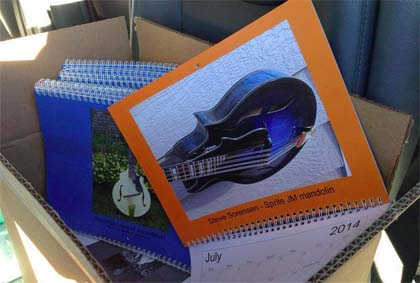 Get two for $34.95 shipped (US only).
Posted by Ted at 5:22 AM

December 28, 2013 | Chris Thile - Bach: Sonata No. 1 in G Minor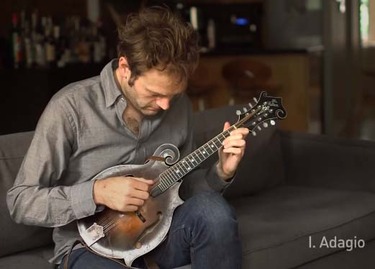 There's something calming about Bach when played by a master. The heartbeat steadies and the breath becomes more regular, even in "Presto"movements. It's so calculated and cerebral, even when it's expressive.
The camerawork in this video is so good, we recommend if you have a large screen smart TV and can view the internet there, use the link instead of the embedded version here. It's that good.
Enjoy:Chris Thile - Bach: Sonata No. 1 in G Minor, BWV 1001 (Complete)

Purchase Nonesuch label MP3 or CD audio: Bach: Sonatas & Partitas 1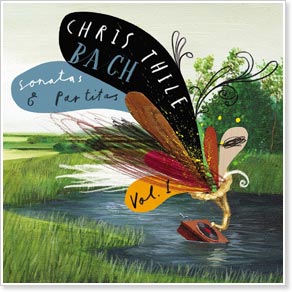 Posted by Ted at 5:30 AM

December 26, 2013 | 2013 Year in Review
We always like to look back and review the year's events and accomplishments every December. Here's a short list of what we considered important.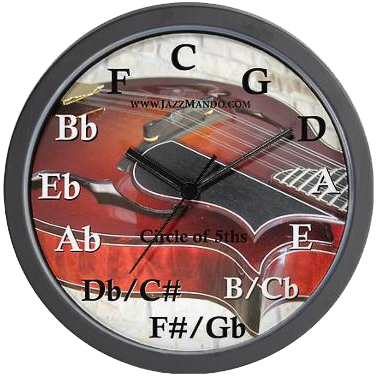 Circle of 5ths Wall Clock Cherry-Colaburst $18.99
We stole an idea from the internet last January and made it our own, the JazzMando "Circle of Fifths" clock. Two different styles are available, one with the classic Clark JM custom mandolin, the other the edgy blue-burst Sorensen Sprite JM. Either would adorn your studio well. In general we've started using our JazzMando CafePress store for more logo product options. Look for us to expand on this in 2014.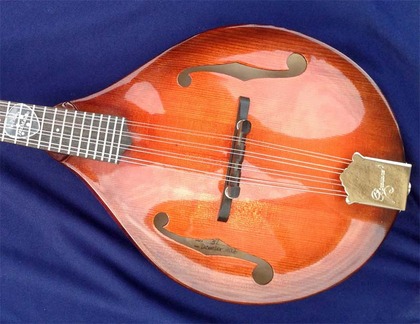 Girouard jazz voiced A-body mandolin
In February we became more intimately acquainted with the craftsmanship of New England builders Max & Lauri Girouard, who submitted a lovely Girouard jazz voiced A-body mandolin. The husband and wife team continue to develop a national reputation for quality instruments at very attractive pricing. In March we got our hands on one of Fender's new 4-string Mando-Strat electric mandolins. With Gibson abandoning the Epiphone mandobird several years ago, we were happy to see this happen, although we're hoping to see more finish options in the future.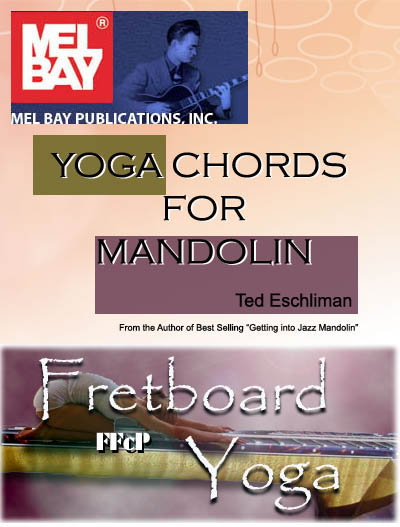 We had a little fun April 1st with our Yoga Chords for Mandolin spoof. (Yes, that's right. It was not real.) In May we tackled a series on 5-string chord pairs. Because these are 3-note voiced, they also work well for the CGDA tuning of mandola and tenor guitar. We started with the 'i7b5 V7' pairs and worked our way into majors 'ii7 V7 I" later in June. Be sure to check out the free PDF chord sheet downloads. They are pure gold.
Summer was great for jazz mandolin recordings, and super hat trick of Dave Gross's 'Mandology, , Don Stiernberg's 'Bandoboppin'', and Oklahoma Eicher family's self titled 'Mischievous Swing'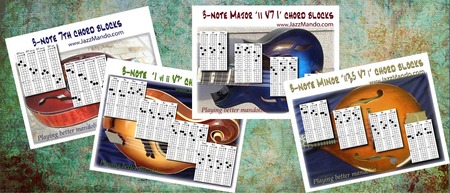 JazzMando 3-note chord "Playing" cards
In July we introduced in the Merchandise Center a helpful quartet of JazzMando postcard sized "Playing Cards." The notion was to create a set of transposable 3-note chords you could carry as cards in your case and put on your music stand. They continue to be a best seller.
August continued with a terrific jazz mandolin compilation from Tom Bekeny, 'Jazzolin' and we got our hands on the new D'Addario 2nd gen NS Mini headstock tuner. Not so much jazz, but it was also the month Chris Thile released his 'Bach: Sonatas & Partitas 1'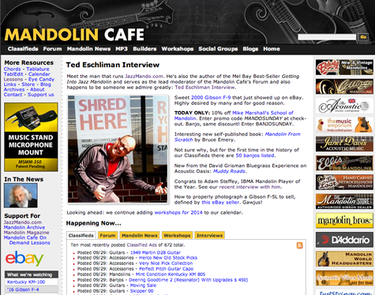 September saw the honor of our JazzMando site creator Ted Eschliman Interview on the world renown Mandolin Cafe website.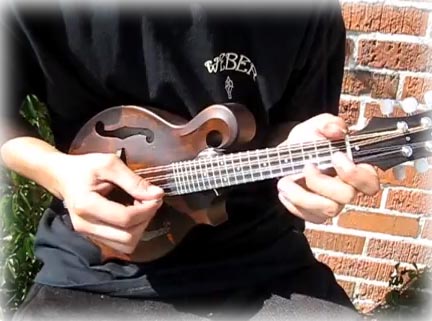 We got our hands on another interesting instrument and reviewed the new Weber Gallatin Soprano Mandolin, and were pleasantly surprised by the release for Broadway pit veteran fret Chris Biesterfeldt and his insanely great "Urban Mandolin" We'd like to claim being one of the first to get the word out on this amazing musician's mandolin talent.
We finished strong with December's review of JazzMando fave Steve Sorensen's epic new design, the 'SXS mandolin', of which you can get a full page picture in our official 2014 JazzMando Calendar.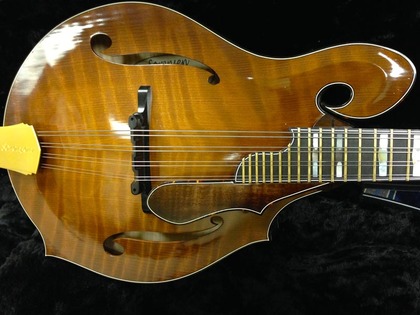 Of course their was some sadness, we had to bid adieu to the 5-year long streak of JazzMando JM11 flatwound strings. It was with deep regret we had to stop making these, but we're content folks will find similar satisfaction with D'Addario FW74 flatwound strings we helped develop.
It was a good year, and we're hoping for even more success in 2014!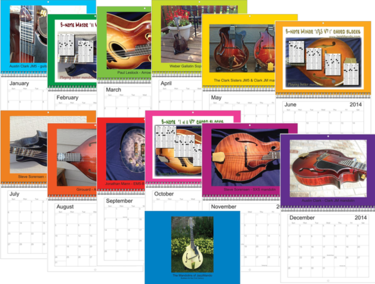 2014 Calendars, $19.95 shipped US Priority

Happy New Year, and a heartfelt thanks for your support!
Posted by Ted at 6:15 AM

December 24, 2013 | Christmas FX
Here's wishing you the merriest of Christmases and the happiest holiday season. Thanks to our friend from across the pond, Belgian jazz mandolinist veteran Jean-Pierre Woos for sharing with us this fantastic graphic: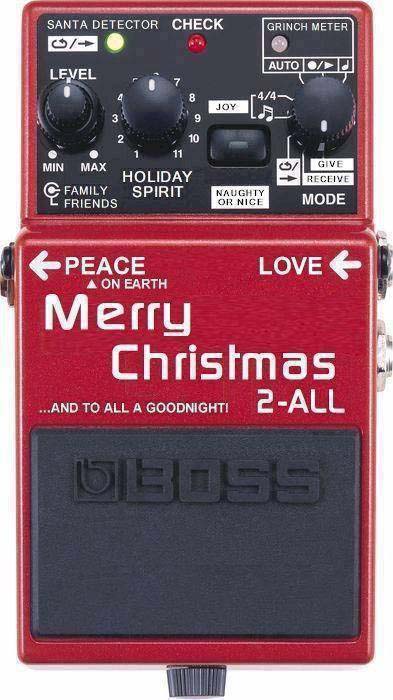 Posted by Ted at 9:24 AM

December 22, 2013 | Gary Palsmeier; Kansas musician/craftsman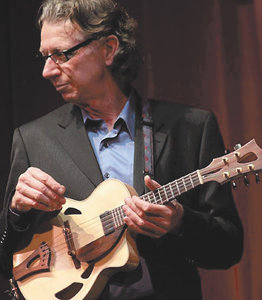 It's been three years since the premature passing of Wichita acoustic jazz multi-instrumentalist Gary Palsmeier. The musician was not only a sought after talent in the central US plains, but a gifted craftsman, as well, including a sensational signature 5-string acoustic mandolin.
We did a story on Gary back in July of 2010, including some great pictures of his workshop. JazzMando guest contributor Mark Wilson, who owns one of these treasures sent us a terrific MP3 the luthier arranged and recorded on his own 5-string. We'd be curious to hear from others blessed with one of his instruments. Feel free to connect with us through our contact form.
Listen:

Moon and Sand
Gary's art and memory lives on.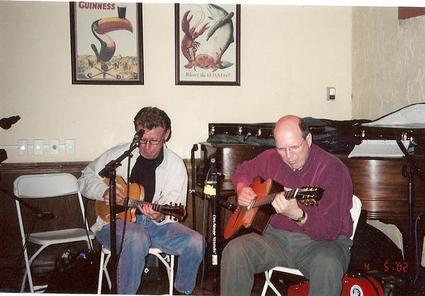 Gary with jazz mentor Don Stiernberg.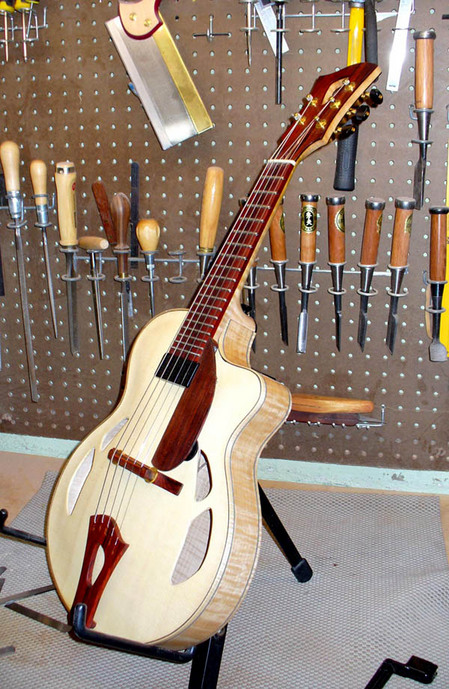 Read Wichita Eagle tribute.

Posted by Ted at 2:23 PM

December 20, 2013 | Christina Applegate and the mandolin
It's only two chords, but it's Christina Applegate, so who cares?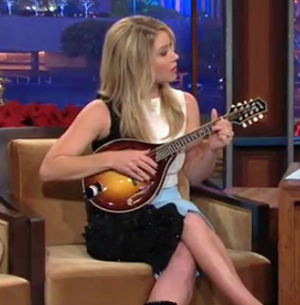 The co-star of this season's heavily promoted Anchorman II tells Tonight Show host, Jay Leno, her best efforts at learning to play the mandolin ended up on the cutting room floor, but here you can see the results of her efforts in this folksy Clash cover.
Video Link: Christina Applegate Covers 'The Clash' With Mandolin -

Posted by Ted at 5:10 AM

December 18, 2013 | Now shipping: JazzMando 2014 pictorial calendars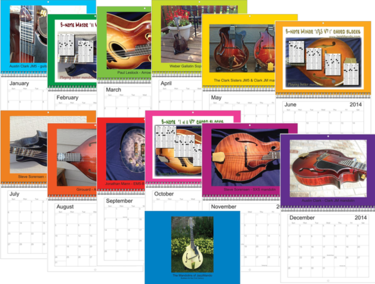 We mentioned these were coming. Now available to ship and in limited supply for the first time--our first JazzMando pictorial calendar. We are shipping on a first-come first-serve basis. Orders placed before December 21st get free Priority Postage (US only), and just in time for the new year.
Spiral bound and twelve individual pictures of instruments from our review write-ups and chord cards $19.95 shipped US 2-day Priority, $27.95 Canada and International First Class. Order by clicking the website link below, PayPal or CC. (Sorry, no checks.)
Celebrate the new year, and with a classic new picture each new month! But don't wait--our supply won't last long...
Purchase: JazzMando 2014 Calendar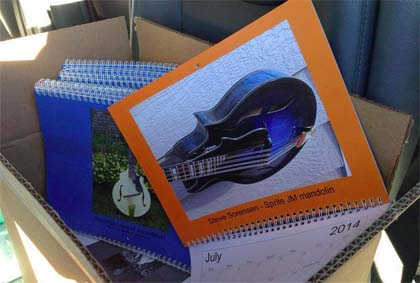 Posted by Ted at 4:56 AM

December 16, 2013 | Solo Swing Christmas--Brian Oberlin
Brian Oberlin:

Sleigh Ride MP3
Last year we mentioned the 2011 solo Christmas album project of Oregon based performer, teacher and River of the West Mandolin Camp administrator, Brian Oberlin. Few are up to the challenge of vocal solo with mandolin accompaniment, and for any wanting to use the instrument in this way, Oberlin's recent CDs are an authoritative study of how to get it done. He weighed in for us in the interview: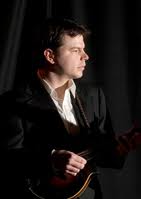 "My Christmas album is part of a double album I recorded in 2011. The first being 'Solo Swing' and the second being 'Solo Swing Christmas.' There are plenty of solo mandolin players out there but I wanted to add something different to the act by adding vocals and playing the mandolin with a "band" approach. Meaning, interspersed with the vocals, I like to add what the guitar, bass, and piano might play. Sometimes, I even think about playing a soli cadenza from a horn section. I can mostly get away with these ideas by adding color tones in the chord, different rhythms, plenty of passing tones in-between chords, and using double stops based on the melody or an improvised line.
Another trick I use in my solo act is to play short lines and/or arpeggios while I am singing that would emulate a bass player or accompanist doing fills. This technique is pretty tough because my voice tends to lean towards what I'm playing rather than what I'm supposed to be singing.
I have taken on the endeavor of a solo swing/vocal approach for the reasons listed above and because it is a huge challenge. Because it is swing, 90% of the stuff I'm playing is fresh and unique to the venue/day while the other 10% are rehearsed, chord progressions or lines that fit a particular song. It's the 90% that keeps me going and striving for more ideas on the fly.
I recorded the Christmas album because I love swing music and the melodies and changes for some of the Christmas music are fantastic. You can take a tune like "Let it Snow", "Silver Bells", or "Sleigh Ride", add a few substitutions and you've got yourself one hell of a swing tune."
Listen to more samples of Solo Swing Christmas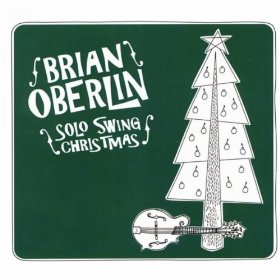 Purchase information: Brian Oberlin; Solo Swing Christmas
Artist Website

Posted by Ted at 5:31 AM

December 14, 2013 | Asheville Citizen-Times interviews Joe Craven
"No, the pile of jawbones and cake pans on stage before a Joe Craven concert isn't bound for the Dumpster. These found objects are part of the Dixon, Calif., musician's diverse repertoire, which also includes traditional string instruments and digital samplers for electronic looping.
A visual artist, music educator and former museum curator, Craven joins Joe Newberry for various 'SoloJoe' and 'DuoJoe' pieces on Dec. 13 at White Horse. Craven spoke with Scene about his musical tools, fashion sense and working with a certain Hollywood icon."
The multi-instrumentalist virtuoso shares fascinating stories we hadn't heard before about for commercial backgrounds for Hershey's Chocalates and Amtrak in this brief Asheville-Citizen Times article: Joe Craven, king of bedpan mandolin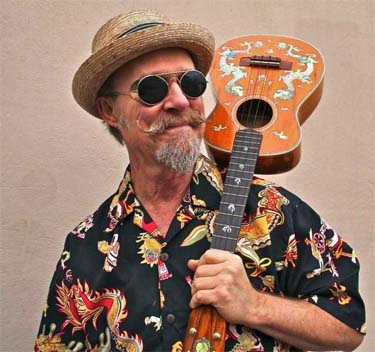 Joe Craven Music on Amazon and iTunes

Posted by Ted at 6:17 AM

December 12, 2013 | Review Steve Sorensen, SXS mandolin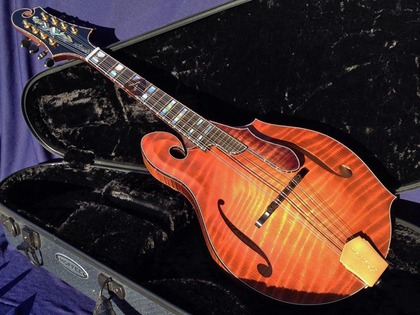 We've had the pleasure of spending some intimate moments with the new prototype SXS mandolin from southern California builder, Steve Sorensen, and are very optimistic this new design will be a great success story for the first half of the 21st century.
Our third review of his craft, it seems his building only gets better. You can tell from the eye-candy pictures alone.
Read our latest entry in its entirety: Steve Sorensen, SXS mandolin.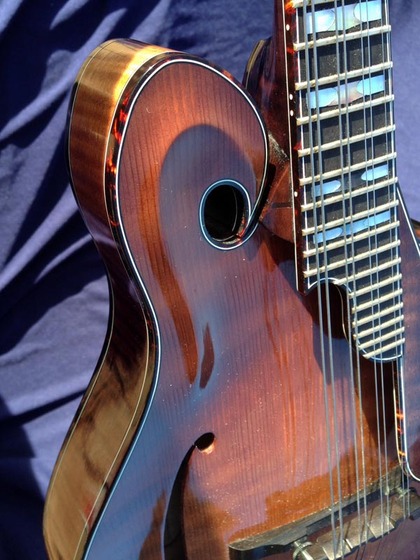 Posted by Ted at 12:35 PM

December 10, 2013 | Limited Edition 2014 JazzMando calendar

LIMITED CLEARANCE SPECIAL-BUY ONE GET THE SECOND FREE
Available to ship 12/17/13, and in limited supply for the first time--a JazzMando pictorial calendar. We are now taking orders on a first-come first-serve basis.
Twelve individual pictures of instruments from our review write-ups and chord cards $19.95 shipped US 2-day Priority, $27.95 Canada and International First Class.
Celebrate the new year, and with a classic new picture each new month! JazzMando 2014 Calendar!"
Last call two for one special:
Two JazzMando "2014 Calendar"
$19.95 (U.S. 2-day Priority shipping and handling)

---
---



OUTSIDE U.S.


Two JazzMando "2014 Calendar"
$27.95 (

Canada/International

First Class shipping and handling)

---
Posted by Ted at 5:55 AM

December 8, 2013 | Circle of 5ths. Like a clock, especially when it is a clock.
A great suggestion for Christmas, both as an educational tool and studio decor. This 10 inch wall clock will not only help you handily travel the Circle of 5ths, it can help you keep time.
So many ideas are clear here, the 6 hour (180 degree) jump across the face gives you the Tritone pairs (i.e. A/Eb). Clockwise adds sharps and eventually subtracts flats. Counter clockwise does the reverse. A four-hour jump does yield the Relative Major/Minor keys (i.e. C Major/A Minor). We all have our favorite zone of the face, generally the strings like the sharp keys, the horn players like the flats, and of course, everyone dreads the enharmonic hours with all the extra flats & sharps (B/Cb, F#/Gb, C#/Db).
Surrounded by a black plastic case, the background comes in your choice of classic Clark JM Cherry-Colaburst, and the new Sorensen Sprite Blueburst. Requires 1 AA battery (included).
Purchase one (or both!) for your home or office from our CafePress JM Logo Store and help support the site while you're at it. Only $18.99!
If it's a gift for someone else, better order it today.
Click image(s) to purchase: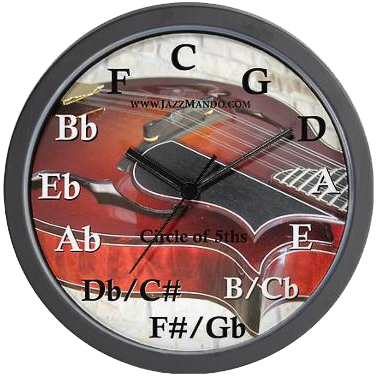 Circle of 5ths Wall Clock Cherry-Colaburst $18.99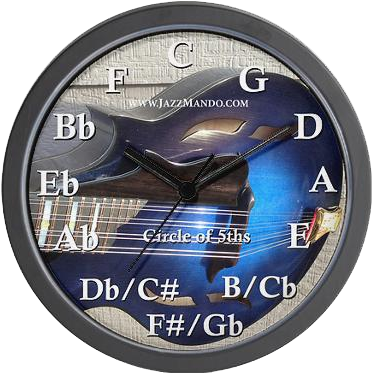 Circle of 5ths Wall Clock Cherry-Colaburst $18.99

Special bonus: Item includes free 60 bpm metronome, no additional charge!
Enjoy more possible gift items at the JazzMando Logo Store
Posted by Ted at 6:24 AM

December 6, 2013 | Mind-blowing string physics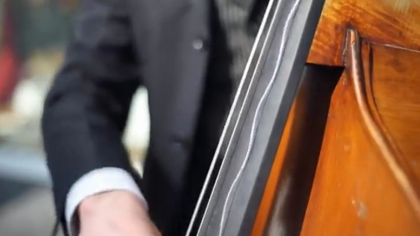 The physics of string vibration make for a fascinating view when you synchronize camera shutter speed. The following video shows this effect, and it's even more intense visually with the larger scale and gauge of the upright acoustic bass. Notice from the audio, this is not slow motion.
Enjoy!
Video Link: Stunning bass string shot

Posted by Ted at 5:44 AM

December 4, 2013 | Have yourself one.
Here's the Site Administrator with a quick rendition of a holiday favorite, and a chance to show off a top five fave, the Old Wave "Solocomp JM" crafted by New Mexico builder, Bill Bussmann. It's a 4-string guitar-bodied mandola (CGDA), perfect for jazz.
The poor quality video doesn't do this marvelous instrument's aesthetic beauty justice; take some time to get a closer look and click the link below the video:
YouTube link: Solocomp JM: Have Yourself a Merry Little Christmas


Old Wave Mandolins: SoloComp JM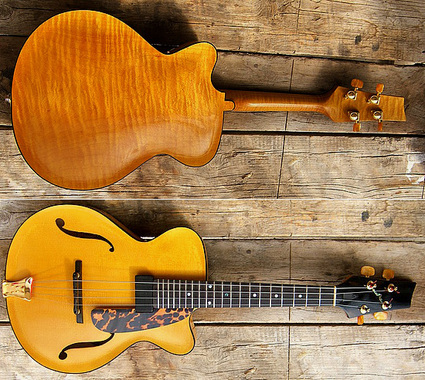 ---
Create your own arrangement with the Hal Leonard Real Christmas Book.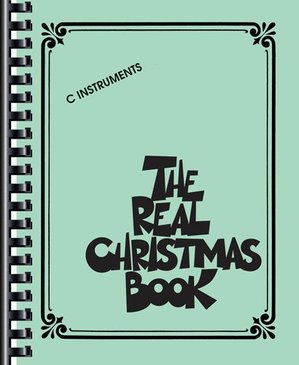 Posted by Ted at 6:15 AM

December 2, 2013 | Jazz Mandolin Appetizers; Don Stiernberg
Four years ago, Mel Bay came to us with the request to write a sequel to Getting into Jazz Mandolin. The editors wanted something a little more encyclopedic--more practical and less cerebral. We thought we were up to the task, but co-opted Don Stiernberg to co-write the book with us. As we got into it, several months later, it became obvious, this was really Don's book to write. His "in the trench," common sense approach to jazz and improvisation from his workshops, along with his years of experience and tutelage with the great Jethro Burns and other legends in his early years was meant for this book. We consider it a privilege to be a part of the initial effort, but only Don could have crafted and ultimately finished something so practical and useful.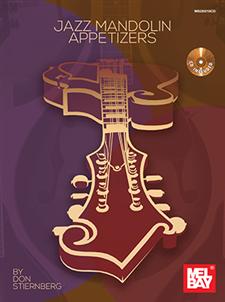 Don writes in the introduction, Over time I have come to realize that the 'appetizer' analogy neatly parallels approaches to improvisation I have presented in workshops and columns throughout the years, along with the way I go about making up solos on stage, at the jam, or in the studio. Many players in pursuit of the good notes have requested concrete examples ('things I can PLAY!') to balance along with theoretical explanations. That's what we have here. I hope you enjoy these melodies, and that they lead you to full servings of satisfying improvised melodic solos of your own crafting.
An appetizer is both a starting point and a small piece of something, something to try that may be new or unusual. The original premise of this book was to present new melodies to chord progressions commonly used by swing and jazz improvisors, in effect answering the question "What should I play over this progression?" with 'Here, try this...' rather than a litany of scales or modes or other data. Your chef has also expanded the list of appetizers to include samples of how chords can be voiced for rhythm playing behind your fellow soloists, how chord progressions can be 'dressed up' with additional chords or substitutions, and a number of arrangements where melody and harmony are stated simultaneously (chord melody).'
We can't recommend this book enough. We already bought one from Mel Bay, and you should, too. Available in book/CD or ebook.
Purchase from Mel Bay
Table of Contents:
Jazz Mandolin Appetizers
Guidelines, Suggestions and "Wise Sayings" About Improvisation
Improvisation
Get to Know Your Tones and Intervals
Color Tones
Tensions and Alterations
What About #4, #11, b13?
Wise Sayings
Tunes
Lima Bean Gumbo
Freddie
Minor (and Major) Swing
Savannah Stomp
Porterhouse
Bibim Bop
Nectarine
Illiana
Big Chief Wauconda
Rhythm Changes Changed
Rhythm Changes
Rhythm Changes Changed #2
Rhythm Changes Changed #3
Rhythm Changes Changed #4
Rhythm Changes Changed #5
Rhythm Changes Changed #6
Chord Melody
Chord Melody #1
Chord Melody #2 "Ballad"
Chord Melody #3 "After a Rain"
Chord Melody #4 "Swing"
"Jazzberry Blossom"
Posted by Ted at 5:33 AM