« Notes on your fretboard. Coming out of nowhere? | Main | Compose yourself: Getting it together on your soloing »

July 9, 2010 | More Palsmeier 5-string!
We mentioned the builder of staff contributor Mark Wilson's 5-string mandolin back on May 12th of this year, and now have the privilege of showcasing one of his own recordings (see audio link below). Gary Palsmeier is an incredibly talented Wichita, Kansas multi-instrumentalist fret musician who also dabbles in some building. From listening to samples of his craft, we'd hardly call him amateur. Below are some pictures of his amazing 5-string instruments: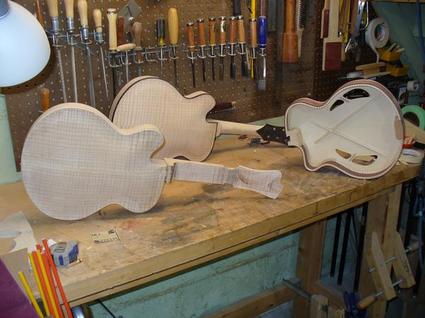 Enjoy this self-recorded interpretation of the 1941 Morty Palitz/Alec Wilder hit "Moon and Sand," originally recorded by Xavier Cugat & His Orchestra, performed here by Gary and his trio.
Listen:

Moon and Sand
Posted by Ted at July 9, 2010 5:50 AM