« December 2013 | Main | February 2014 »

January 30, 2014 | Jason Anick: Tipping Point
Jason Anick: Tipping Point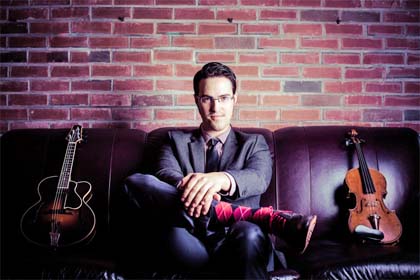 Our first brush with the young Berklee College of Music professior and string master Jason Anick was a few casual electric mandolin YouTube entries. Later we would discover the musician was already a reputable sideman, the swing fiddler since 2008 with the legendary John Jorgensen Quintet. His subsequent recording, "Sleepless" was an excellent exhibition of those amazing solo chops, but of course in our own bias, it was his mandolinning we could only be teased about in other unofficial internet video posts.
We're excited to have several spins under the belt of his newest release (scheduled 2/18/14) that includes some of the most impressive progressive acoustic and electric jazz mandolin we've ever heard. We get delicious taste of his new Arrow 5-string "Jazzbo," and is it ever sweet!
Besides the stunning chops, we would be remiss in not lauding his compositional skills, they are obvious on both micro and macro level. His original tunes are edgy but never unpalatable, and he consistently breathes fresh new life into some his standards like Horace Silver's "Peace," and a dreamy rendition of the Wood & Mellin "My One and Only Love."
His is a seamless, signature musical voice as he passes from violin to mandolin and back again. His theory prowess never trumps his musicality, and any aspiring improv musician would do well to transcribe and play though sections of his music to eviscerate the genius in them. The high powered music theory is continually chambered but intellect never betrays soul.
The ensemble cast on the project is stellar, supporting always, and occasionally staring. Very impressive piano chops of Jason Yeager, and we particular enjoyed the sax/mandolin blend (Clay Lyons and Kris Jensen), not a combination heard often. It's obvious Anick has a history of playing with some of the best.
This is a terrific start to the jazz mandolin music of 2014, and a recording that is another exponential leap in the career of one of the world's most promising young musicians.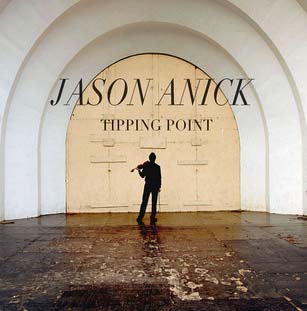 Pending Purchase information: Jason Anick: Tipping Point
Tracks:
1. Stomped Out
2. Inspiration Point
3. Maryandra
4. Minor Blues
5. Peace
6. Occupy
7. This One's For You
8. My One And Only Love
9. This I Dig Of You
10. Turnaround
11. The Night Has A Thousand Eyes
Personnel: Tracks 1,2,3,6,7, - Jason Anick: Violin, Acoustic & Electric Mandolin; Jason Yeager: Piano; Greg Loughman: Bass; Mike Connors: Drums; Clay Lyons: Alto Sax.
Tracks: 4,5,8,9,11 - Jason Anick:
Violin; Matt DeChamplain: Piano; Adam Cote: Bass; Mike Connors: Drums.
Track 10 - Jason Anick: Electric Mandolin; Lee Dynes: Electric Guitar; Greg Loughman: Bass; Mike Connors: Drums; Kris Jensen: Tenor Sax.

Read Past Interview: 10 Questions: Jason Anick
Video: "Tipping Point" - Official EPK - Jason Anick (Jazz Violin & Mandolin)
Anick on Amazon: Sleepless
Posted by Ted at 10:53 AM

January 28, 2014 | Update on D'Addario and Chris Thile on EXP strings
There has been recent internet chatter on a rekindled relationship with critically acclaimed artist Chris Thile and the iconic string manufacturer, D'Addario Strings. The mandolinist had a history with them in his younger years and it appears he favors the feel, tone, and longevity of the their EXP series mandolin strings.
We had the chance to hook up with our insiders--product specialists at last week's 2014 Winter NAMM, and confirmed these rumors. Target for release of a new special hybrid string, .0115 .016, .026w, and .040 in the EXP series appears imminent, although it will not likely be a signature set. He explains the gauging in the following video.
Video link: D'Addario: Chris Thile on EXP Mandolin Strings


---

Tentative target release is Summer NAMM 2014 (July). We'll keep you posted.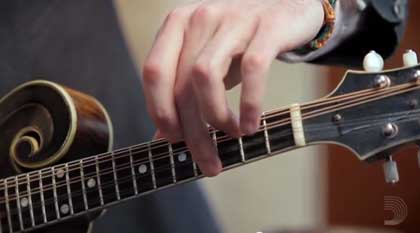 Posted by Ted at 4:58 AM

January 26, 2014 | Winter NAMM 2014 Part 2
We were able to snap a few more candid shots despite the crowd and horrid lighting. Wish we could say we actually played any of these, but that's simply not possible in the harsh, sonically hostile environment of the NAMM show.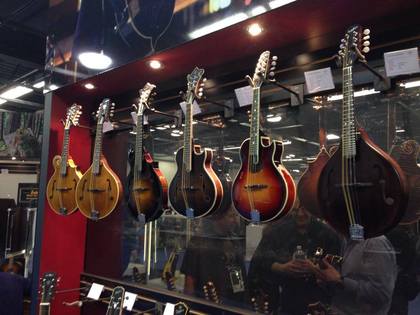 Really wish we could have sampled these new Weber Mustang series mandolins.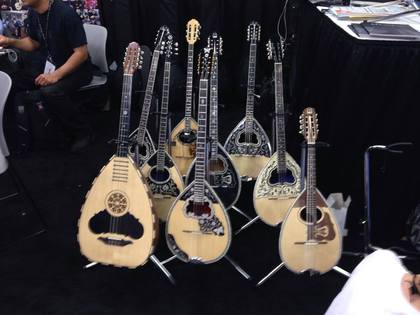 Always some interesting international product like these Greek bouzoukis.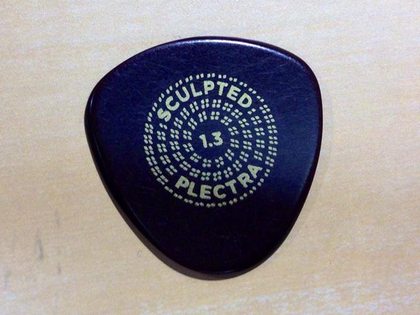 Looking forward to putting these new Dunlop "Primetone" series picks through their paces. They feature a more custom bevel and an ultex-like hardness. 1.3 is not quite as thick as we'd like but they are very stiff.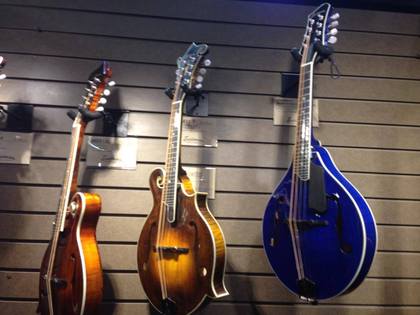 Pleasant little surprise with a blue A mandolin at the Eastman booth. Gorgeous!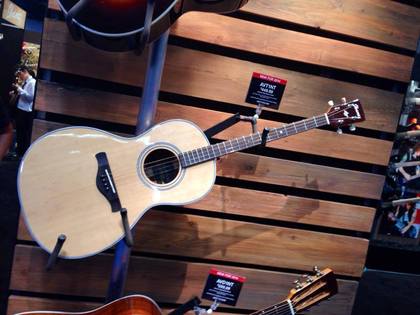 Happy to see Ibanez present a mid-price "Pre-war" series tenor guitar. Forward shifting bracing and these should land with a street price in the mid to upper $300 street price.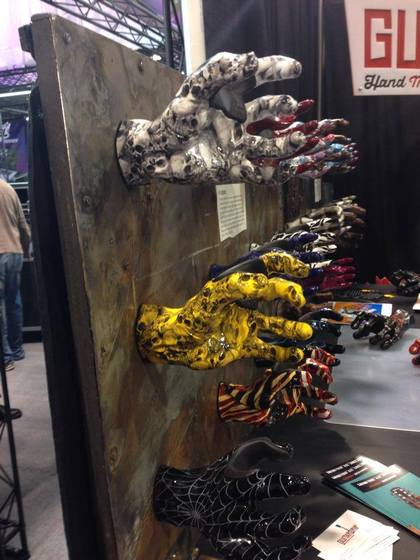 We already had a pair of these (Red Rum) and they are a terrific conversation starter, some new designs of the Grip Hands guitar holders. They work with mandolins just fine.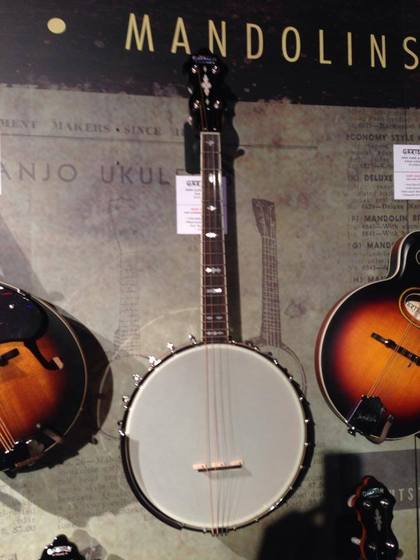 At the Gretsch booth, Irish tenor banjo.
Posted by Ted at 6:01 PM

January 24, 2014 | Winter NAMM 2014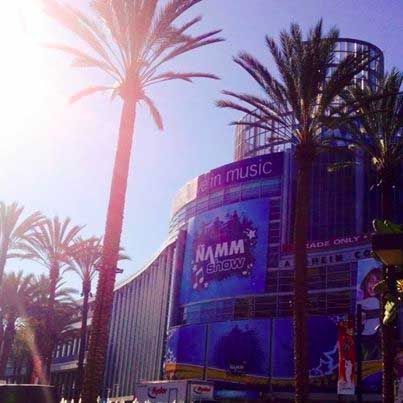 Just a few pictures from the floor of the 2014 NAMM show as we complete our first of four days. A busy vendor meeting schedule has slowed us down traversing the five football fields of musical gear and instruments, mandolins being somewhat sparse, but we hope to snap more and put them on the JazzMando Facebook Page.
Bad lighting is making the task somewhat difficult, but here's a couple interesting critters from the Fender booth, a new 8-string electric mandolin, and from the newly introduced (2013) Gretsch line, the Grand Park Avenue. Many have been critical of the new 8-string electric headstock. We dig it, and even with the 4-string had the same cosmetics.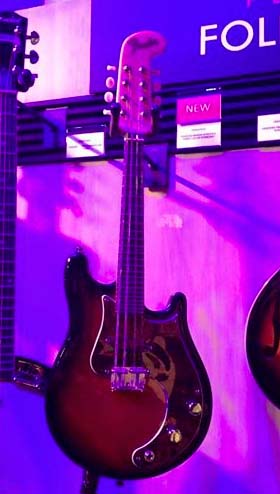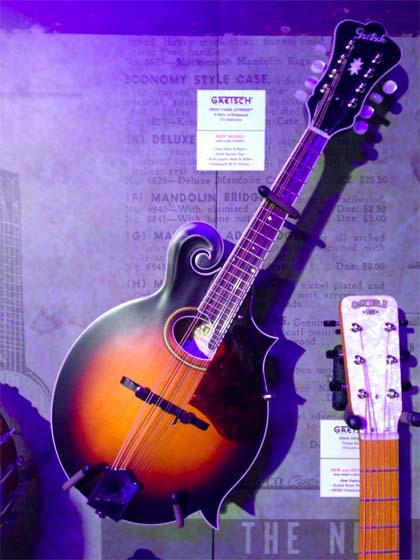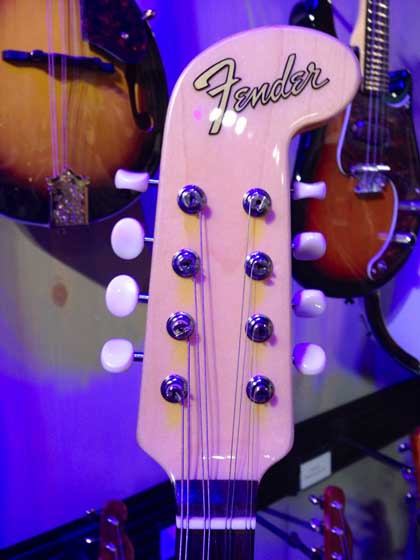 Posted by Ted at 7:29 AM

January 22, 2014 | SkyMall treasures--GuitDoorBell
Captive in the seat of a plane, we are often starved for entertainment just before and after take-off. Such is the case on our journey westward to the 2014 NAMM show.
Nothing like the curiosities in the complimentary in-flight copy of SkyMall magazine to catch your interest, especially this little gem. Announcing the GuitDoorBell. Only $149.99.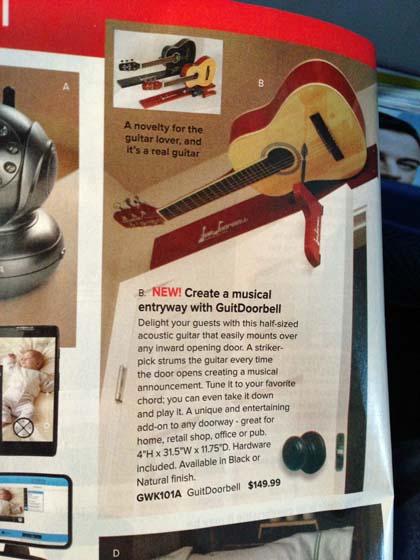 Nothing like being freaked out by a power chord on an acoustic guitar on your guests' every entrance.
We'd probably choose to tune it to a Jimi Hendrix E7#9. instead of the E7sus they recommend.
Purchase from SkyMall.
Posted by Ted at 6:05 AM

January 20, 2014 | Andy Statman auditions a 12-string mandolin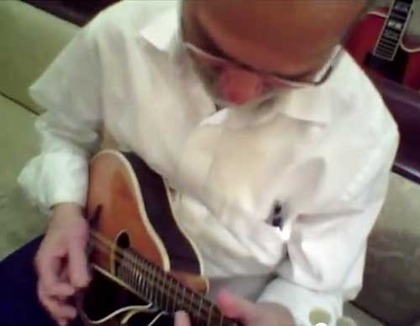 Not often you get to see a 12-string mandolin played, especially by bluegrass/Klezmer legend Andy Statman. This recent video from a trip to Mandolin Brothers in New York gives you the opportunity. Though his propeller style picking in the clip doesn't give you the full range of nuance of the vintage 30's era D'Angelico instrument, it's still interesting to experience.
Video Link: Andy Statman Visits Mandolin Brothers

Webste: Mandolin Brothers
Posted by Ted at 5:20 AM

January 18, 2014 | Year Anniversary Fender Mando-Strat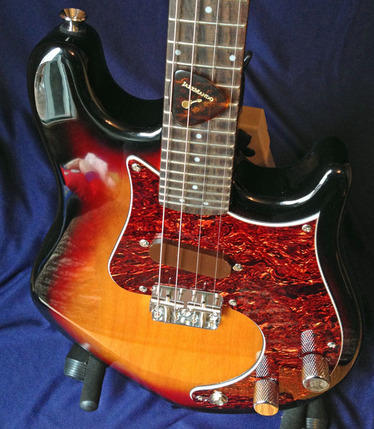 It's been a year now since these have been out. Met with mixed reviews, the new Fender Mando-strat was a valiant effort to produce an affordable copy of their own electric mandolin of the mid 20th century, AKA "Mandocaster." Many a big name mandolinist was known for saddling one of the originals on the stage, including Jethro Burns and Sam Bush. Though these don't wear a $3,000-4,000 price tag, they are still a seriously great hobby instrument, and for under three Benjamins, aptly so.
We're heading to the 2014 Winter NAMM show this week to see what's new, and our hopes are high for more of these, maybe in some of the traditional mandocaster colors.
Wouldn't a nice Sea Foam Green or Candy Apple Red emando be just the trick?
For more pictures, read 2013 review: Fender Mando-Strat Electric Mandolin
Posted by Ted at 4:00 PM

January 16, 2014 | Your "Lucky Day" with Aaron Weinstein. 2 free tracks!
We have a special audio treat from New York superstar fiddle/mandolinist, Aaron Weinstein. The Berklee College of Music alum and former student of Chicago mandolin royalty Don Stiernberg has done well in his new east coast digs, including a recent winter tour with jazz great Dave Koz. His recent CD project, "Lucky Day" is available on Amazon and iTunes and includes two mandolin tracks, "Don't Like Goodbyes,"and "It's only a Paper Moon." Both are an excellent study in chord melody, and the remaining ten jazz fiddle tracks are a swing aficionado's dream. You will want to own this album. (See links below)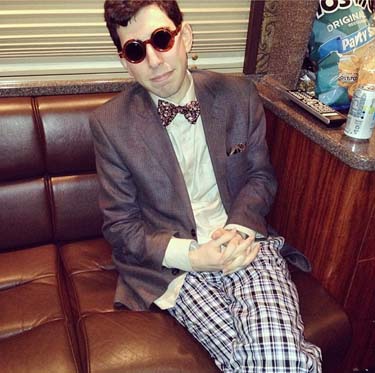 The ever stylish Aaron Weinstein on the Dave Koz tour bus

Meantime we've been blessed with the following two complete exclusive mandolin audio tracks for your enjoyment. Enjoy!
Click for MP3
Aaron Weinstein mandolin:

I Must Be Dreaming
Aaron Weinstein mandolin:

That Warm Feeling

---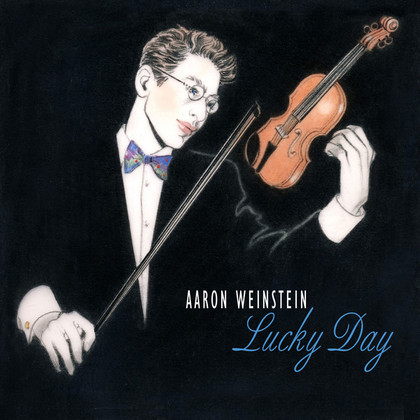 Purchase "Lucky Day" Amazon | iTunes
Read Interview: 10 Questions with Aaron Weinstein
Posted by Ted at 5:47 AM

January 14, 2014 | 2006 mandolin eye candy revisited
Seven years ago we posted some of our more popular mandolin pictures as desktop backgrounds. As monitor sizes have grown and the standard for screen size and resolution increased, they became obsolete for many desktops, but they are still very much works of art.
We thought it would be fun to bring them back again. Here are some of our personal favorites. Feel free to click on the pictures for larger view. The expanded sizes are 1024x768 pixels, so feel free to use them in any way.
Austin Clark Two-point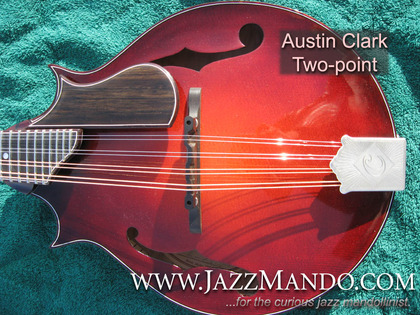 Click for closeup
Draleon Royale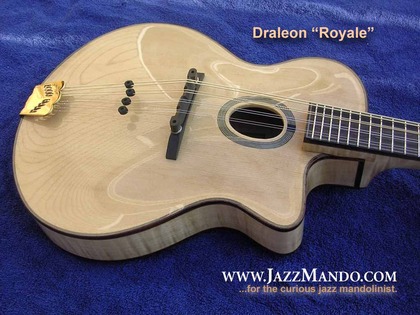 Click for closeup
Old Wave Solocomp JM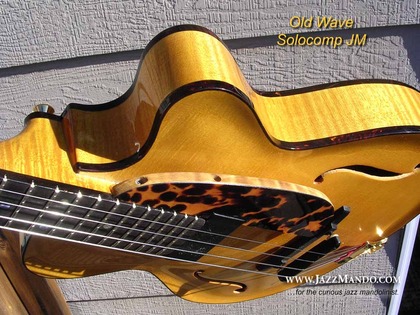 Click for closeup
Arrow Jazzbo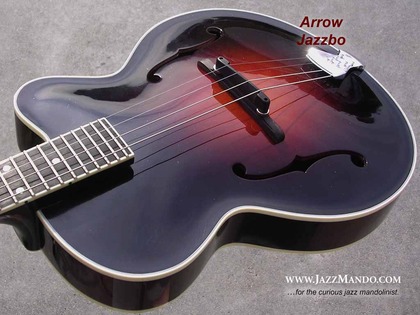 Click for closeup
Phoenix 'Jazz'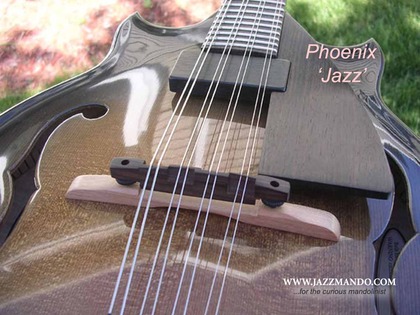 Click for closeup
Jonathan Mann EM-5


Click for closeup
Condino Cricket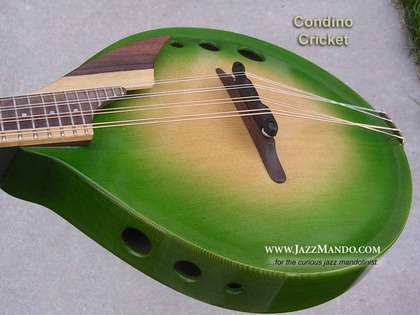 Click for closeup
Posted by Ted at 5:06 AM

January 12, 2014 | Two for one JazzMando pictorial calendar. Last chance...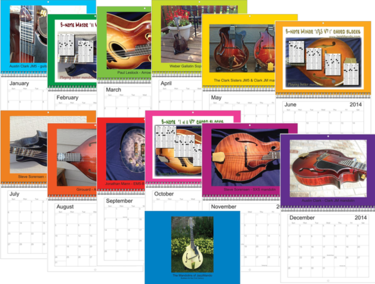 We're now gaining on the back half of January and frankly, we're tired of mailing calendars. We are now shipping remaining stock at a two-for-the-price-of-one special on a first-come first-serve basis.
.
Spiral bound and twelve individual pictures of instruments from our review write-ups and chord cards $19.95 shipped US 2-day Priority, $27.95 Canada and International First Class, and until we run out, we're including a second one for home, office or friends for free. Order by clicking the website link below, PayPal or CC. (Sorry, no checks.)
Celebrate the new year, and with a classic new picture each new month! But don't wait--our supply won't last long, especially with the two-fers special...
Purchase today and get a 2nd for free: JazzMando 2014 Calendar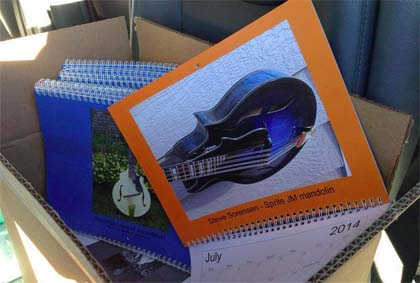 Get two shipped for only $19.95 US!
Posted by Ted at 5:18 AM

January 10, 2014 | John Reischman - Over the Rainbow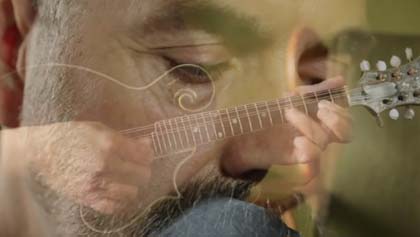 Tone Meister John Reischman, gives a hearty chord solo rendition of the American Songbook classic, "Somewhere Over the Rain" on his Loar-designed 1924 Gibson F-5 in this brief impromptu demonstration.
Video Link: John Reischman - Over the Rainbow

We mentioned his summer release "Road Trip," somewhat a sequel to his jazz/Latin collaboration with John Miller a decade ago "Bumpy Road." It remains a guitar duo favorite.
John Reischman on tone.
Purchase: Road Trip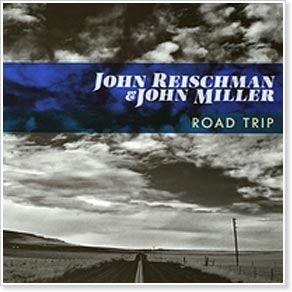 Posted by Ted at 5:01 AM

January 8, 2014 | Sorensen headstocks
What does a headstock say about a mandolin? We think everything.
Despite its proportionally diminutive stature, the signature and personality of the whole instrument is right there. The builder's aesthetic in the logo and inlay, the shape (Traditional? Experimental? Unique?), the ornateness and quality of the tuners, these are huge clues to the rest of the instrument, including body and neck. Detail in the headstock inevitably manifests quality in the whole.
It's important.
We get excited when we see a great headstock, and such is the case with rising star California builder Steve Sorensen.
Check out some of his recent creations below:
Read reviews:
Sorensen Asymmetrical Sprite 2-point mandolin
Sorensen Sprite JM mandolin
Sorensen SSX mandolin

---

Check out more of his work featured in our 2014 Mandolin Calendar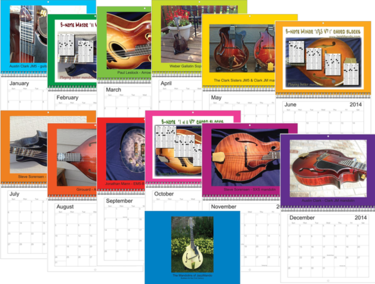 .


Posted by Ted at 5:10 AM




January 6, 2014 | Use your Lizard Ear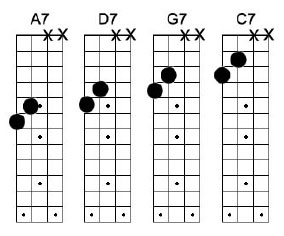 From the April 2010 Mandolin Sessions "Chord Combinations for the Lizard Ear:"
"Biologists will describe the physiology of the brain, using long, multiple-syllable words illustrating cortexes and regions of where processes occur, varying in degrees of motor and analytical complexity. You have the more complicated areas of thought and decision-making, and others more basic in life function, like keeping your heart going and breathing. There's a section that handles the most primitive of survival needs, informally called the 'Lizard Brain.' Those who study anthropology view it as the archaic section that houses nothing intricate or complex, in contrast to regions that get the deeply analytical or philosophical dimensions of thought. One says "Ice cream satisfy." The other observes the hot temperature of the air, the consistency of the ice cream on the tongue, the vanishing emptiness of the stomach, and concludes 'Ice cream was the answer to my hunger, cooling me off, and that chocolate really tastes good. I wonder how many calories I just ate; maybe it wasn't such a good idea.'"
How about skipping the complex cerebral processes and shortening the distance from mandolin chord to pleasure center? Just play, in other words. We tackled this notion in the aforementioned article.
Sometimes you just want to play pretty chords...
Read archive column: Chord Combinations for the Lizard Ear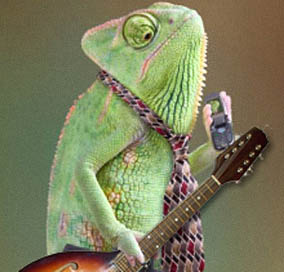 Posted by Ted at 5:38 AM

January 4, 2014 | Hamilton de Holanda on NPR
Brazilian virtuoso Hamilton de Holanda is interviewed on NPR recently discussing the roots of Choro music. From the article: "De Holanda plays an instrument called the bandolim. It evolved from the mandolin, brought to Brazil by Portuguese colonizers, and its acknowledged master was a man named Jacob do Bandolim. De Holanda says do Bandolim's genius lay in his ability to blend music brought by the Portuguese with that of African slaves to create a perfect balance.
"He created a Brazilian way, with a lot of emotion," he says. "You hear in his music a little bit of the fado nostalgia, but also the joy of Brazilian music, and African music too -- and with such care in the refinement of a sound and the arrangements.

Visit link for 6 minute audio: Pushing A Tradition Forward, Bandolim In Hand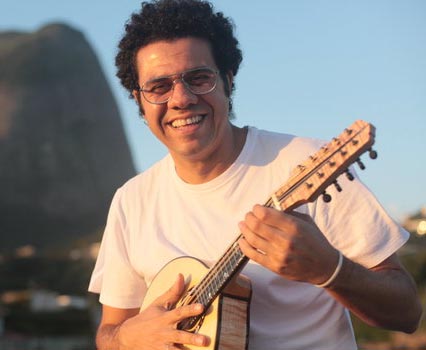 Posted by Ted at 12:55 PM

January 2, 2014 | Mid-air acoustic manipulation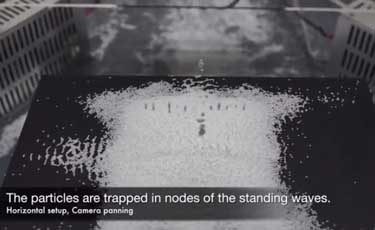 If you had any doubts on the power of sound waves to influence and manipulate the physical environment, you won't any more. The following demonstration is a fascinating look at levitation using sound pressure nodes.
Enough geek talk. Just enjoy...
Video link: Three-Dimensional Mid-Air Acoustic Manipulation

Link to website.
Posted by Ted at 5:53 PM