« January 2014 | Main | March 2014 »

February 27, 2014 | Throwback Thursday; Inaugural T-Shirt
We've sold several different incarnations of JazzMando shirts, but our favorite one remains the very first one, circa March 2005. A simple navy blue Gildan "Ultra Cotton" fabric, adorned with the former opening page of the website, this graphic included the text, "Jazzmando.com, for the curious jazz mandolinist," with a graphic cut from the ultra hip jazz ax, the blue Rigel CT-110. It commemorated a major redesign of the website, one which has held up with just a few minor tweaks since then.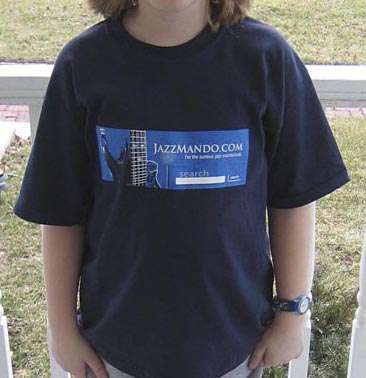 This particular shirt is not available for sale any more, but we do have some current merchandise in our CafePress store.
Visit link: JazzMando CafePress Store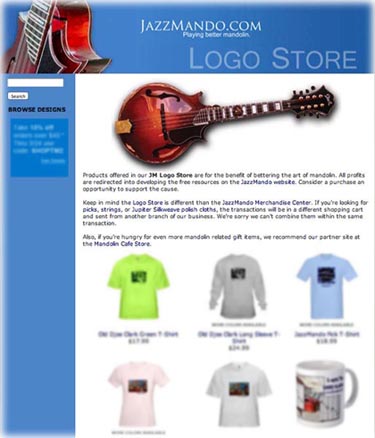 Posted by Ted at 10:23 AM

February 25, 2014 | Minor Blues: Fresh Patterns
"Blues is one of the simplest American music art forms, an unpretentious 12-bar pattern that has been the framework for "pure" folk/roots Blues, as well as an integral ingredient in early Rock and Roll, adopted and adapted by jazz musicians, and infused with a more sophisticated set of changes and harmonic complexity."
Ever weary of 3 chord blues? Ever wanted to take your blues progression to a new level?
Check our our archived Mandolin Sessions article from February 2011. We go into some of the standard blues variations commonly used by jazz artists around the world.
Read article: Minor Blues Fresh Patterns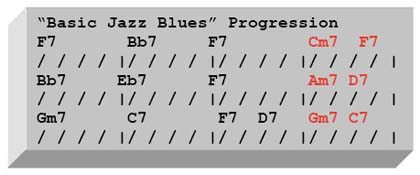 Posted by Ted at 5:40 AM

February 23, 2014 | Jazz Books "Real Deal" 30% off sale
We've mentioned the Hal Leonard "Real Book" series before. The world renowned publisher has made the best jazz standards available in legal incarnations in the same format as the popular street books, jazz font, chord and melody, and convenient music stand-ready back binding. We have several volumes (can you ever get too many fake books?) and speak very highly of them.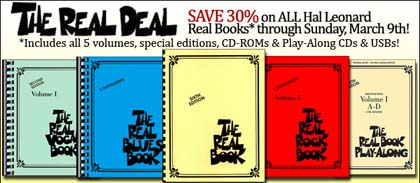 Jamey Aebersold Jazz has the series available on sale for 30% OFF through March 9th, so this would be a great time to stock up. They also have Play-Along audio in CD and thumb-drive, also at 30% off. This is a terrific opportunity even (if you already have a fake book) to load your practice sessions with the accompaniment of a real band. The MIDI based background tracks of Band-in-a-box or the iReal B smartphone apps are great, but it's a more satisfying aesthetic experience practicing with the real deal.
Purchase Link: Jazz Books "Real Deal" 30% off sale
Read latest review of the new The Real Jazz Solos Book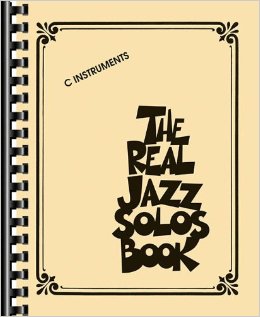 Posted by Ted at 3:10 PM

February 21, 2014 | All Four One; The Joe Craven Trio
It's been a couple years since its release, but because the CD has stood the test of time and still gets regular turns in our audio player, we think it's worth mentioning again. Joe Craven's "All Four One" is very much a ground-beaking recording for mandolin.
Arguably best known for his stint with acoustic legend David Grisman, the west coast phenom is equally adept at percussion, fiddle, mandolin, as well as an in-demand clinician, rounded ethnomusicologist. He's wowed the world with his solo career as well, but it's this latest "trio" project worth reminding you about. Traditional American Folk, Blues, New Orleans, Swing, Funk, as well as the music of Brazil, Haiti, Ireland, Cuba and Puerto Rico, the recording has it all.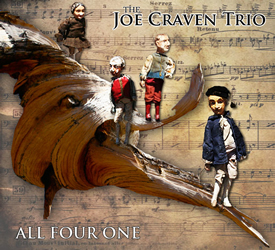 Joined by drummer Kendrick Freeman and keyboardist John Burr who also holds a high pedigree on the international stage (Maria Muldaur, Paul Chambers, Robben Ford, Paul Brady), the trio crank out what was in our opinion, one of the best folk/jazz albums of 2012, "All Four One." Also playing a strong guest role is bassist/accordian, Rich Kuhns. The musicians play with spry precision and anoetic spontaneity, each song an engaging tour, a plethora of ethinic styles with a very distinctly jazz vocabulary. Craven's fiddling is great, but his mandolinning blows you away.
This is one of those genre breaking CDs we insist be in your collection.
Purchase CD: The Joe Craven Trio; All Four One
Artist Website: Joe Craven
View promotional link:


Posted by Ted at 5:07 AM

February 19, 2014 | Update: Jonathan McClanahan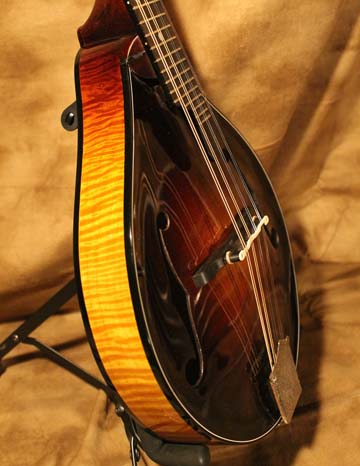 McClanahan Lineage A-body mandolin
We ran across the Tennessee builder seven years ago and we wanted you to be aware the website of Jonathan McClanahan has seen some significant updates and once you get around the infernal obligatory home page sound clip, you can be treated with pictures of his gorgeous craft. His biography is an interesting one, having built for Gibson mandolins and achieved global following on his own since.
Take some time to explore his instruments and his story.
Video link: Jonathan McClanahan hand carves an F-5 scroll

More videos: McClanahan Video Page

---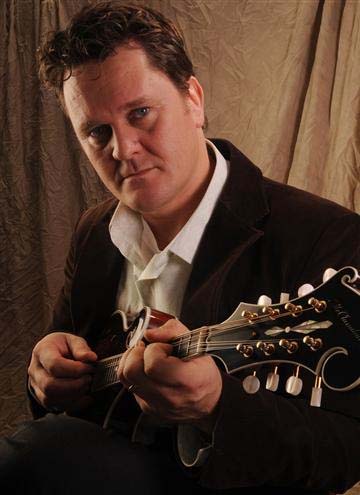 "I literally put my heart and soul into each mandolin I build and in this disposable world of plastic and computers it's nice to know that some things are still held sacred. From the graduation of the top and back, to the carving of the scroll, shaping the neck and engraving, it's all done with my hands. One thing that also sets me apart is that I'm an accomplished mandolinist of over 30 years (that's me on the sound bite). I grew up playing the festival circuit from West Virginia to Florida and as far West as Iowa. I play all different styles on the mandolin from Bluegrass, Dawg, Jazz to Classical and I know what a player wants in their instrument. I began my career as a luthier by doing my own repairs and restorations."
Jonathan McClanahan
Posted by Ted at 5:02 AM

February 17, 2014 | Dunlop "Primetone" series pick
We've had a few weeks since NAMM to put our new Dunlop "Primetone" series pick through its paces. Not likely you Bluechip Pick fans are going to put yours down for this, but we think the new 1.3 Semi-round with its custom bevel is a serious contender for the mass market pick.
Cut from the same material as their Ultex series (this incarnation a more traditional brown than yellow), the pick has plenty of rigidity without being overwhelmingly heavy. Not quite as thick as our 1.5 JazzMando V-pick or Proplec, it still carves a lovely tone out of a double course instrument, rich with fundamental. The no-slip texture also feels great in the fingers.
We look forward to the broader market release of these next month.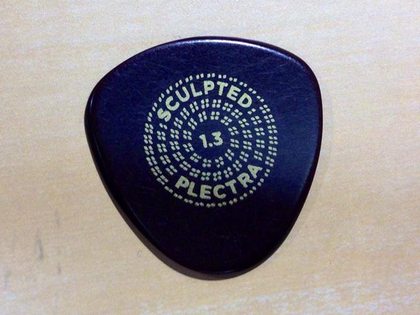 Primetone Semi-Round Sculpted Plectra
515P
Hand-burnished sculpted edges
Made from Ultex
Available in three different shapes with a low-profile grip or a smooth traditional surface

Posted by Ted at 10:09 AM

February 15, 2014 | End of JM11 & JM10B
Since 6-9 months is about the amount of time the JM11 strings lasted, we're repeating last July's announcement about the end of the JazzMando loop-end and ball-end strings. Many fans might have missed it. Weary of the inadvertent string quality and subsequent replacement issues, we made the decision to stop selling them.
Archive article: The end of JazzMando JM11 strings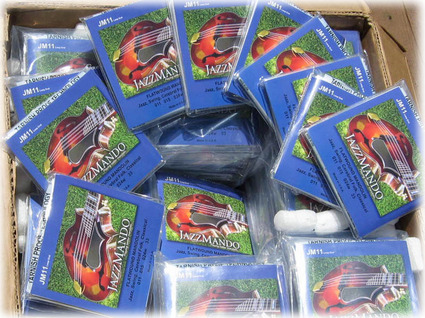 For those that do like loop-end flatwound strings, we recommend the D'Addario FW74 string set from your favorite local D'Addario string dealer. We worked personally with D'Addario R&D team in developing the best gauging. We're confident they will replace the JM11 strings adequately.
For those of you who purchase these over the years, we thank you for your support.
Posted by Ted at 9:49 AM

February 13, 2014 | Quality differences in solid body emandos?
Creator and administrator of emando.com, Martin Stillion weighs in eloquently on the question of what to look for making a purchase decision on solid-body electric mandolins. Most base the math on builder reputation and history, but there are a lot of factory made import instruments that though they may be less expensive, suffer from playability and tone defects, especially in comparison to the cottage craftsman. So comparing brand X with builder Y, what does one look for? What justifies "quality?"
"You can look for quality of fit and finish. Are the seams and joints tight? Screws and bolts driven in straight? No glue drips or finish mistakes? How about the design -- is it a simple slab of wood, or does it have contours or more complicated carving? Does it have tone chambers? How does it feel to play -- does it handle like a mandolin or like a board with a stick nailed to one end? Is it comfortable to hold? Is it well balanced? Are the frets competently dressed and the action adjustable? Does it play in tune? Does it stay in tune? Do the pickups produce an annoying buzz or hum? Are the components correctly matched for impedance and resistance and whatnot? Does the tone knob actually do anything when you turn it? If the pickup has poles, are they correctly positioned for a balanced signal from low string to high?"
Martin Stillion
emando.com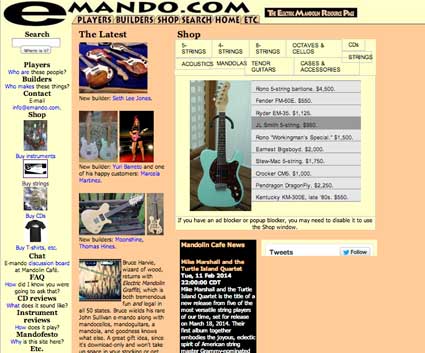 Particpate in Mandolin Cafe Discussion
Posted by Ted at 10:28 AM

February 11, 2014 | FFcP? Here's the book. 'Getting into Jazz Mandolin.'
We hope you JazzMando veterans will indulge yet another little plug of of the 'Getting into Jazz Mandolin' book. We ran into an intriguing Mandolin Cafe discussion which turned into a plea for clarity in the nature of FFcP. It's great to hear others defend your work.
Just a note for those who are new here or never were enlightened about the nature of the inseparable bond between book and FFcP, let's just say the concept is really at its core, utlimately a practical jumping off point, taking fretboard familiarity to a new level and later introducing some basic jazz vocabulary and music theory.
Though it was published over five years ago, the book remains a consistent Mel Bay best-seller.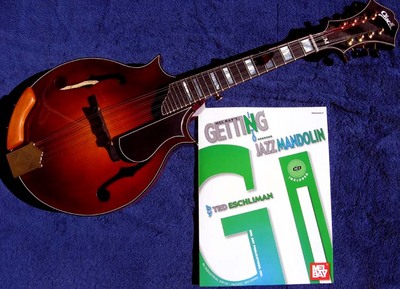 What this resource offers:
A clear, consistent course progression. The player starts with something already known (the Major Scale) and develops patterns that can be intuitively expanded. Jazz variations are introduced incrementally, and by the end of the book, the player should be relatively comfortable improvising.
Clear language. Advanced music theory is explained with unpretentious prose, uncomplicated terminology and good humor. A mandolinist could simply play through all the exercises, and at very least, get more proficient with the fretboard, at best build some higher level jazz vocabulary.
Supportive Audio. The 70-minute CD included gives audio examples, as well as limitless opportunity to practice and jam with the exercises. An additional web-based audio page on the JazzMando.com website, "Webtracks" offers expanded opportunity to hear and interact with even more sound tracks and professional artists' interpretations of the music and concepts.
Tab and notation. Exercises are written in both standard notation and mandolin tablature to communicate proper fretboard positions. Fingering markings are included to suggest effective finger placement.
The book can be purchased in ebook format through the publisher and print through Amazon, Elderly, or through the author, rates below on the latter:
Shipped domestically, the book is $18.75 to your mailbox (includes Media Mail s&h). Canadian orders add $12.00 and International orders with the punitive overseas shipping will run an additional $18.75. These are all available on the website link.
Purchase here: Getting into Jazz Mandolin
Posted by Ted at 5:01 AM

February 9, 2014 | Folkworks interviews Mandolin Cafe founder Scott Tichenor
Between the frenzy of appointments at the recent 2014 Winter NAMM show, Folkworks.org columnist Annette Siegel found the opportunity to interview Scott Tichenor, the creator of the world's greatest online resource for mandolin, the Mandolin Cafe. Scott outlines the amazing journey from high school teacher to internet mogul in this intriguing story.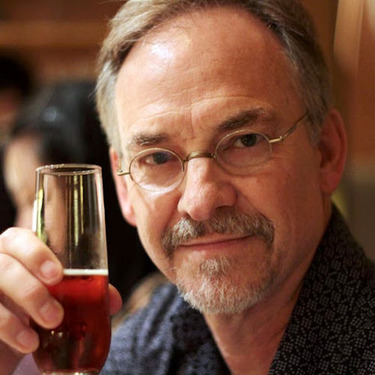 AS: What gave you the idea/inspiration to start the Mandolin Cafe?
ST: In 1994 I went to the Boston Macintosh conference and I bought the only book that was available in the industry on how to build a website...there was one book that I knew of. I read it cover to cover and started building a website. Someone from a music store had asked me to build a website. So I built something for myself first Mandolin Cafe. They looked at that and said Ok, build us a site. I was really hooked on it as soon as I saw it and the only other mandolin website was Dan Beimborn's (Mandolin Archive) and now we're working together. He actually disappeared from my life for about 10 years. Once I was ready to chuck it all, because I've been running off of a bunch of dedicated servers and I was getting a lot of traffic...this was in the old days when you shared servers. And he came in and got me a dedicated server and bailed me out big time. It's a big site and needs more than one person working it. I have a couple of people that help me.
Continue reading more:
Food for thought: The Mandolin Cafe at NAMM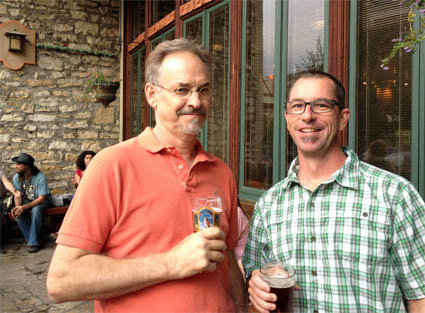 Scott Tichenor and Idaho mandolin builder Austin Clark
Posted by Ted at 5:52 AM

February 7, 2014 | Jazz Quotes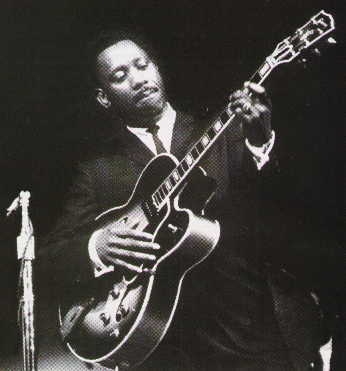 Wes Montgomery
We've enjoyed reading some of the quotations from famous musicians on the "A Passion for Jazz Music" resource website. Here are a few we selected:
Mose Allison - "The essentials of Jazz are: melodic improvisation, melodic invention, swing & instrumental personality."
Chet Atkins - "Do it again on the next verse & people think you meant it."
Irving Berlin - "Talent is only the starting point."
George Carlin - "Jazz musicians are only workers who will put in a full shift for pay & then go somewhere else & continue to work for free."
Milt Jackson - "If I'm not saying it in four choruses or less, then I'm not saying it."
J. J. Johnson - "Sometimes you need to stand with your nose to the window & have a good look at Jazz."
Charles Mingus - "They're singing your praises while stealing your phrases."
Wes Montgomery - "I never practice my guitar. From time to time I just open the case & throw in a piece of raw meat."
Victor Wooten - "Never lose the groove to find a note."
Homer Simpson - "Ahhh - those Jazz guys are just makin' that stuff up!"

---

More: Quotations Link


Posted by Ted at 2:48 PM




February 5, 2014 | Nickel Creek Reunion 2014
Sara, Sean, & Chris back together again and are we excited? You bet!
After their final concert in 2007, they are returning to the Ryman Auditorium in Nashville to kick off a 10 date tour in cities such as New York, Chicago, Telluride, and Oakland. Dates start April 18, and you can find more on their website.
Video Link: Nickel Creek Reunion


---
Purchase Nickel Creek music at Amazon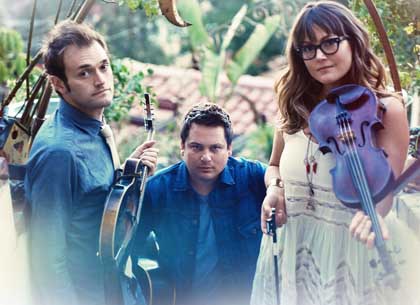 Posted by Ted at 5:31 AM

February 3, 2014 | 2014 Django in June schedules Don Stiernberg!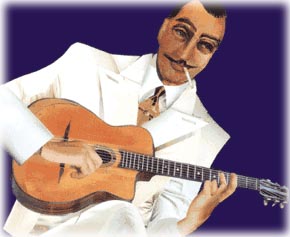 The Django in June website has been updated for 2014 and is now ready to take registrations for full immersion Django Camp , June 17-22.

The first music camp in the US dedicated entirely to the Gypsy jazz tradition, Django in June offers an unparalleled opportunity to both kick back and dig deep with expert teachers and enthusiastic students of the style. Whether you want to build a strong Gypsy jazz foundation or add another floor above the one you've got, there will be guidance, inspiration and camaraderie at a depth you won't find anywhere else in the United States.
The instructional program is for players of guitar, violin, accordion, mandolin, and bass and is offered by the same concert artists you'll enjoy on the mainstage later in the week. Teachers committed to the event so far:
* All 5 members of Les Doigts De L'Homme: Olivier Kikteff, Benoit Convert, Yannick Alcocer (all on guitar), Antoine Girard (accordion) and Tanguy Blum (bass.)
* Also on guitar: Samson Schmitt, Christophe Lartilleux, Philippe "Doudou" Cuillerier, Denis Chang...and others!
* On violin, Tim Kliphuis, Aurelien Trigo and Karin van Kooten
* On mandolin: Chicago's own Don Stiernberg
* On accordion (with Antoine Girard), Dallas Vietty will be back
For more information on all of these artists, visit the Artists and Staff page.
A few important bits:
* JazzMando great Don Stiernberg has been hired for the mandolin instruction!
* The dates for this year are June 17-22nd. (Tuesday evening through Sunday noon, with an early arrival option on Monday the 16th.)
* The event is held on the beautiful Smith College campus in Northampton, Massachusetts.
* On campus housing is available and recommended. Rooms are private, so when your blistered fingers are done for the day, you rest in peace and comfort.
* Meals are also offered on-site.
* Most of the instructional program is organized into 4 broad levels of ability, novice to advanced. If you love this music, you're covered.
* Patrus of Patrus53.com will be here, filming, interviewing and leading us in a wine tasting.
* Michael Horowitz will be on hand with a truckload of DjangoBooks merchandise for you to rummage through and stock up on.
* Early tuition rates are in effect now.
Posted by Ted at 5:18 AM

February 1, 2014 | 2014 mandolin pictorial calendar curtain call.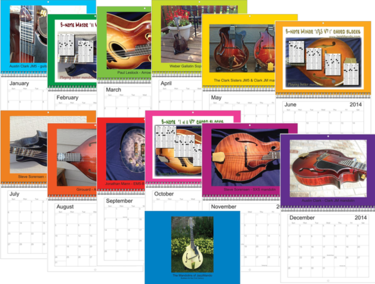 Even though today begins February and you'll immediately tear off the month of January, you still have another eleven more to enjoy the remaining monthly eye-candy of our 2014 mandolin calendar. We're shipping remaining stock (about a dozen) at a two-for-the-price-of-one special on a first-come first-serve basis.
.
Spiral bound and twelve individual pictures of instruments from our review write-ups and chord cards, $19.95 shipped US 2-day Priority, $27.95 Canada and International First Class, and until we run out, we're including a second one for home, office or friends for free. Order by clicking the website link below, PayPal or CC. (Sorry, no checks.)
A classic new picture each new month! But don't wait--our supply won't last long, especially with the two-fers special...
Purchase today and get a 2nd for free: JazzMando 2014 Calendar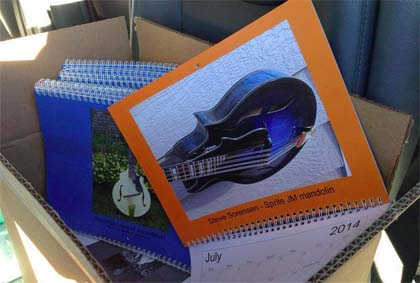 Get two shipped for only $19.95 US!
Posted by Ted at 9:36 AM