« Update: Jonathan McClanahan | Main | Jazz Books "Real Deal" 30% off sale »

February 21, 2014 | All Four One; The Joe Craven Trio
It's been a couple years since its release, but because the CD has stood the test of time and still gets regular turns in our audio player, we think it's worth mentioning again. Joe Craven's "All Four One" is very much a ground-beaking recording for mandolin.
Arguably best known for his stint with acoustic legend David Grisman, the west coast phenom is equally adept at percussion, fiddle, mandolin, as well as an in-demand clinician, rounded ethnomusicologist. He's wowed the world with his solo career as well, but it's this latest "trio" project worth reminding you about. Traditional American Folk, Blues, New Orleans, Swing, Funk, as well as the music of Brazil, Haiti, Ireland, Cuba and Puerto Rico, the recording has it all.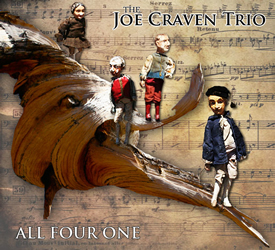 Joined by drummer Kendrick Freeman and keyboardist John Burr who also holds a high pedigree on the international stage (Maria Muldaur, Paul Chambers, Robben Ford, Paul Brady), the trio crank out what was in our opinion, one of the best folk/jazz albums of 2012, "All Four One." Also playing a strong guest role is bassist/accordian, Rich Kuhns. The musicians play with spry precision and anoetic spontaneity, each song an engaging tour, a plethora of ethinic styles with a very distinctly jazz vocabulary. Craven's fiddling is great, but his mandolinning blows you away.
This is one of those genre breaking CDs we insist be in your collection.
Purchase CD: The Joe Craven Trio; All Four One
Artist Website: Joe Craven
View promotional link:


Posted by Ted at February 21, 2014 5:07 AM