« FFcP? Here's the book. 'Getting into Jazz Mandolin.' | Main | End of JM11 & JM10B »

February 13, 2014 | Quality differences in solid body emandos?
Creator and administrator of emando.com, Martin Stillion weighs in eloquently on the question of what to look for making a purchase decision on solid-body electric mandolins. Most base the math on builder reputation and history, but there are a lot of factory made import instruments that though they may be less expensive, suffer from playability and tone defects, especially in comparison to the cottage craftsman. So comparing brand X with builder Y, what does one look for? What justifies "quality?"
"You can look for quality of fit and finish. Are the seams and joints tight? Screws and bolts driven in straight? No glue drips or finish mistakes? How about the design -- is it a simple slab of wood, or does it have contours or more complicated carving? Does it have tone chambers? How does it feel to play -- does it handle like a mandolin or like a board with a stick nailed to one end? Is it comfortable to hold? Is it well balanced? Are the frets competently dressed and the action adjustable? Does it play in tune? Does it stay in tune? Do the pickups produce an annoying buzz or hum? Are the components correctly matched for impedance and resistance and whatnot? Does the tone knob actually do anything when you turn it? If the pickup has poles, are they correctly positioned for a balanced signal from low string to high?"
Martin Stillion
emando.com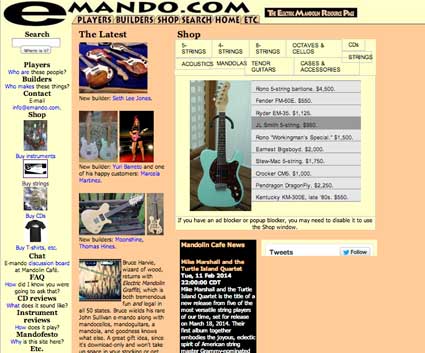 Particpate in Mandolin Cafe Discussion
Posted by Ted at February 13, 2014 10:28 AM