« Folkworks interviews Mandolin Cafe founder Scott Tichenor | Main | Quality differences in solid body emandos? »

February 11, 2014 | FFcP? Here's the book. 'Getting into Jazz Mandolin.'
We hope you JazzMando veterans will indulge yet another little plug of of the 'Getting into Jazz Mandolin' book. We ran into an intriguing Mandolin Cafe discussion which turned into a plea for clarity in the nature of FFcP. It's great to hear others defend your work.
Just a note for those who are new here or never were enlightened about the nature of the inseparable bond between book and FFcP, let's just say the concept is really at its core, utlimately a practical jumping off point, taking fretboard familiarity to a new level and later introducing some basic jazz vocabulary and music theory.
Though it was published over five years ago, the book remains a consistent Mel Bay best-seller.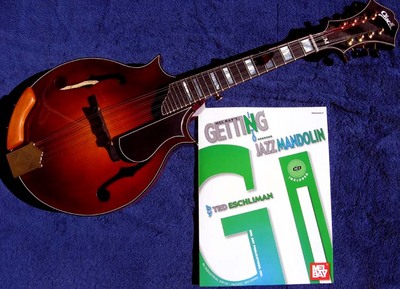 What this resource offers:
A clear, consistent course progression. The player starts with something already known (the Major Scale) and develops patterns that can be intuitively expanded. Jazz variations are introduced incrementally, and by the end of the book, the player should be relatively comfortable improvising.
Clear language. Advanced music theory is explained with unpretentious prose, uncomplicated terminology and good humor. A mandolinist could simply play through all the exercises, and at very least, get more proficient with the fretboard, at best build some higher level jazz vocabulary.
Supportive Audio. The 70-minute CD included gives audio examples, as well as limitless opportunity to practice and jam with the exercises. An additional web-based audio page on the JazzMando.com website, "Webtracks" offers expanded opportunity to hear and interact with even more sound tracks and professional artists' interpretations of the music and concepts.
Tab and notation. Exercises are written in both standard notation and mandolin tablature to communicate proper fretboard positions. Fingering markings are included to suggest effective finger placement.
The book can be purchased in ebook format through the publisher and print through Amazon, Elderly, or through the author, rates below on the latter:
Shipped domestically, the book is $18.75 to your mailbox (includes Media Mail s&h). Canadian orders add $12.00 and International orders with the punitive overseas shipping will run an additional $18.75. These are all available on the website link.
Purchase here: Getting into Jazz Mandolin
Posted by Ted at February 11, 2014 5:01 AM