« 2014 mandolin pictorial calendar curtain call. | Main | Nickel Creek Reunion 2014 »

February 3, 2014 | 2014 Django in June schedules Don Stiernberg!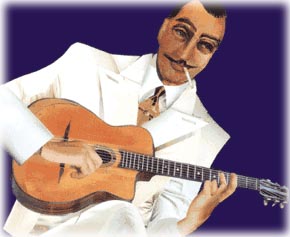 The Django in June website has been updated for 2014 and is now ready to take registrations for full immersion Django Camp , June 17-22.

The first music camp in the US dedicated entirely to the Gypsy jazz tradition, Django in June offers an unparalleled opportunity to both kick back and dig deep with expert teachers and enthusiastic students of the style. Whether you want to build a strong Gypsy jazz foundation or add another floor above the one you've got, there will be guidance, inspiration and camaraderie at a depth you won't find anywhere else in the United States.
The instructional program is for players of guitar, violin, accordion, mandolin, and bass and is offered by the same concert artists you'll enjoy on the mainstage later in the week. Teachers committed to the event so far:
* All 5 members of Les Doigts De L'Homme: Olivier Kikteff, Benoit Convert, Yannick Alcocer (all on guitar), Antoine Girard (accordion) and Tanguy Blum (bass.)
* Also on guitar: Samson Schmitt, Christophe Lartilleux, Philippe "Doudou" Cuillerier, Denis Chang...and others!
* On violin, Tim Kliphuis, Aurelien Trigo and Karin van Kooten
* On mandolin: Chicago's own Don Stiernberg
* On accordion (with Antoine Girard), Dallas Vietty will be back
For more information on all of these artists, visit the Artists and Staff page.
A few important bits:
* JazzMando great Don Stiernberg has been hired for the mandolin instruction!
* The dates for this year are June 17-22nd. (Tuesday evening through Sunday noon, with an early arrival option on Monday the 16th.)
* The event is held on the beautiful Smith College campus in Northampton, Massachusetts.
* On campus housing is available and recommended. Rooms are private, so when your blistered fingers are done for the day, you rest in peace and comfort.
* Meals are also offered on-site.
* Most of the instructional program is organized into 4 broad levels of ability, novice to advanced. If you love this music, you're covered.
* Patrus of Patrus53.com will be here, filming, interviewing and leading us in a wine tasting.
* Michael Horowitz will be on hand with a truckload of DjangoBooks merchandise for you to rummage through and stock up on.
* Early tuition rates are in effect now.
Posted by Ted at February 3, 2014 5:18 AM