« What is the key to being less robotic on stage? | Main | Mike Marshall on Tremolo »

February 20, 2014 | New: The Real Jazz Solos Book
Hal Leonard has just released an intriguing collection of major artists' solo transcriptions from some of the world's most popular jazz recordings, "The Real Jazz Solos Book." Almost 450 pages, the book is written in the traditional "Real Book" format, with the jazz font notation and minimalist accepted chords, with style and tempo suggestions.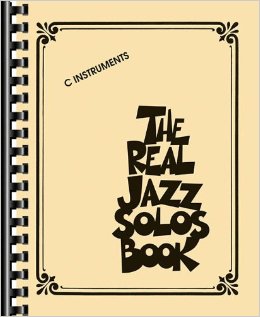 From the publisher's website: "This amazing collection transcribes nearly 150 of the best-known jazz solos (regardless of the instrument) exactly as recorded by icons of the trade, including: Autumn Leaves (Chet Baker) * Blue in Green (Toots Thielemans) * Blue Train (John Coltrane) * Bright Size Life (Jaco Pastorius) * Dolphin Dance (Herbie Hancock) * Footprints (Wayne Shorter) * I Do It for Your Love (Bill Evans) * I Mean You (Thelonius Monk) * Isreal (Bill Evans) * K.C. Blues (Charlie Parker) * Milestones (Miles Davis) * New Orleans (Wynton Marsalis) * Nuages (Django Reinhardt) * Quiet Nights of Quiet Stars (Oscar Peterson) * Spring Ain't Here (Pat Metheny) * Stella by Starlight (Ray Brown) * Waltz for Debby (Cannonball Adderley) * West End Blues (Louis Armstrong) * and many more. Some songs are presented multiple times featuring the unique solos by different artists who performed them."
It takes a little alteration of mindset, one usually expects the "Real Book" format in a live or stage setting, which is far from the intent of the book. It's not a performance tool, it's more pedagogical in nature. The idea is to listen to the greats (recordings can be purchased or sought on YouTube) and then glean some of their tricks to turning the vertical skeleton of a standard harmonic progression, and create a horizontal line. You get chord but also some of the stylistic personality of these legendary artists.
How great to get a visual sketch of some jazz audio repertoire, Chet Baker, Django Rheinhardt, Louis Armstrong, Charlie Parker, and even some more contemporary favorites like Tom Harrell, Pat Metheny, and Michael Brecker! The Larry Dunlap transcriptions are indexed by artist, and individual recordings are referenced by instrument.
Though it would take an advanced reading skill to breeze through the complexity of most of the solos, nothing says you can't slow them down mentally and map out the chord with the harmonic and melodic strategy of the soloist. For example, the Zoot Sims solo from "I'm Getting Sentimental Over you" starts out mirroring some of the contour of the original melody and later frolics in arpeggios, D7b9 G7 C7, connecting with passing tones and chromatic embellishments. You won't repeat his solo note for note, but you'll glean insight into the way he and other jazz geniuses create their individual art through understanding their process.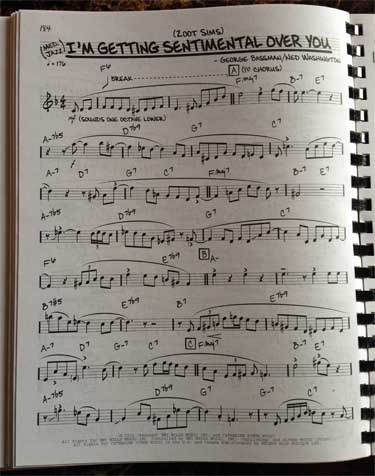 At $30 list price, it may seem a hefty investment, but you have to consider it an encyclopedia of lessons, 2-4 pages at a time from some of the best jazzers out there. It's also great to get into the mind of other instrumentalists--guitar, piano, bass, sax, and even vibes. This should create a wealth of new ideas for your own instrument. The author also encourages you to learn to transcribe on your own for even more gold.
Publisher's Link: The Real Jazz Solos Book
Purchase on Amazon
Posted by Ted at February 20, 2014 2:41 PM