« Best of JM: Complexity leads to simplicity | Main | New: The Real Jazz Solos Book »

February 13, 2014 | What is the key to being less robotic on stage?
Performance psychologist and Juilliard alumnus, Dr. Noa Kgeyama posed an interesting dilemma every musician face, the balance between musical precision and "soul." The full article is posted on the Bulletproof Musician website, here is the question:
You know those performances that can only be described as 'robotic'? Where there is nothing wrong with it per se, but for whatever reason you are neither engaged nor inspired, and ultimately leave the concert feeling kind of blah and a little empty inside? I have to admit that I have been accused of delivering such performances on more than a few occasions.
But I don't think it's just me. After all, we're sort of stuck between a rock and hard place. On one hand, we are supposed to be musical, communicative, and fully engaged in the music-making process. But on the other hand, it has to be flawless. Especially in auditions or competitions, where we learn pretty quickly that the slightest blemish can be grounds for a quick exit.
So how do we get out of this bind?
Read his answers for yourself here: Is This the Key to Being Less "Robotic" on Stage?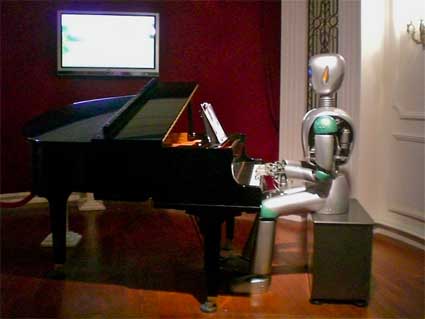 ---
Further:
Forsaking the notes for the music.
Compose yourself. Story Arcs.
Ensemble Sensitivity: Corps playing.
Building off silence.
Posted by Ted at February 13, 2014 11:09 AM