« Jazz Books "Real Deal" 30% off sale | Main | Throwback Thursday; Inaugural T-Shirt »

February 25, 2014 | Minor Blues: Fresh Patterns
"Blues is one of the simplest American music art forms, an unpretentious 12-bar pattern that has been the framework for "pure" folk/roots Blues, as well as an integral ingredient in early Rock and Roll, adopted and adapted by jazz musicians, and infused with a more sophisticated set of changes and harmonic complexity."
Ever weary of 3 chord blues? Ever wanted to take your blues progression to a new level?
Check our our archived Mandolin Sessions article from February 2011. We go into some of the standard blues variations commonly used by jazz artists around the world.
Read article: Minor Blues Fresh Patterns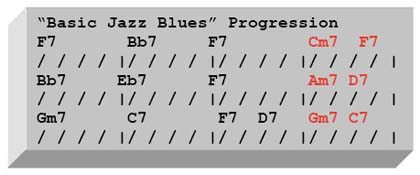 Posted by Ted at February 25, 2014 5:40 AM